Falalalala – how has this happened? It is Christmas next week… I feel like I am holding my breath to stop from hyperventilating, seriously, I can not wait for a wee break, and the opportunity to just chill out with good friends and family. Fortunately I have had the chance for a final festive collab before the end of the year, so thanks to Breville, may I present my perfect margaritas served with spicy fish tostadas with lime and coriander crema. The tostadas are super easy to prepare, even using store-bought slaw (which is so good these days), and you can sub mayo or aioli for the crema if you haven't got the heartbeats to make it. (Although – it only takes 2 minutes to bung it together).
And then of course there is the Breville 3X Bluicer Pro which I have used to make the cocktails! When I had a chat with my friends at Breville about what recipe I was going to make, I had a 'devil on one shoulder, angel on the other' moment. The thing is the Breville 3X Bluicer Pro is a combo-deal of juicer and blender in one, so my first thought was that I really should do some kind of super-charged green fruit and vege smoothie or juice. And then I though…nah…Christmas – cocktails! So the juice situation will have to wait for my NYE resolutions/good intentions, starting Jan 1st, and meanwhile we get to celebrate with drinks and spicy fish tostadas instead! (A wee note on the combo blender/juicer situation, if you, like me, have a scarcity of kitchen storage, with this clever machine you get to save space, a 2 for 1 bonus!) The tostadas are totally delicious with the margaritas, and if you fancy, you can serve alongside good ole' corn chips with guacamole and salsa and some garlic prawns for a drinks and nibbles gathering. I am also addicted to the sunflower and pumpkin seed combo shown below – just heat a teaspoon of olive oil and cook seeds with sea salt and a wee bit of sweet smoked paprika or cumin seeds until golden. Great to nibble on as a snack, but also topping whatever salad or vege combo you're into. One last thing about the Breville 3X Bluicer Pro, I can sometimes find kitchen equipment intimidating, but this was outrageously easy to use, even telling me (via the control panel) when I had forgotten to lock the jug in place…my kind of helper!
Right then, my darling men/boys are both here at the moment (hurrah!), and I have the Dish food editor and our faithful photographer arriving on my doorstep in one hour and prep to do for TVNZ's final Breakfast show of the year on Friday…time to get cracking! I will see you back here before New Year's Eve, but in the meantime – have a fabulous Christmas, give each other loads of squeezy hugs, enjoy the break and stay safe…
Margaritas:
1 egg white, lightly whisked
2 tablespoons sea salt
1.5 cups freshly squeezed lime juice
½ cup caster sugar
300mls tequila
100mls Cointreau
1  1/2 cups ice
Put the egg white in a small bowl and the salt into a shallow saucer. Dip each glass first into the egg then the salt to decorate. Put the lime juice in the blender jug of the Breville 3X Bluicer Pro with the caster sugar and whiz to dissolve the sugar. Add Tequila, Cointreau and ice. Blitz on Frozen Cocktail Program (it's a thing) and serve – too easy.
Serves 6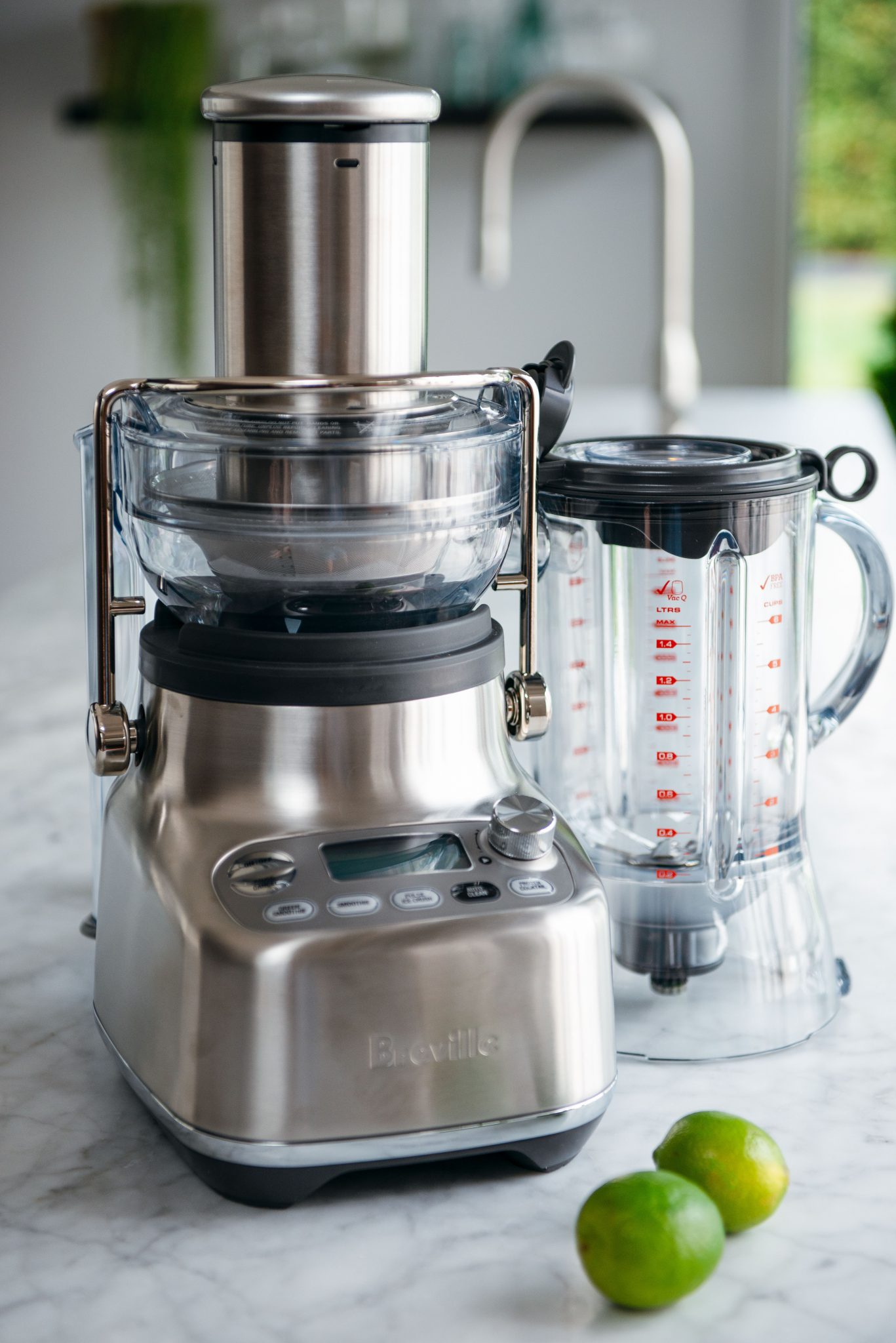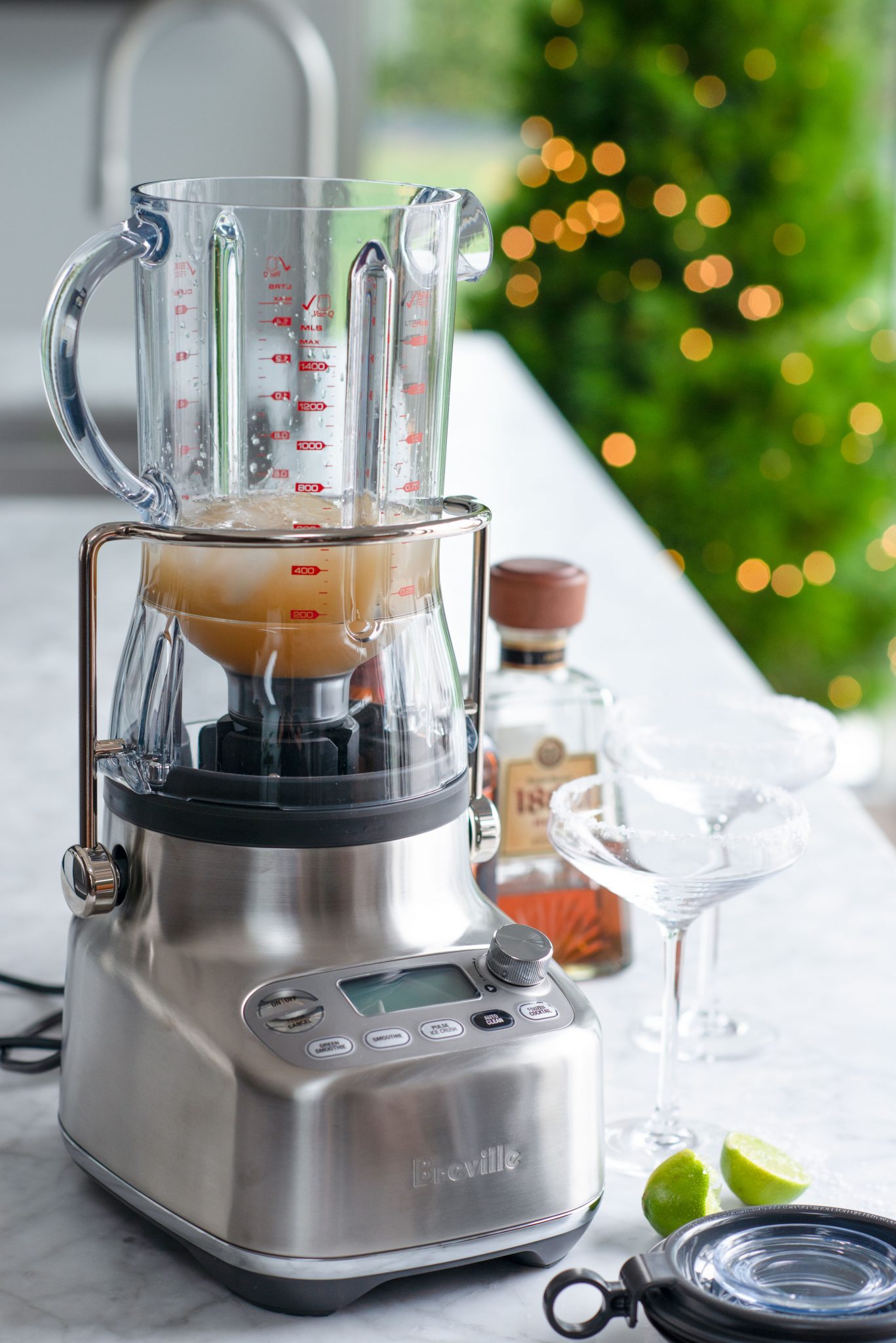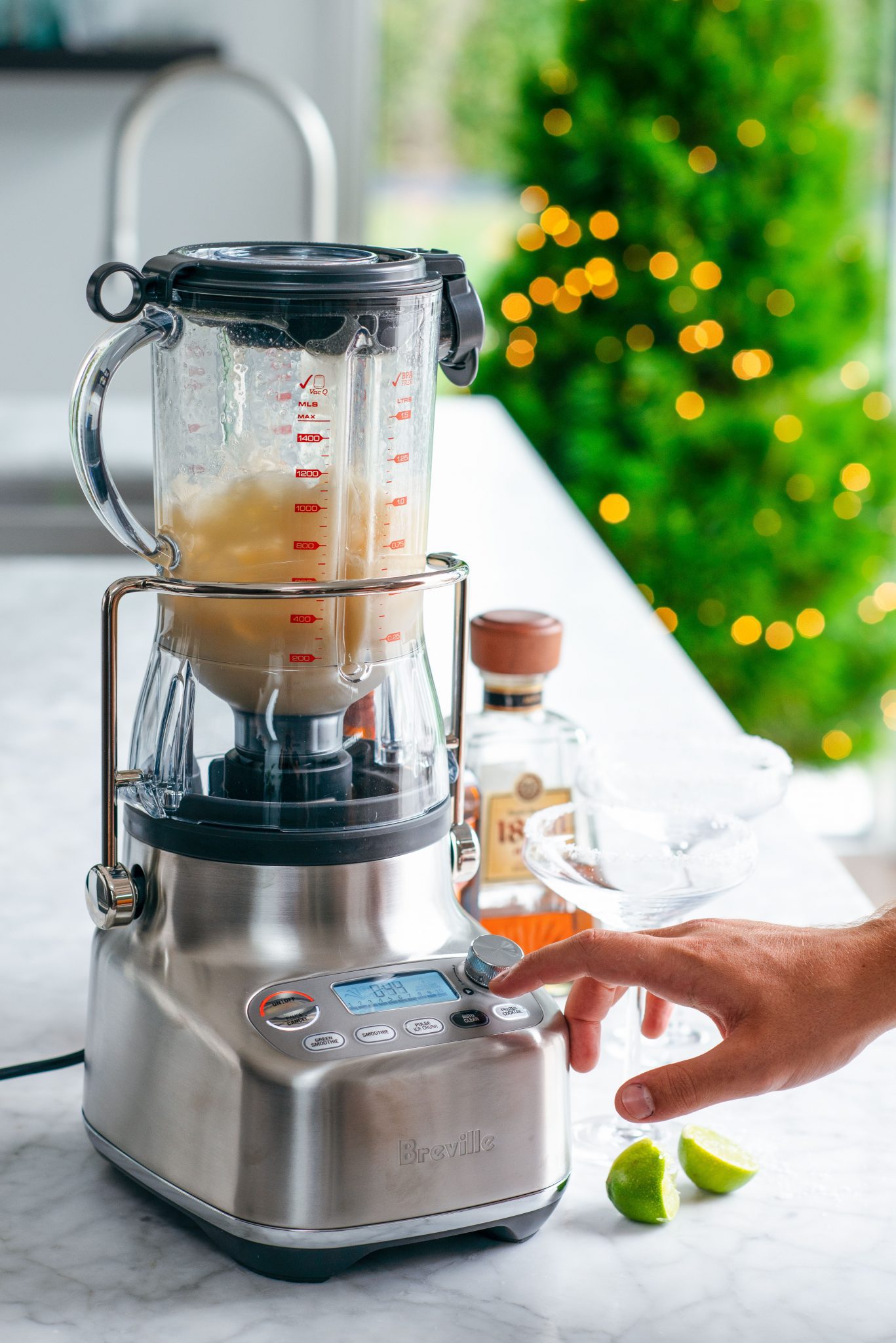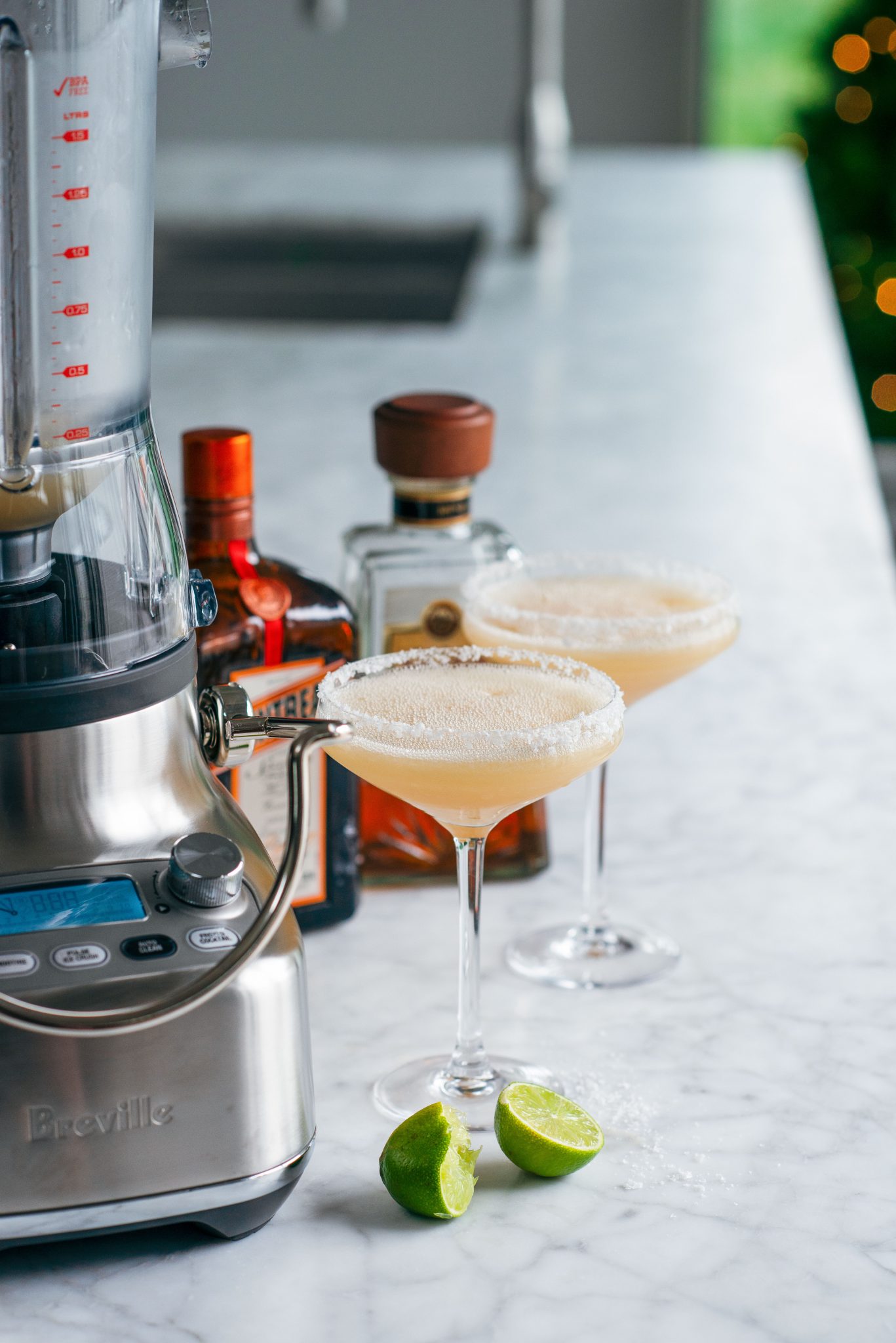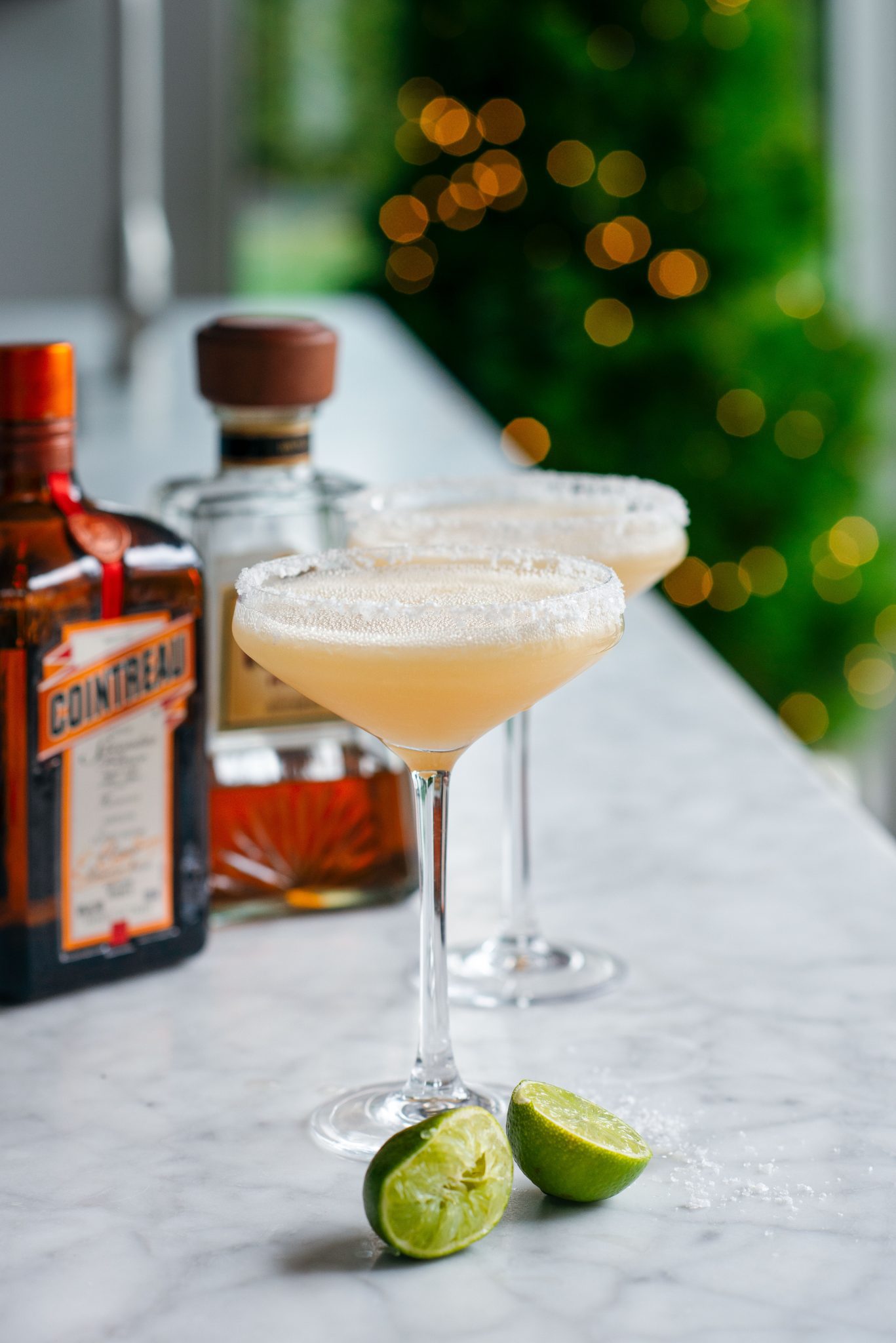 Fish:
1/2 cup plain flour
1/2 cup panko bread crumbs
1 teaspoon sweet smoked paprika
1/4 teaspoon salt
¼ tsp chilli powder
1 egg and 1 egg white, whisked together
600g firm white fish, cut into 5cm long pieces
Mix the flour, breadcrumbs and spices together in a flat bowl.  A few at a time drop the pieces of fish into the egg, coat well, then pat in the breadcrumb mixture until well coated on both sides.  Chill, covered until ready to use, for up to 6 hours.
Slaw:
finely grated zest of 1 lime and 1 orange
2 tablespoons lime juice
1 tablespoons orange juice
2 tsp olive oil
1 teaspoons caster sugar
2  1/2 cups fine coleslaw mix
Whisk lime and orange zest, juice and sugar with olive oil. Season to taste with salt and pepper. Toss through coleslaw.
1/3 cup high smoke point oil
2 avocados, sliced
1 cup of picked coriander leaves
12 small corn tortillas
Chipotle hot sauce, optional, to serve
Lime & Coriander Crema, to serve (or mayo is fine!)
Divide oil between two large frying pans (or work with one pan in batches starting with the tostadas) Heat the oil and cook the tostadas for a minute each side until golden and crispy. Drain well on paper towels and set aside for the moment. Heat the remaining oil and cook fish pieces for 2-3 minutes each side until cooked through. Dollop lime and coriander crema onto tostadas (or use mayo), top with slaw, avocado, fish, coriander and a few drops of hot sauce.
Serves 6
Lime & Coriander Crema
½ cup sour cream
1/2 cup whole egg mayonnaise
finely grated zest of 2 limes
1 small clove garlic, crushed
½ cup coriander leaves
Whisk together until smooth. Store in the fridge for up to three days.
Makes 1 cup