Hellooooooooo. By crikey I can't believe it is almost Christmas – I am spectacularly unprepared for this calendar development…I literally have not planned the day/holiday at all yet (greetings relatives, I will get on the case!). In my defence, this has been the busiest year I can remember what with selling and buying houses, moving, starting my new job as dish editor, then more recently having Pog move back in for four months with Hoob a lovely intermittent lodger as well. Life hey, just when you think you have a plan it changes! So, in between that (and lots of travel around about), I actually managed to round up some of my dearest friends last weekend with the mission of creating a new recipe for Silver Fern Farms (for this l'il promo post) as my very good incentive. As you know I only ever partner with brands I genuinely enjoy, and Silver Fern Farms is a no-brainer – the lamb steaks used in this recipe are pasture-raised, grass-fed, quick to cook, super tender and newly packaged with one less layer of plastic in a recyclable cardboard outer sleeve (nice one).
I was in the mood for pizza, and for Mexican last week (cos you know – summery weather), so combined those ideas with the fabulous lamb steaks to create my very Kiwi version of 'tlayuda' – Mexican pizzas which are in fact, sort of a thing. The lamb is quickly cooked then well-rested to ensure maximum tenderness, then popped onto a refried bean cheesy pizza base, and topped with my sneaky sauce (sneaky because it looks mild but has some subversive grunt), avocado, quick-pickled red onion, fresh coriander, a drizzle of sriracha and a sprinkling of toasted pumpkin and sunflower seeds. I served them with a tomato salsa-style salad and everything went down a treat – bloody delicious! Right then, I am due to start shooting in exactly 3 minutes so must scurry away – hang in there in the build-up to the silly season and I'll see you again soon…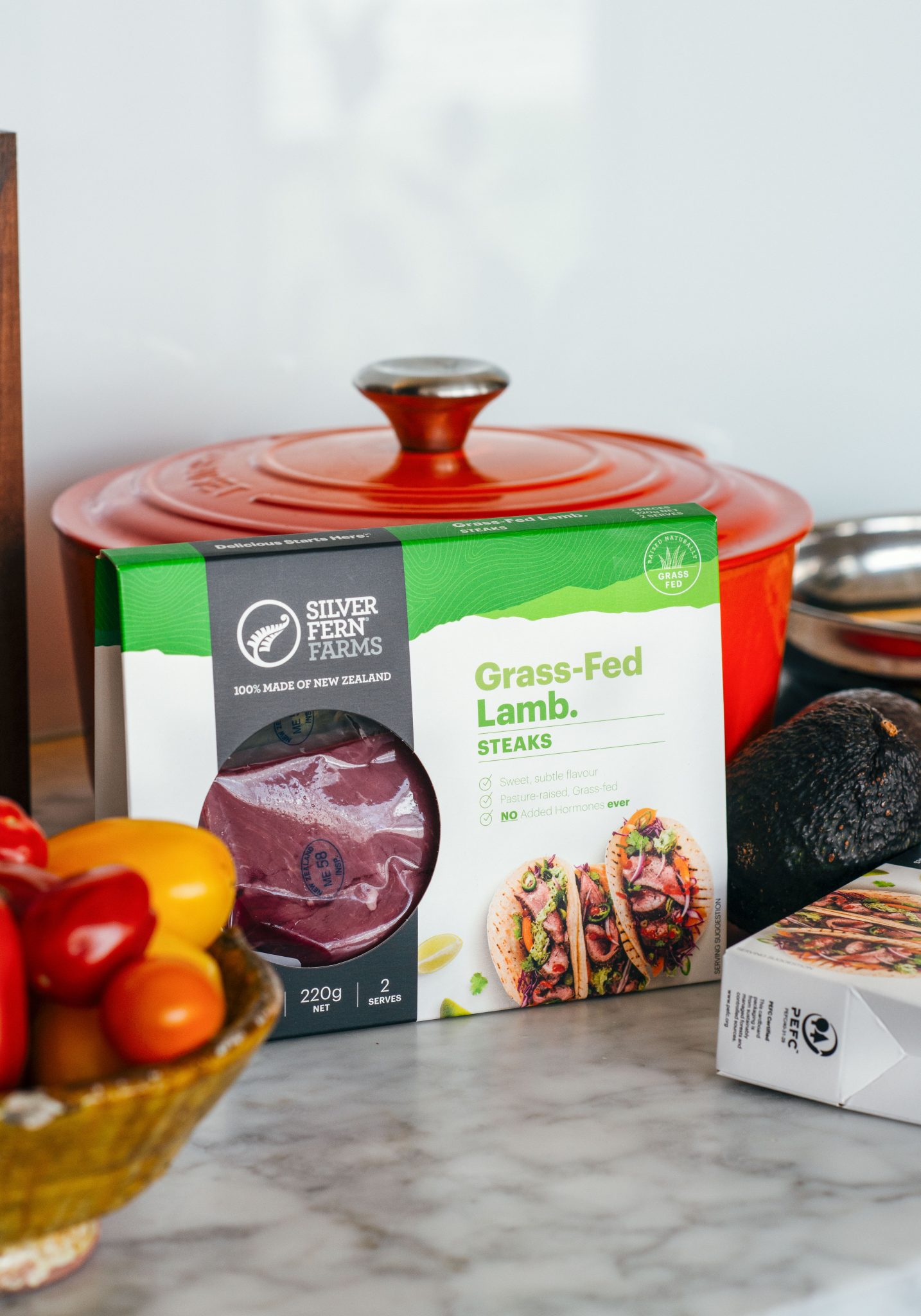 sneaky sauce:
2/3 cup good quality mayo
2/3 cup sour cream
juice & finely grated zest of a lime
1 large clove garlic, crushed
1 green chilli, roughly chopped
quick pickled red onion:
1/3 cup white vinegar
2 tsp caster sugar
1 small red onion, finely sliced
mexican-style lamb steak pizzas:
pizza sauce:
1 tbsp olive oil
400g red kidney beans
400g refried beans
800g black beans
3 cloves garlic, crushed
1-2 tsp sweet smoked paprika
1 tsp ground cumin
1 tbsp sriracha
2 packs Silver Ferns Farms Lamb Steaks
2 tbsp olive oil
1 tsp sweet smoked paprika
for the pizzas:
3 thin pizza bases
1 cup grated mozzarella
1 cup grated parmesan
200g feta, crumbled
250g buffalo mozarella, drained
2 avocados sliced
sriracha sauce
1/2 cup picked coriander
1/3 cup lightly toasted sunflower and pumpkin seeds
Put the sneaky sauce ingredients in a small food processor or use a hand whizzy, and blend until smooth. Store in a sealed container in the fridge for up to two days.
For the quick pickled red onion, whisk the vinegar and sugar together until the sugar is dissolved. Add the red onion, toss well, cover and refrigerate until ready to use. Drain well before adding to the pizza.
For the pizza 'sauce':
Heat the oil in a large heavy bottomed pot. Drain the kidney and black beans and rinse well in a colander. Add to the oil with the refried beans, garlic, paprika and cumin, and season well with salt. Cook for about 15 minutes, stirring until the refried beans have incorporated. Add the sriracha (even more if you fancy), and cook together a further 10 minutes, then set aside to cool. While the beans are cooking, prepare and cook the lamb.
For the lamb steaks:
Put the lamb steaks in a sealed bag or container with the oil and paprika and mix well to coat. Leave to 'bloom' for 20 minutes. To cook, heat another tablespoon of olive oil in a large frying pan, and cook the lamb for 3 minutes each side, in batches so as not to crowd the pan. Cover with tinfoil and leave to rest for at least 10 minutes.
While the lamb is resting, heat the oven to 190˚C and pop 2 oven trays in to heat up. Lay pizza bases on 3 pieces of baking paper on the bench. Divide the bean mixture between the bases, and spread evenly to cover. Divide the cheeses in the same way, adding the buffalo mozzarella last, well-drained and torn into pieces. Cook the first 2 pizzas for 10-12 minutes until the cheese is golden and bubbling (or 3 pizzas at once if you prefer), slice the rested lamb, and divide between the pizzas. Top with avocado, feta, pickled red onion, sneaky sauce, sriracha and coriander, and sprinkle over sunflower and pumpkin seeds to serve.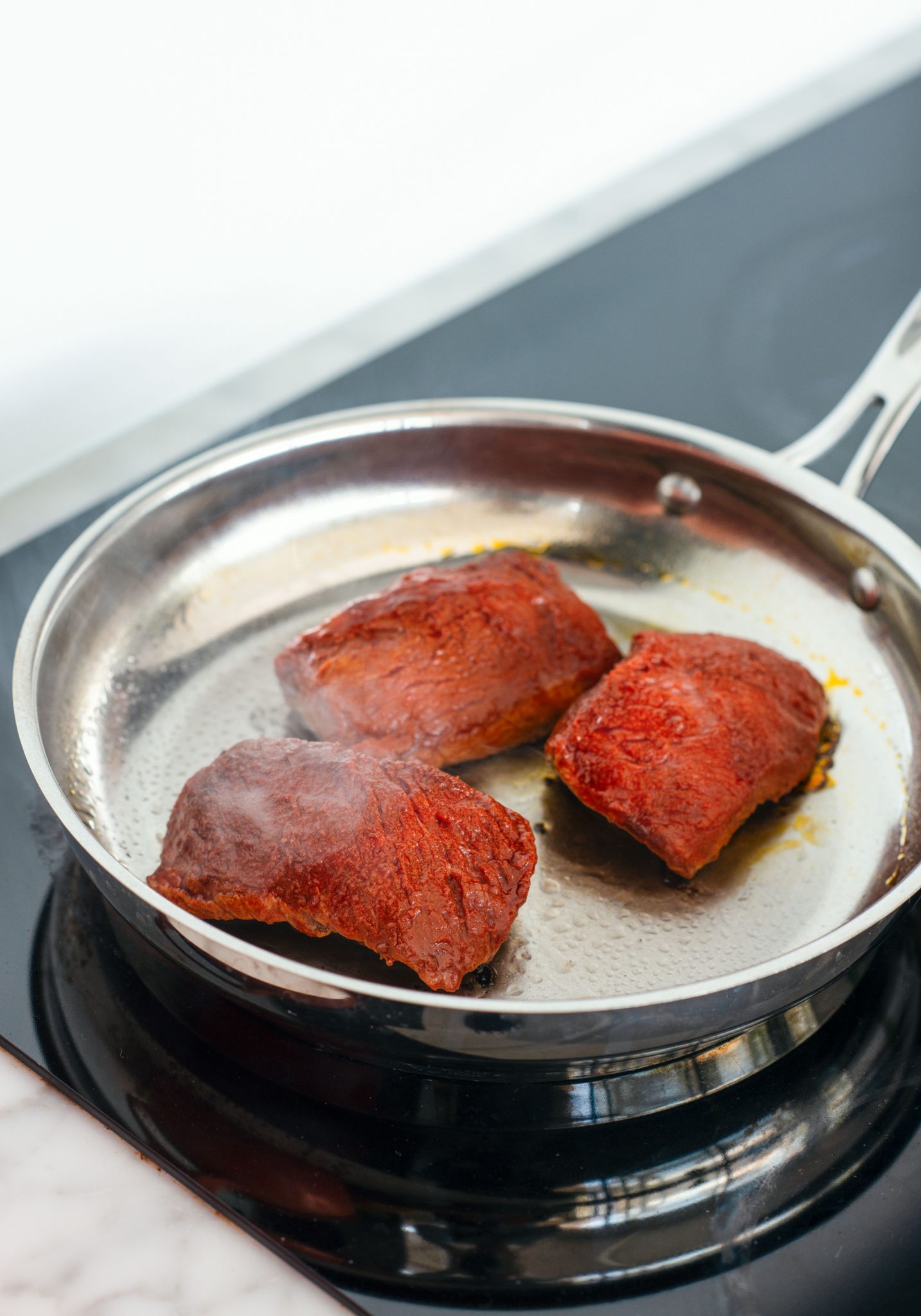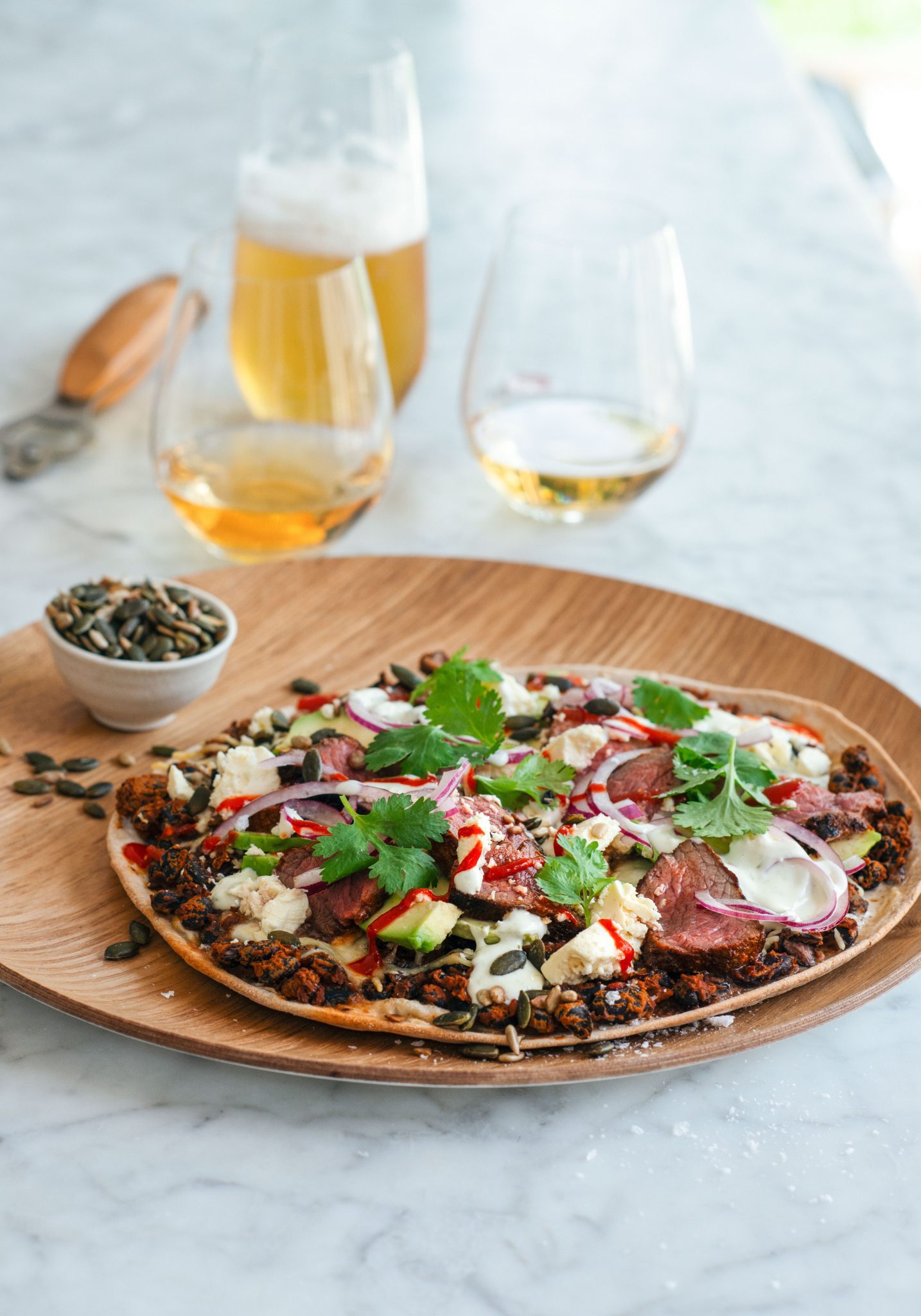 for the tomato salsa salad dressing:
3 tbsp olive oil
2 cloves garlic crushed
juice & zest of 1 lime
1 small green chilli, finely chopped
2 tsp caster sugar
2 tbsp finely chopped red onion
600g mixed tomatoes
Whisk all of the dressing ingredients together. Slice the tomatoes (thickly slice big heritage style tomatoes and halve small ones). Arrange on a platter and drizzle with dressing 5 minutes before serving.