Hello there – how is life going in your bubble?! I know it's been a while, but if you're a regular dish magazine reader. You'll probably know why. By crikey, my life has been a little bit out of control…before lockdown started my lovely Hoob had already moved back home, then we managed to get Pog up from Welly to share the bubble for the duration. So my darling men/boys are snugly packed into my wee house with me. Meanwhile there has been the working at home situation, so I am fully set up, spectacularly inconveniently in the middle of the living room, with my computer and a desk – remotely connected to the dish server, working like a demon to get the next mag together, and also writing the 3x weekly newsletters etc. Then a few feet away – more in the dining area vicinity, is my photography set up – complete with backboards, tripod and other visually less than attractive gear!
Look, it's not that bad to be honest, we're pretty bloody lucky to be tucked in here safe and sound…but some days do seem longer than others…not long to go now though!
Anywaaaay, anyone who knows me will tell you I am an appalling workaholic (deeply unattractive trait), so I actually leaped at the chance to work with John West to showcase their new Deli Tuna range, a change from magazine work for a bit! (Change being as good as a holiday and all that). So. The John West Deli Tuna (which is loin cut and very pleasingly chunky) comes in a range of gourmet flavours, from Extra Virgin Olive Oil and Pink Salt, to Zesty Lemon & Italian Herbs – but I chose to use the Black Olives & Bell Peppers in Oil, because I could instantly taste it (in my head), with a few extra olives and flash-cooked cherry tomatoes with a hit of garlic and a sprinkling of parmesan and parsley, stirred through perfectly al dente pasta. The whole thing is ready in 10 minutes, so can be whipped up whatever time of day you're feeling peckish and in the need of a delectable snack-sized meal. I made this one just for me, so it uses only one tin of tuna, but the recipe doubles perfectly to feed two.
That's enough from me for now – thank you to the lovely people who have been sending me pics of what you've been making from Coming Unstuck during lockdown – it has been such an incredible, humbling treat to see. Believe it or not – I'll see you again soon. Stay safe, hang on in Level 2 is coming!

serves 1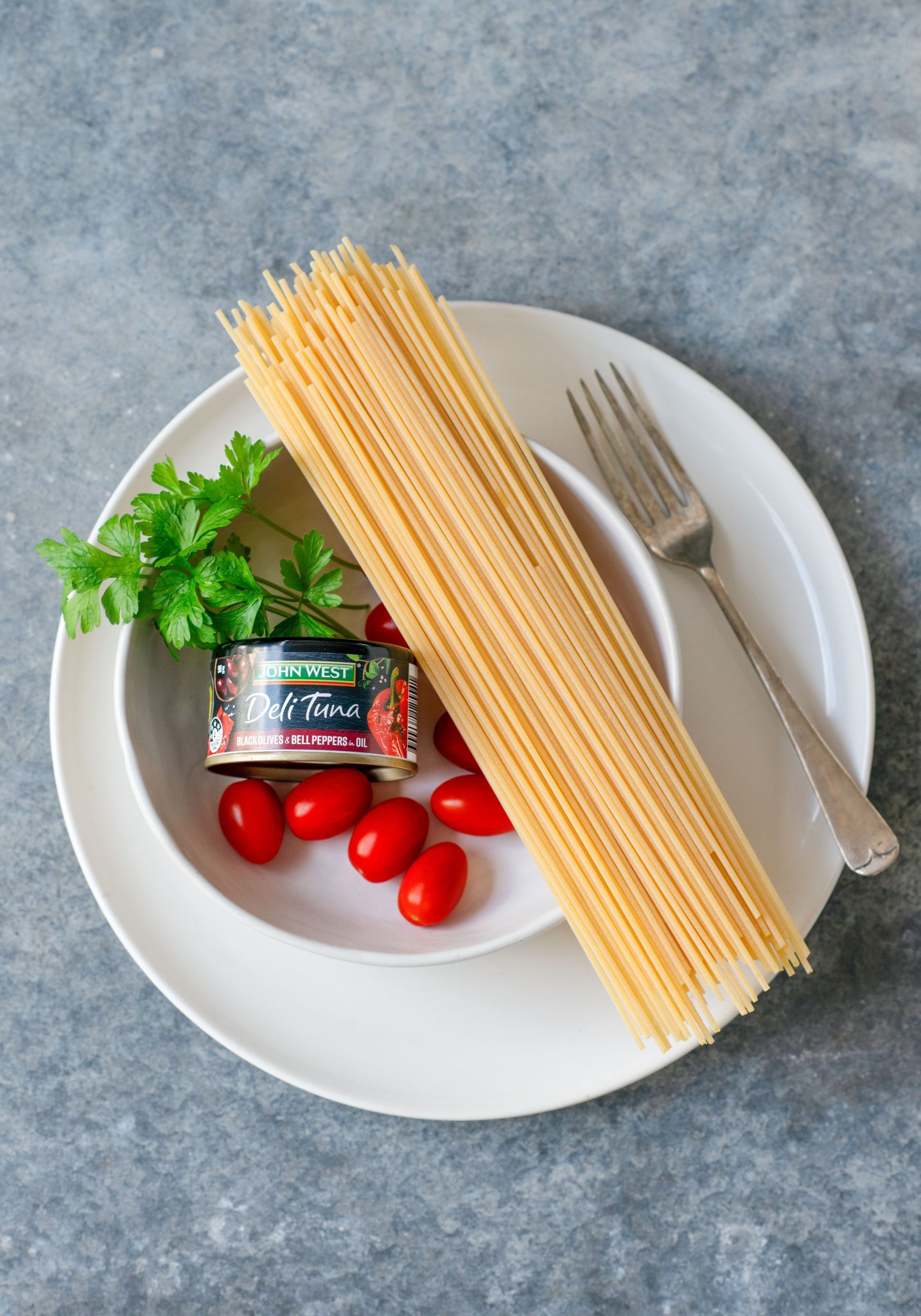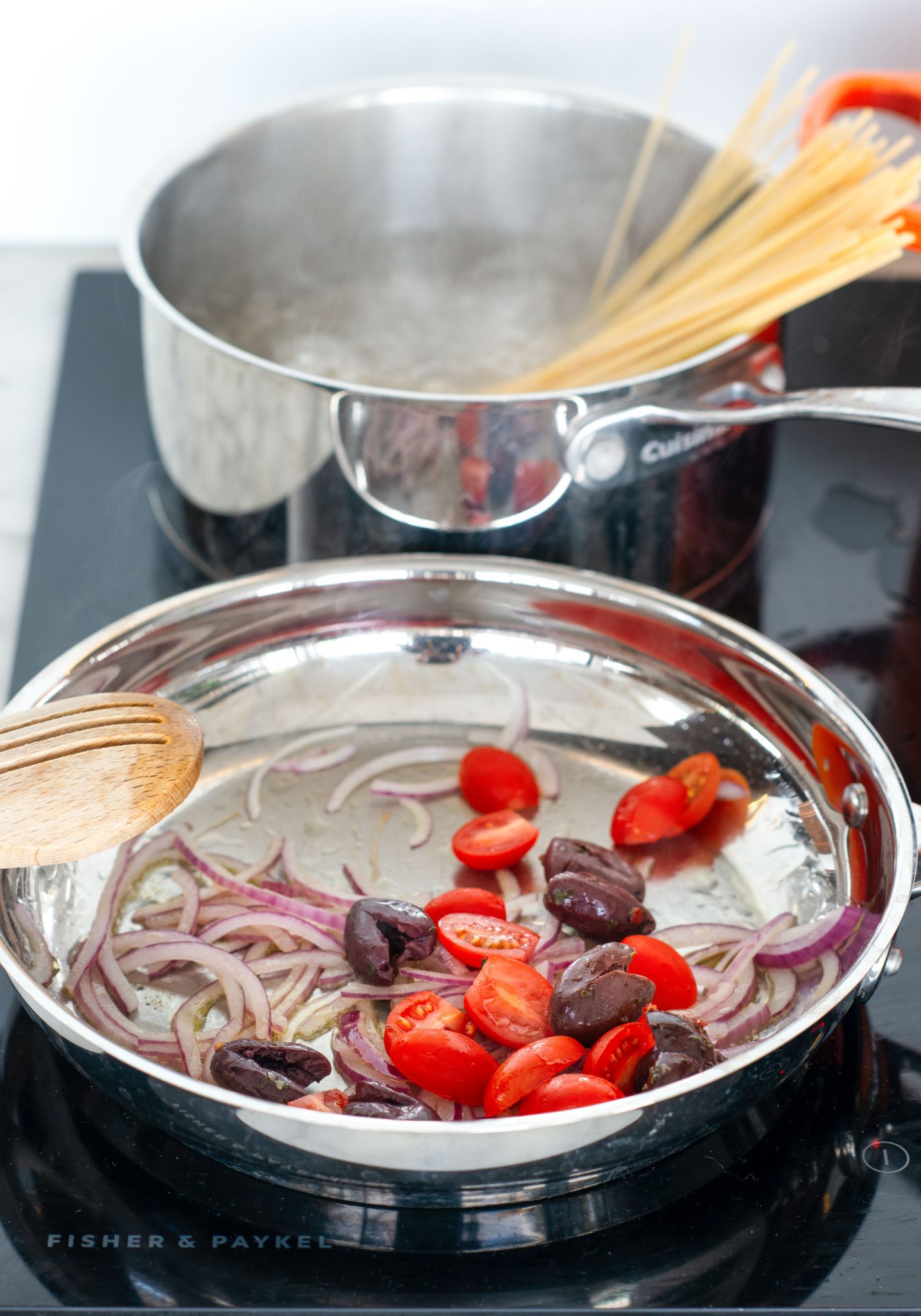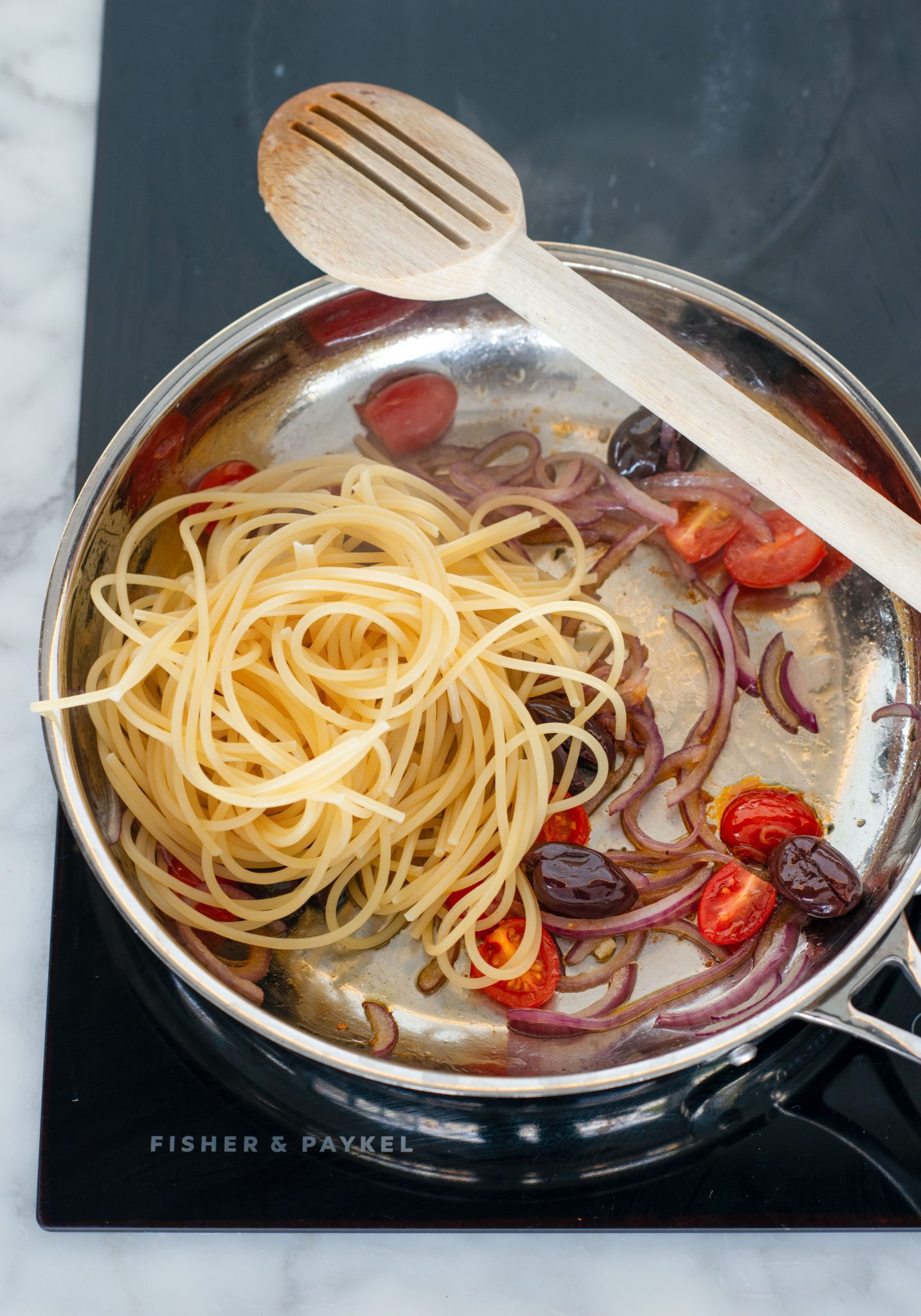 90g John West Deli Tuna (I used Black Olives & Bell Peppers in Oil)
1/2 red onion, thinly sliced
sea salt and freshly ground black pepper
1/3 cup cherry tomatoes, halved
1/3 cup black olives, stones removed
1 clove garlic, crushed
200grams pasta (I used regular spaghetti)
3 tablespoons freshly grated Parmesan
1 tablespoon finely chopped parsley
Drain the oil from the tuna and pop it in a medium/large frying pan. Heat the oil, and on another element set a big pot of water to boil. Add the onion to the oil, season with salt and pepper and cook for 5 minutes. (Meanwhile cook your pasta, and as soon as it is al dente, drain it and set aside.)  Add the tomatoes, olives and garlic to the onion and cook together for 5 minutes. Throw in the pasta, tuna and half of the Parmesan, stir to combine then pile into a bowl. Top with remaining Parmesan, and parsley, to serve.