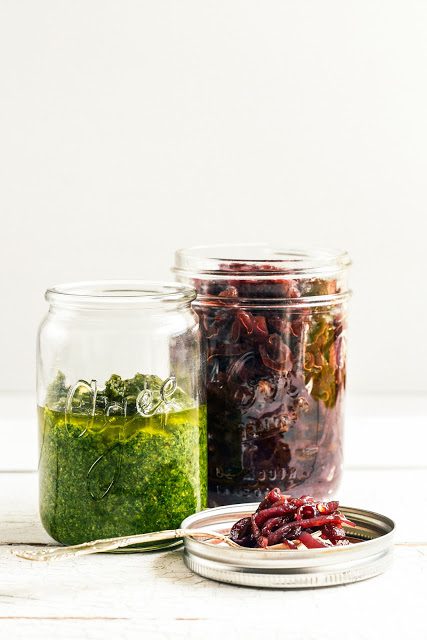 These are two things that you will almost always find in my fridge as both can instantly bring even the dullest meal to life – and they are perfect to pop in the packing pile to take camping – even a humble sausage is transformed! In winter I often swap out the basil/pinenut combo in the pesto for rocket/walnut and it is equally good. The onion jam/caramelised onions can be made with red or brown onions, although generally I think the red version looks a little more interesting. Both can be used in sandwiches and rolls, on pizza, stirred through pasta, baked into muffins, on toast with eggs….seriously, even though I know it is a dorky thing to say – they are your secret weapons against food boredom!
 Basil Pesto
2 big handfuls fresh basil (50g)
1/3 cup grated parmesan
1/3- 1/2 cup extra virgin olive oil
1/3 cup lightly toasted pinenuts
1 large or 2 small cloves garlic, peeled
sea salt and freshly ground black pepper to taste
 Throw everything in a blender and whizz until as smooth as you like. Keeps in a sealed container in the fridge for 4-5 days. Perfect in sandwiches, on pizza, stirred through pasta and even with crostini or crackers. Makes 3/4 cup.
Caramelised Onions
¼ cup olive oil
5 medium red onions, peeled and sliced  – aim for thin slices
¼ teaspoon salt
2 tablespoons balsamic vinegar
2 teaspoons caster sugar
black pepper to taste
small pinch chilli flakes, optional
 Heat olive oil in a big heavy based pot. Add onions and salt and cook over a medium heat for 25-30 minutes until nice and soft, stirring every once in a while so that they don't catch on the bottom. In between stirring, half cover with the pot lid – I always rest it on the wooden spoon laid across the top of the pot, so it is mostly covered, but not completely. After half an hour add balsamic vinegar and sugar, remove lid completely and cook a further 10 minutes, stirring occasionally. If you like a little heat throw the chilli flakes in now too. Once you add the sugar the onions will brown up more and go more caramelisey – if your heat is a little low you might want to increase it a bit now. If the onions seem a little dry add an extra tablespoon of olive oil and stir through then season with black pepper. Leave to cool then spoon into a sealable jar or container. Makes about 1 1/2 cups and keeps for up to a week in the fridge.