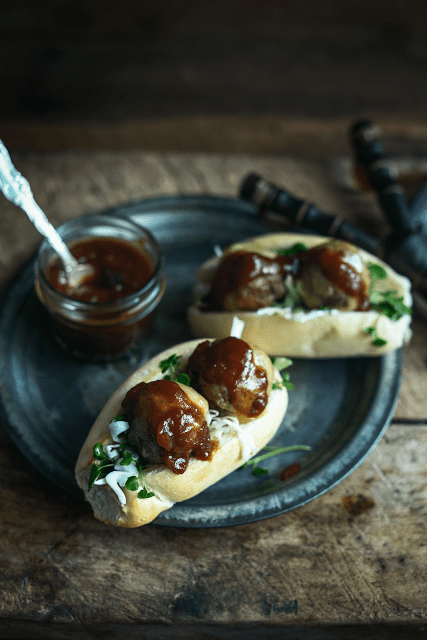 Helloooo – number 2 in my meatball surprise recipe line-up are these meatballs with home-made smokey barbecue sauce, coleslaw and melty cheese in soft rolls. I have often been asked if I eat the stuff I make and photograph (!??!) well yes indeed, but on occasion I am actually eating when there may be a good shot left to take because I can't restrain myself any longer – these humble meatball subs for example! I know I shouldn't blather on but they are so good, the perfect comfort food for a lazy weekend afternoon.
It seems like such a strange thing to be sitting here at my dining table, looking out at a gorgeous hot, sunny Auckland afternoon, knowing that most of those who read this will be doing so in the midst of winter in the northern hemisphere. I guess I'm just pondering this weird state of globalisation where we get to know each other in far off corners of the world via blogs, Facebook, instagram and other social media. For those who don't know, I live pretty much at the bottom of the world in New Zealand. Because we are so far away from anywhere (Australia is our closest large neighbour) we tend to be great travellers and look at the world with more freedom and a slightly more neutral eye than those who are 'in amongst' it. Our culture is diverse and we have a pretty relaxed attitude which allows us to pick and choose from different parts of cuisines brought to New Zealand by those who choose to make it their home, and via our travels.  To that end, I will often mash up my recipes with a bit of English, French Italian, Indian, Mexican, Asian –  you name it! I don't pretend  to be an expert in any of those cuisines but in classic Kiwi fashion, just bung together the bits that I like, and hope you like them too! Crikey – so many words today…that'll do!!! Have a great weekend, and if you get the chance I hope you'll give these a whirl 🙂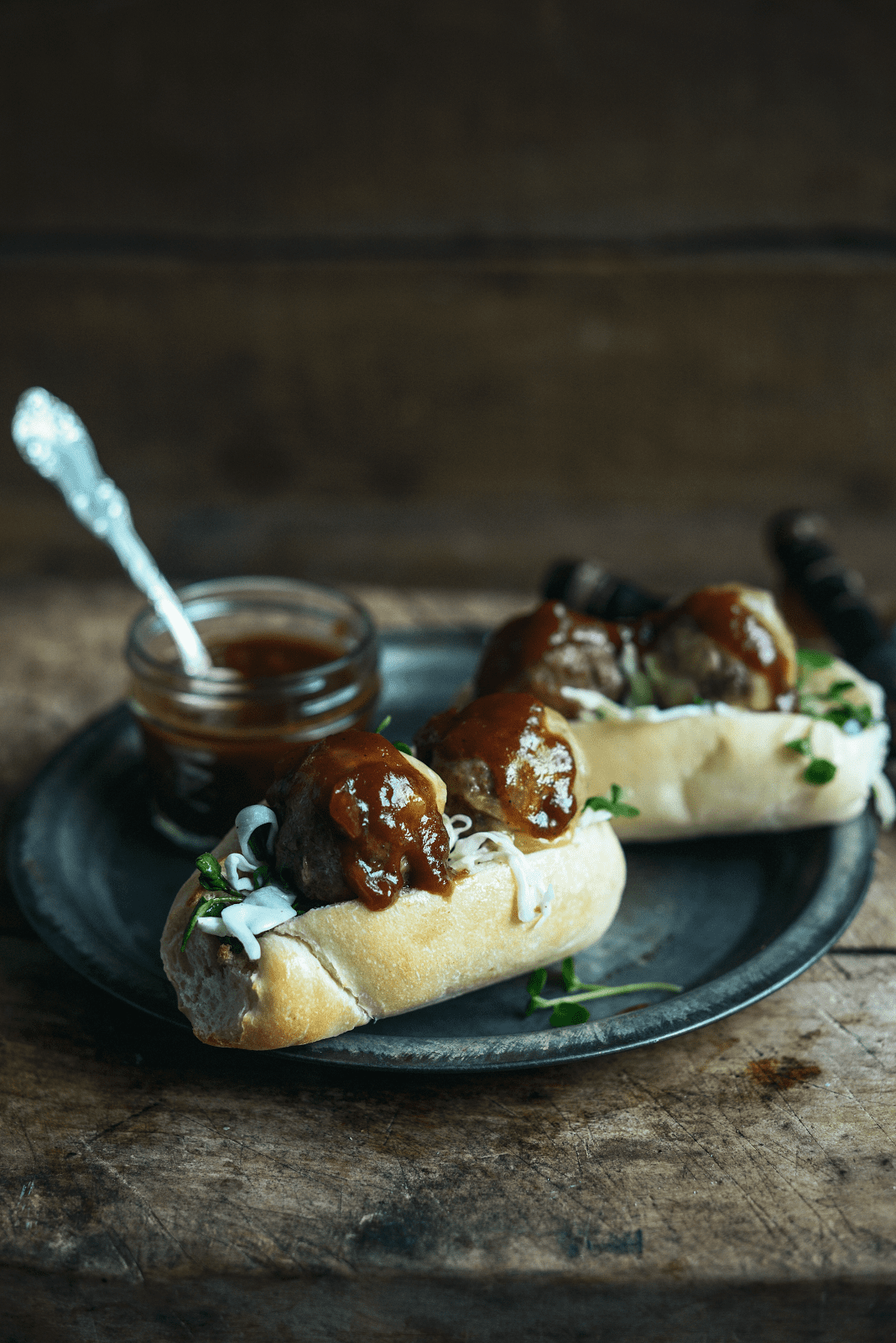 1 kilo pork mince
500g beef mince
2 eggs, lightly beaten
4 slices white toast bread, crusts removed
1/2 cup milk
4 cloves garlic, peeled and crushed
1/4 cup grated Parmesan
3/4 cup ricotta
1/4 tsp dried chilli flakes
1 tsp fennel seeds, dry toasted and ground in mortar and pestle
sea salt and freshly ground black pepper
finely grated zest of 1 lime
olive oil spray2/3 cup grated mozzarella to serve
17-18 soft white rolls
Break pork and beef mince up into a large bowl and stir through eggs. Put the milk and the roughly torn up bread into a food processor. Let it soak for a minute while you add the garlic, Parmesan, ricotta, chilli flakes, fennel seeds, salt, pepper and zest. Pulse it all until the mixture is just combined. Add to the mince then mix really well together. Roll into 35-40 golf ball size meatballs and chill in the fridge until ready to use.
1 tbsp olive oil
1 onion, chopped
1 cup brown sugar
2 tbsp Worcestershire Sauce
3 tbsp American mustard
1 400g tin chopped tomatoes in juice
2 tbsp cider vinegar
2 tbsp maple syrup
1 tsp sweet smoked paprika
1/4 tsp ground cloves
1 tbsp plain flour
pinch cayenne pepper
salt and pepper to taste
2 tbsp bourbon
Heat oil in a big heavy based pot, add onion and cook over a medium/gentle heat for 10 minutes until the onion is softened but not coloured. Add remaining ingredients, whisking to incorporate flour. Bring to a simmer and cook for 30 minutes. Whiz in a food processor until as smooth as you like (I left a bit of texture), cool and store in a covered container in the fridge.
2/3 cup good quality egg mayonnaise
1/8 -1/4 tsp celery salt
1 tbsp cider vinegar
2 tsp caster sugar
1/2 small cabbage, finely sliced
1 cup watercress or watercress micro-greens
Whisk together mayonnaise, salt, vinegar and sugar. Stir through cabbage and watercress. When ready pre-heat oven to 200˚C(395˚F) and line a large oven tray with baking paper. Lay out meatballs and give a light spray with olive oil. Bake in the oven for 20 minutes. Sprinkle over mozzarella and grill a minute or two until golden. Serve rolls with coleslaw, meatballs and a good dollop of barbecue sauce. Makes about 17 rolls. Serves 6-8