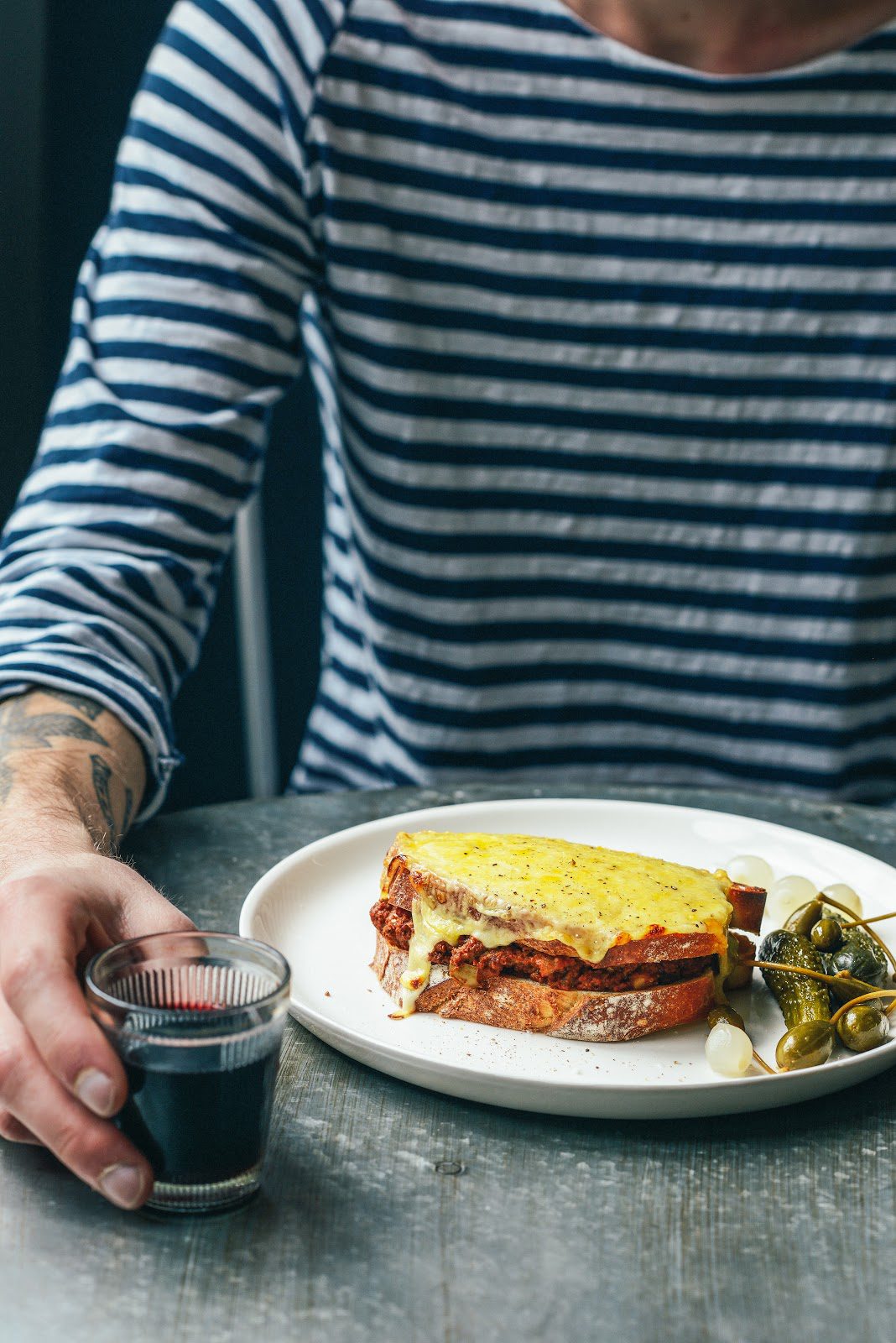 Well by crikey this has been a long time coming – in my defense I have been drowning in work lately – cool stuff too, for Sileni wines and Barkers range of sauces, jams, syrups etc, in addition to my regular Dish and Fairfax stuff. Also – bit of a crap week last week, I went for my regular mammogram expecting the normal result only to end up staying for three mammograms, two ultrasounds and five biopsies. That was on a Friday – and the results didn't come through 'til Tuesday, so much angsting in between – Nick even flew back from Japan with Henry before they got to China – but as it turns out, it was all good, just some bloody cysty fibrous blob! The upside has been having the opportunity to hang out with Pog for a few days – and he was the inspiration for this post. I asked him what he fancied and he was keen on Sloppy Joes, but I was in a toasted sandwich-y frame of mind and harking back to our fab trip to Paris a few years ago – this was the result – a Sloppy Joe/Croque Monsieur combo :)A couple of times in the past I have suggested recipes to go with certain sporting events, but whenever I have done this, the team I am supporting have lost, so I am NOT doing this. If you feel like making the mince and bechamel the day before, then slapping them together to cook at the half time break of a large world-wide televised sporting event, that is entirely your call.
Not much other news – Henry flies back to Welly today which is total poo – after I have had the pleasure of his company for a few days it makes the leaving so much harder. Rich is about to start a flurry of studying (haha) for his Cambridge exams before heading off for a three day 'roadie' next week. I am glad to report his hair has just about fully progressed from shaved undercut with top-knot to man-bun – and by that I mean the sticky-out sides now almost make it into the ponytail – hurrah! Nick is back for three whole weeks before heading off again, so can hopefully catch up on work/exercise and relaxation before the next big trip. And me? Back into the flow of work with a job for the good people at Paneton and Fairfax this week followed by my next installment for Dish…and then in a minute it will be Christmas. Anyhoo – deep breathes – have a great weekend!!! 🙂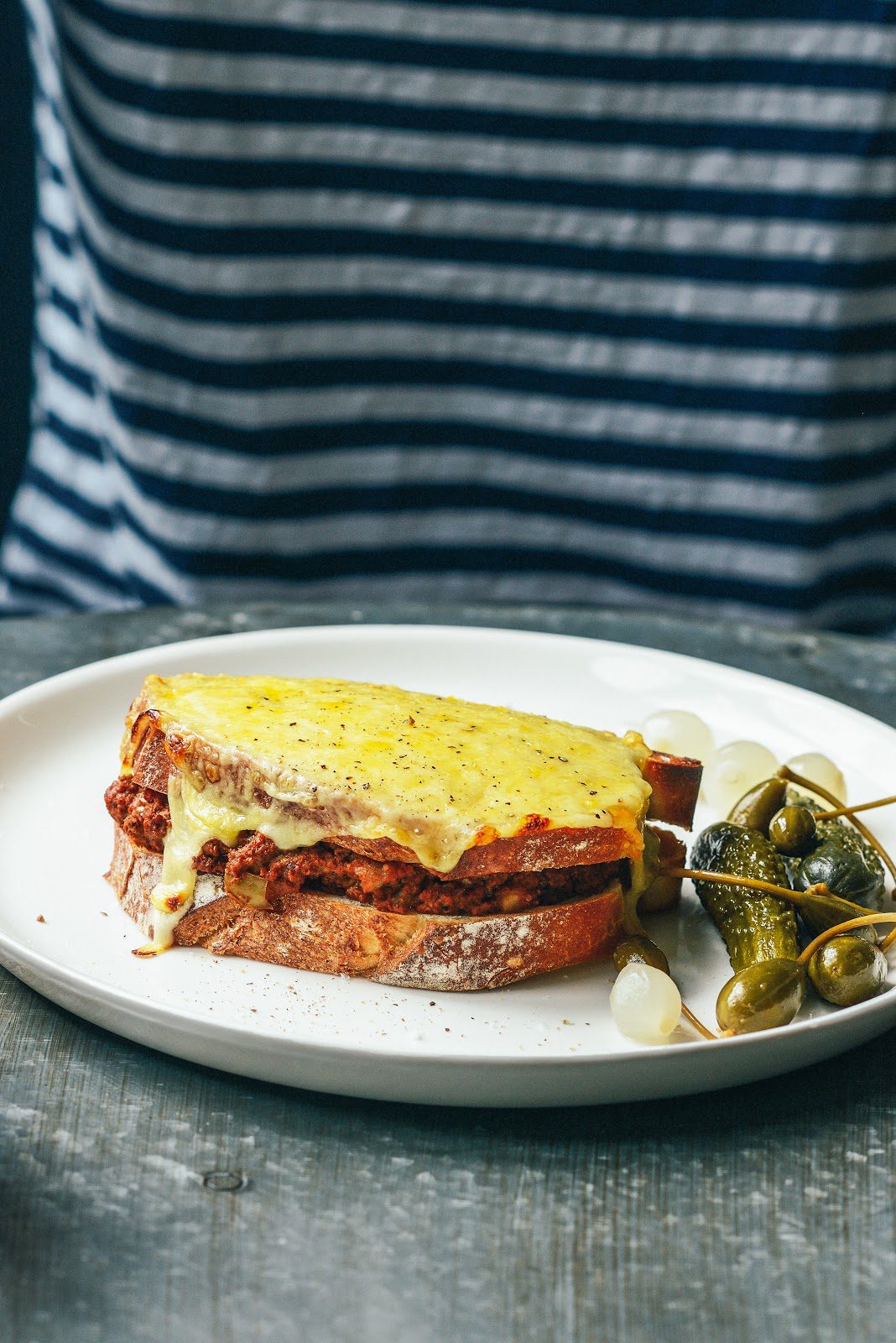 2 tbsp olive oil
1 onion, chopped
80g pancetta, chopped (bacon also fine)
1 carrot, chopped
1 green pepper, diced
2 sticks celery, finely chopped
1.5 kilos good quality, pretty lean beef mince
2 tbsp seed or dijon mustard
3 tbsp worcestershire sauce
4-5 cloves garlic
720ml tomato passata
1 cup good quality, grunty beef stock
1 medium waxy potato, chopped
1/4 tsp chilli flakes
1 bay leaf
3 tbsp plain flour
Heat the oil in a massive heavy based pot and add onion, pancetta, carrot, green pepper and celery, season well with sea salt and freshly ground black pepper and cook together for 10 minutes until the onion is softened. Add mince and spend at least five minutes squashing and breaking it up with a wooden spoon and fork as it cooks, so that it is all lightly browned and not lumpy. It's a pain but it has to be done. Add mustard, worcestershire sauce, garlic, passata (or pureed tinned chopped tomatoes), beef stock, potato, chilli flakes and sea salt. Half cover with a lid (Leave it propped open with a wooden spoon or some such) and cook over a medium/low heat for at least three hours, preferably four – and ideally cook it the day before using. Just pop past and give it a casual stir every now and then. For the last hour remove the lid and sprinkle in the flour, then stir to combine. This will make a really big amount, but it is great to freeze for toasted sandwiches, pies, starving students to eat on toast etc.
3/4 cup grated tasty cheese
a pinch of freshly grated nutmeg
2 teaspoons American mustard
salt & freshly ground black pepper to taste
You can make the Béchamel Sauce either on the stove top, or in the microwave. The method is very similar. On the stove top, heat the butter in a saucepan over a gentle heat until just melted. Stir in the flour with a wooden spoon. Add  the milk in three lots, stirring continuously, until well incorporated. Keep stirring while cooking over the heat until the sauce is thickened and smooth. If it misbehaves, just whisk it vigorously with a wire whisk until smooth – it should finish thick and silky. Add the cheese at the end of heating and stir well to combine. Yum. Leave to cool. Preheat oven to 200˚C (400˚F) and get out an oven tray.
12 slices good bread, sliced yourself from a big loaf
30g butter
1 cup grated tasty cheese
OK, butter 6 slices of bread and put them butter-side-down on the oven tray. Top each with as much mince as you fancy, then top with a bread lid. Spoon about 3-4 tablespoons of bechamel on top of each one, then sprinkle with tasty cheese. Cook for about 10-15 minutes (depending on thickness and coldness of mince to start with) finishing with a minute under the grill, until mince is heated through and cheesy top is golden and bubbling. Serve with 'sharp' accompaniment of your choice – I used little white pickled onions, dill pickles and caper berries.
Serves 6 – but you will have mince left over for round two, about four more serves, or the perfect 'innards' for a mince and cheese pie, quesadilla or toasted sandwich filling or pop some mashed spuds on top for a mini cottage pie 🙂