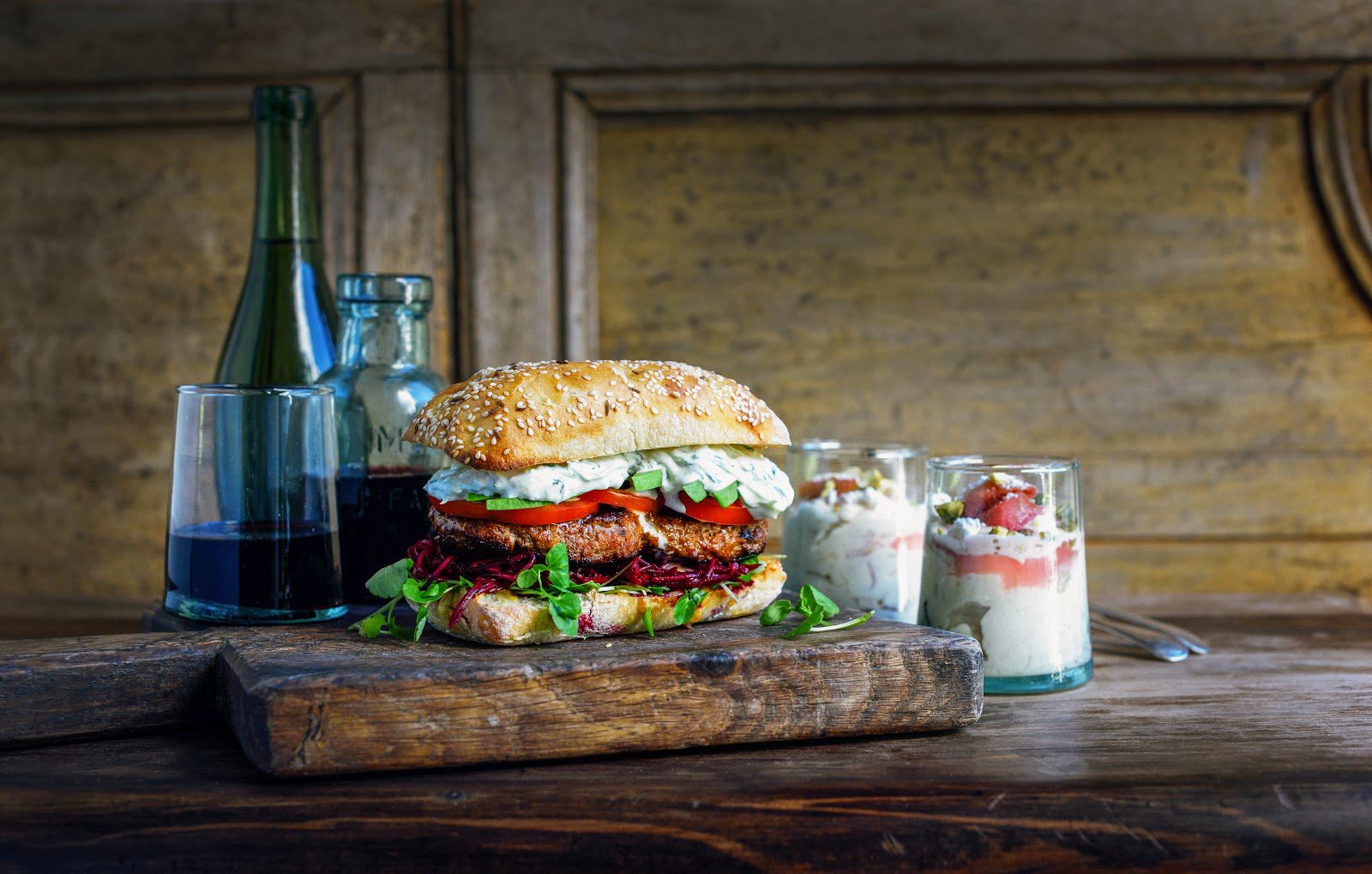 Greetings from magnificent Waiheke! God I love being out here – it is worth every moment of frazzled, rushed preparation to make the last car ferry out with one vomitous and one fretful dog to arrive to a spectacularly clear, still evening, crackling fire, fresh fish and chips and a cheeky l'il glass of wine. So here I sit now (next day) at the Waiheke Library using their  lovely free internet and getting a bit of work done for Fairfax (Mother's Day baking- coming soon).
Meanwhile we are actually here to take advantage of the long weekend in recognition of Anzac Day (to honour the fallen soldiers of New Zealand and Australia, on the day that troops landed at Gallipoli in 1915) – and I figure these lamb burgers (that I also put together for Fairfax) are a pretty perfect Anzac meal to share with friends: good quality lamb mince, flavour-packed with cumin, coriander, garlic and chilli is moulded to fit Turkish bread roll shapes. Once cooked they are sandwiched with ripe tomato, creamy avocado and iron-rich spinach, fresh vibrant raw beetroot and a creamy, minty cucumber and yoghurt dressing. To follow, a decadent little glass of Rosewater Rhubarb Eton Mess – crumbly sweet meringue, tart rhubarb and pillowy cream flavoured with fragrant rose water and topped with Turkish delight and chopped pistachios. Seriously – the whole lot is bloody delicious, if I say so myself!
Now, time to go and savour Waiheke a bit more – we all followed our usual routines this morning: I went for my monster walk, Nick took the dogs to the beach, and Rich (up from uni in Wellington for semester break) slept. So now I think a wander around the shops is in order, then back to the section for a big cup of tea and a few hours reading on the deck. Wish Pog was here too, but by crikey that man/boy has been busy transforming his new room in Melbourne into a lux haven – such an amazing 'eye'! See you again soon…have a great weekend 🙂
1 kilo lamb mince
1 red onion, half finely sliced, and half roughly chopped
3 tablespoons tomato paste
4 cloves garlic (1 small)
1 red chilli, halved lengthways, seeds scraped out, roughly chopped
2 teaspoons ground cumin
2 teaspoons ground coriander
2 tablespoons olive oil
2 avocados peeled and sliced
3 cups baby spinach or watercress
3 large tomatoes, sliced
6 Turkish bread rolls, halved
1 ½ cups grated tasty cheese
1 telegraph cucumber
1 1/4 cups natural Greek yoghurt
finely grated zest of 1 lemon
1/3 cup finely chopped mint leaves
2 large beetroot
1 tablespoon extra virgin olive oil
1-2 tablespoons cider vinegar
½ teaspoon caster sugar
In a food processor whiz the roughly chopped onion, tomato paste, 3 cloves of garlic, chilli, cumin, coriander and black pepper. Add spice paste to the mince and stir to combine. Gently form into 6 patties, about the size of your Turkish rolls . Make several small thumb print indents down the middle of each patty and put on a baking paper lined tray, cover with plastic wrap and refrigerate until ready to cook. (These can be prepared up to 8 hours ahead). Halve the cucumber lengthways and scoop out the seeds with a teaspoon. Grate the cucumber and put it in a bowl with the yoghurt, lemon zest and mint. Add the small garlic clove, crushed. Stir to combine and season to taste with salt and pepper then cover and chill until ready to serve. Peel and grate the beetroot and put in a bowl with the finely sliced onion, oil and vinegar and season to taste with salt and pepper. Set the oven to grill. Heat oil in a frying pan, season the patties with sea salt and cook for 4-5 minutes on each side, until cooked through. Lay buns on an oven tray cut-side up. Divide cheese between bun bases when patties come out of the pan and grill buns for a minute until the cheese is bubbling and golden. Top cheesey sides with spinach or watercress, beetroot, lamb patties, tomatoes, avocado and yoghurt dressing then add bun 'lid'. Serves 6
Rosewater Rhubarb Eton Mess
400g rhubarb stalks, angled sliced into 2-cm pieces
1 tablespoon rosewater
3 tablespoons caster sugar
1 1/2 cups cream
2 tablespoons berry jam (I used Anathoths Rhubarb & Red Berry jam)
95g meringues, crumbled
50g Turkish delight, chopped
1/3 cup lightly toasted pistachios, roughly chopped
Preheat oven to 180˚C and put rhubarb in a small roasting dish. Sprinkle with rosewater and 2 tablespoons of caster sugar and roast for 20-25 minutes or until soft. Leave to cool in the juices. Whip cream and remaining sugar to soft peaks. Add ¾ of the rhubarb, ¾ of the meringue and ¾ of the pistachios to the cream and the jam and stir to combine. Spoon into serving glasses and top with remaining rhubarb and juices, meringue, pistachios and chopped Turkish delight. These can be prepared up to 2 hours ahead, but garnish just before serving.