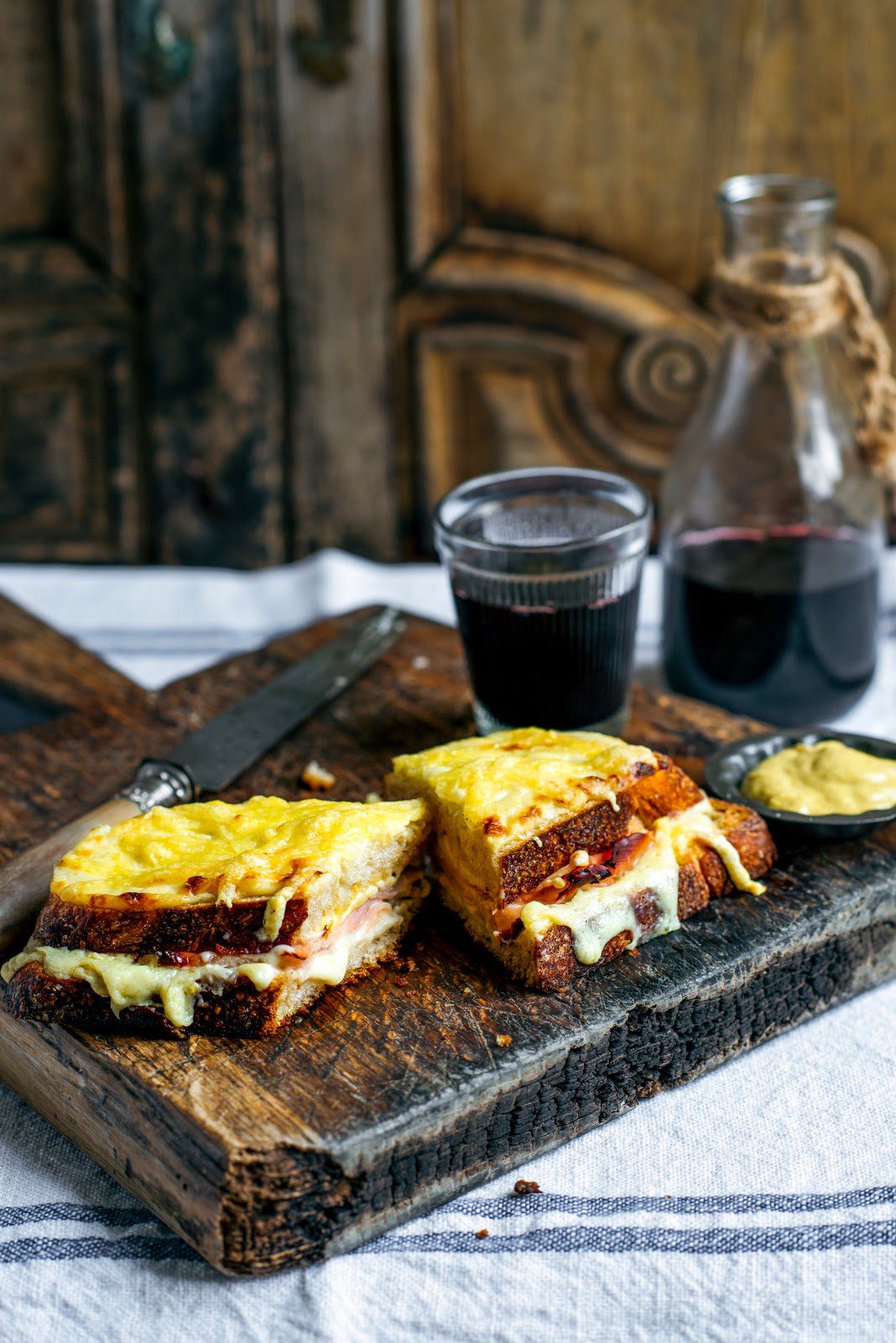 These are two of my all-time favourite French dishes that are featuring in Fairfax newspapers around the country today – so simple to prepare, pretty rustic, but packed with fantastic flavour. The onion soup is deeply rich, slightly sweet and satisfying while the croque monsieur is indulgently good with crispy bread slathered in bechamel sauce, nutty gruyere cheese, sharp Dijon and ham. You may well be cursing me during the onion preparation if your eyes are stinging – the only way I have ever found that works for me to prevent this, is to pop the whole onions in the freezer for half an hour before I start slicing, but even so by the end I was red-eye-stingy and crying. I have been a bit relaxed with the serving quantities this week, as a little bit depends on how big the bread slices are in the croque mesieurs – if you use big slices of sourdough half of one might serve for one, but if you use smaller slices of bread you will need one each. Similarly this will affect how much soup you want to go with it. Rest assured that the quantities will serve at least 4 (and 6 of me!).
So this morning I am posting this from the hairdresser (major colour and trim required) having just been to have my eyebrows fixed up. I am in that slightly hyperventilate-y state of having lots to do but trying to remain calm, as when I get to each thing I just have to stop. Any way, as usual I have brought work with me to do, so will get to that in a minute. The countdown is on to Pog and Will's arrival on Sunday, so I have one more shot to do tomorrow morning and can then start my flurry of preparation proper – house clean, fresh sheets, mow the lawn, food prep, etc. As Henry is now full vego I am opting for porcini arancini, beetroot and feta crostini, spinach parcels, cauliflower and chickpea fritters and a good cheese platter as the main components of the nibbles for his 21st – then as far as drinks go he is a gin fiend so that is pretty easy. The guys arrive from Melbourne on Sunday (hurrah!), then Rich from Welly on Tuesday with the gathering on Tuesday evening. It'll be a bit quiet from me for the next 10 days, but in the meantime, wish me luck, and please do try these recipes – they really are delicious 🙂
French Onion Soup:
3 tablespoons olive oil
30g butter
1.3 kilos (about 6) brown onions, halved and finely sliced
1-2 tablespoons caster sugar
4 cloves garlic, crushed
1 tablespoon flour
2 bay leaves
sprig of thyme
1 cup dry white wine
4 cups beef stock
2 tablespoons brandy
2 tablespoons fresh thyme leaves to serve
Heat the butter and oil in a large, heavy based sauce pan. Add the onions and stir to break them up a bit, season well with salt and pepper, cover and cook for 15 minutes. Add the caster sugar and cook a further 15 minutes, then add the garlic and cook uncovered for 5 minutes. Add the flour and stir into the onions, then add the bay leaves, thyme, white wine and beef stock. Bring to a boil then reduce the heat to a gentle simmer and cook for at least 45 minutes, but up to 70 minutes. During this time I have the lid on, but propped open by a wooden spoon so that a little bit of reduction takes place, which intensifies the soup. Remove the lid completely and add the brandy for the last 10 minutes of cooking. This soup is great served on the day you make it, even better on day two, but I would say optimal on day three – making it the perfect prepare-ahead dish for when friends are coming over. Serves 4-6
Croque Monsieur: (or actually croque mesiuers…)
60g butter
3 tablespoons plain flour
1 ½ cups whole milk
200g Gruyere cheese, grated
4 teaspoons Dijon mustard
1/8 – ¼ teaspoon white pepper
¼ teaspoon freshly grated nutmeg
4-6 slices bread – I used sour dough
8 slices champagne ham
Heat half of the butter in a saucepan until just melted. Add the flour and whisk to combine. Cook, stirring for a minute, then add one third of the milk. Whisk vigorously until smooth. Add the remaining milk and cook, stirring, over a medium heat until the sauce is thickened and smooth. Add half of the Gruyere cheese, one teaspoon of Dijon, and season with salt, white pepper and nutmeg. Return to the heat and stir until the cheese is melted and the sauce is smooth. Pour the sauce into a container and cover the surface with plastic wrap. Refrigerate for an hour. Preheat the oven to 200˚C and put an oven tray in to heat up. Butter one side of each of the bread slices and lay half of them on a piece of baking paper, buttered side down. Spread a little Dijon over each slice and top with a good dollop of the sauce. (For my big slices of sourdough I used two tablespoons per slice). Top with two slices of ham and a sprinkling of cheese. Put spare bread slices on top, buttered side up and top with a little more sauce and another sprinkling of cheese. Transfer to the hot tray and bake for 12-15 minutes until golden and bubbling. Leave to cool for 3-4 minutes before serving. (You may have a little sauce left over, but it will keep for several days in the fridge if you decide to make more – and can also be used to top cauliflower, broccoli, fish or steamed leeks).