Just in time for the weekend – these fritters would make a great breakfast-lunch-or-dinner option for a lazy weekend stuck indoors while it hoses down with rain outside! I made up the recipe as the lovely Will has been occasionally cooking recipes from the blog for my very lucky Henry. The thing is Henry is vegetarian and (forgive me my darling but you know it is true) quick to get hangry, particularly after a long day at work or uni (you know angry/hungry), so I felt it my duty to provide Will with some quick vego recipes he could rustle up for Pog, before Henry turns feral 🙂 So ta-dah! These fritters have a great earthy slightly Mexican vibe, and when fried in the coconut oil, the exterior gets just lightly crispy in an appealing onion bhaji kind of way. The earnest chickpea, beans and sweet corn are given a wee spice kick with cumin and sweet smoked paprika, then add the smooth creaminess of avocado, the bright freshness and zing of the lime tomato salsa and the oozy richness of the egg – well, you can imagine it tastes pretty bloody good. Hope you like it guys!!!In other news Hoobie has decided to shave his beautiful golden locks as part of the leukaemia fundraising Shave for a Cure campaign. Rich's hair is his crowning glory – luscious, long (well past his shoulders), tawny blonde and wavy – I can't imagine him without it! If you feel like contributing towards his fundraising feel free to check out his page here. No pressure – just thought I may as well mention it, I'm so proud of what he is doing :)…and that's it from me I will be spending the weekend prepping for a Cuisine magazine shoot on Monday, and the following week testing for the next issue of Dish – so proud and privileged to be working for two such amazing magazines!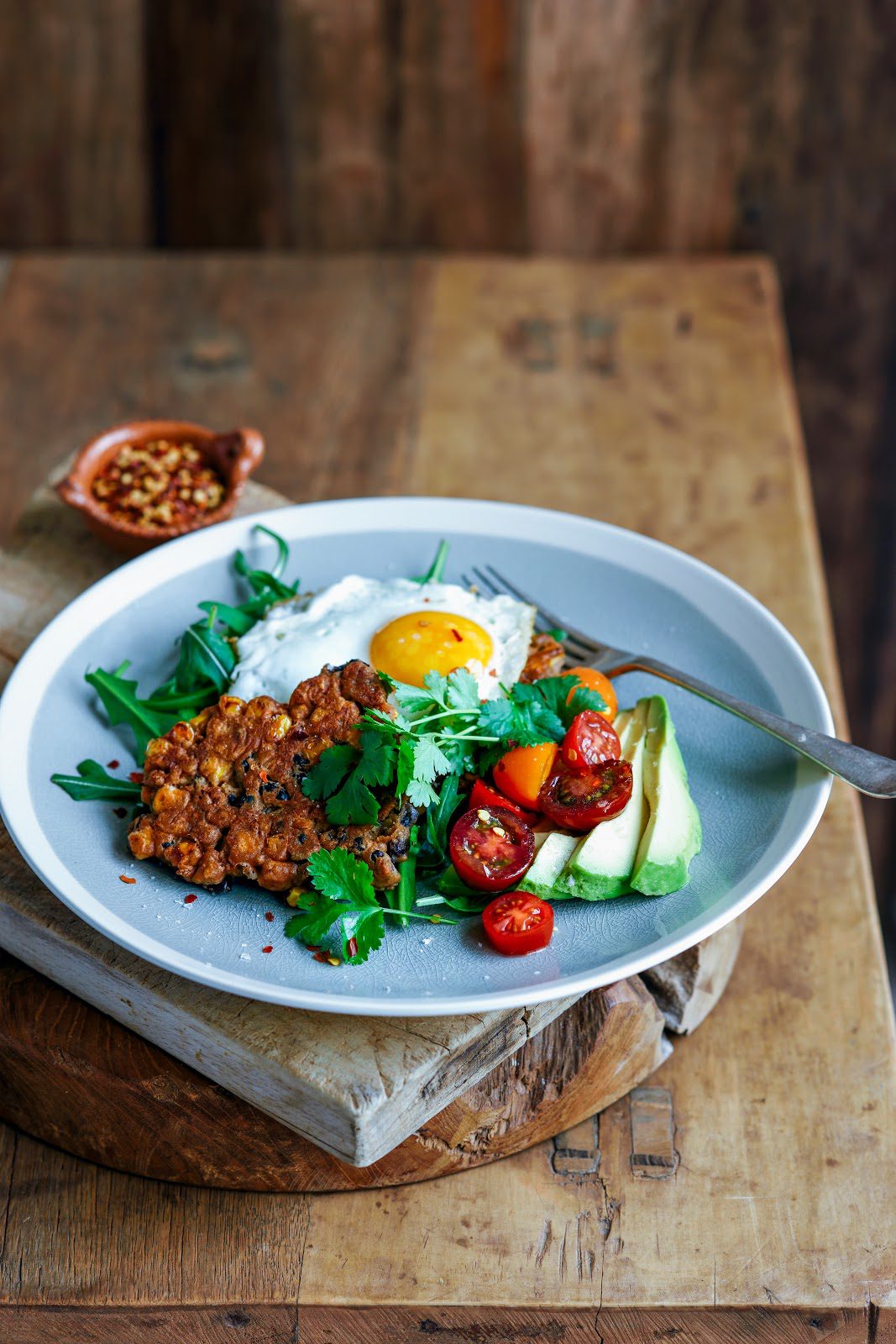 390g tin chickpeas, drained
400g black beans, drained
410g corn kernels, drained
2 eggs
1 teaspoon cumin
1 teaspoon sweet smoked paprika
sea salt and freshly ground black pepper
1/2 cup self raising flour (plus possible 1-2 extra Tbsp)
1/4 cup coconut oil for frying
1 1/2 cups ripe cherry tomatoes
zest and juice of 1 lime
1-2 tsp caster sugar
1/4 -1/2 tsp chilli flakes
1 tablespoon olive oil
1 avocado, sliced
3-6 eggs
a handful each of salad greens and coriander leaves
Put the chickpeas in a big bowl and use a potato masher and a bit of grunt to mash them up. Add drained black beans and corn kernels. Whisk the eggs in a cup or jug, and add to the beans with cumin, paprika, salt and pepper. Add flour and fold everything together. Leave it to sit for 20 minutes before cooking, stir again, and if it looks very wet, add a little more flour. While the fritter mix is resting, slice the tomatoes and toss with the lime juice and zest, sugar, chilli flakes and olive oil.
Heat half of the oil (add more when necessary) and cook fritters over a medium heat, for 1-2 minutes each side until golden and cooked through. Drain on absorbent paper. While they are cooking, heat a separate frying pan with a little more coconut and fry the eggs to serve alongside. Serve fritters with a few salad greens, tomato salsa, fried eggs and sliced avoacdo. Makes 6-8 – serves 3 for dinner or 4 for lunch 🙂