Just re-posting this little beauty from a while back…can't help myself, it's raining, I don't want to get out of bed…wish it was Sunday morning! :)Feeling easy like Sunday morning, thanks Lionel Richie, and thanks yoga, which seems to have some kind of calmative effect on me so that when I finish, I can float off ready for the day ahead. Yesterday as I was in my savasana at the end (flopped out lying on my back), trying to be present and in the moment etc etc I was feeling super relaxed and fabulous, but also sneakily planning to make this as soon as I got home. Thank God no-one else can see inside your head when you're lying there, I feel like everyone else around me is wafting around on a cloud while I'm thinking about food. Never mind! Do you need a recipe for this – probably not – you can see what it is. A piece of delicious Vogels (wholegrain) toast topped with garlicky hummus, avocado, a perfectly poached egg and a sprinkling of dukkah. Where to start in my rave about this perfect breakfast – I love the crunch of the toast, earthiness of the hummus, smooth avocado, the silkiness of the egg and the texture of the spicy, nutty dukkah…totally delicious. I'll include the dukkah recipe below and some brief instructions just in case they come in handy. Wherever you are, southern hemisphere in the midst of freezing, grim snow or rain, or northern with a gentle spring kicking in, this is sure to set you right for your Sunday morning. Have a wonderful day 🙂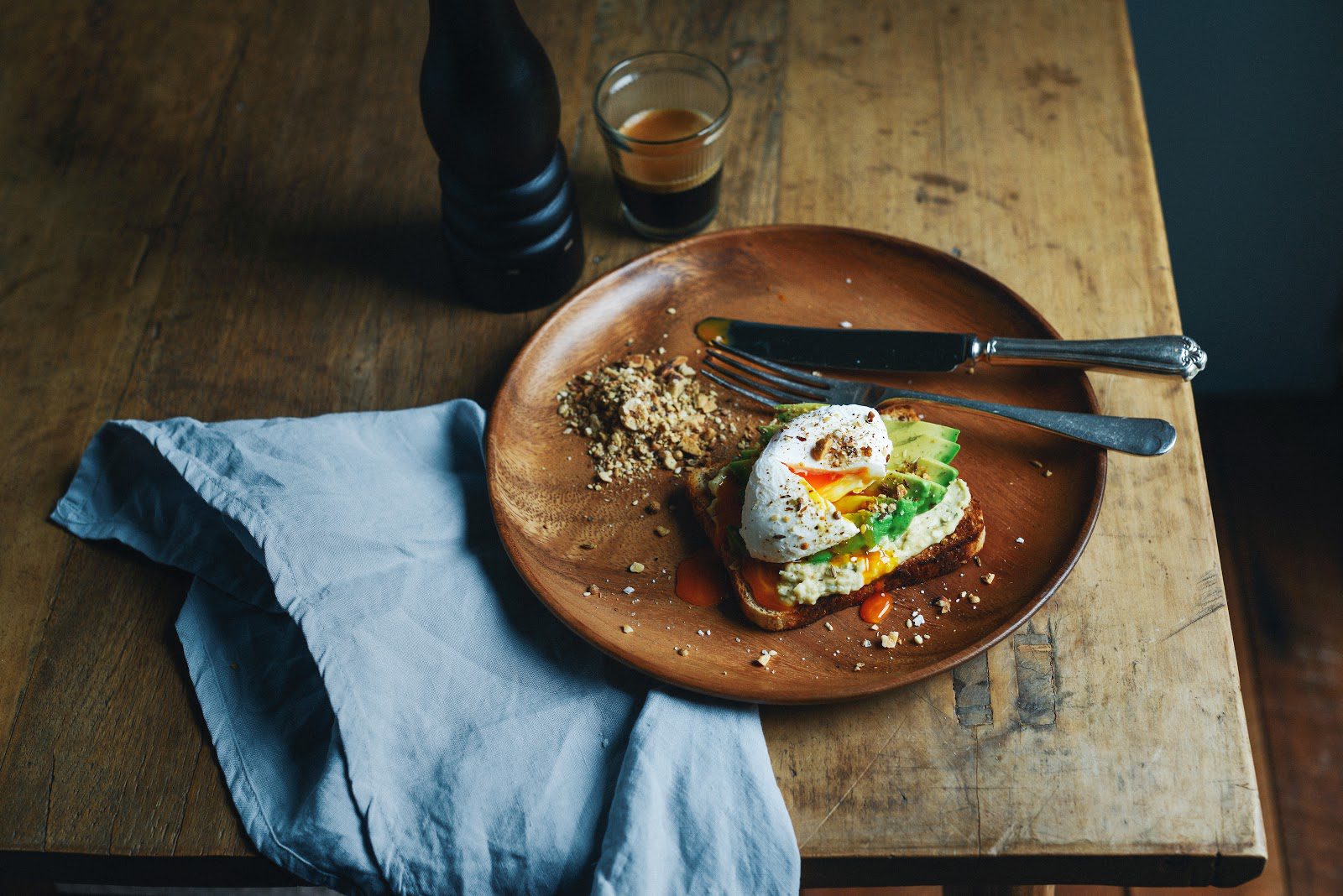 Breakfast for 2:
4 pieces Vogels or other wholegrain  toast
4 eggs – super fresh ideally free range / organic
2 tbsp white vinegar
1/2 cup hummus (I used garlic hummus)
1 avocado
1/4 cup dukkah
Bring a reasonably large pot of water to the boil, reduce to a simmer, add vinegar then one by one, crack an egg into a cup and slip gently into the water. Simmer for 3 minutes then remove with a slotted spoon. Spread toast with hummus and top each slice with quarter of the avocado and an egg and sprinkle with hummus. Dig in!
Sarah's Walnut, Pinenut and Pumpkin Seed Dukkah:
Nuts:
1 cup hazelnuts (or walnuts)
1/3 cup almonds (or pumpkin seeds)
1/3 cup pine nuts
1/3 cup sesame seeds
Seeds and spices:
2 tbsp cumin seeds
2 tbsp coriander seeds
2 tbsp fennel seeds
1 tsp freshly ground black pepper
1 tsp red chilli flakes
2 tsp flaky sea salt
1 tbsp black sesame seeds (optional)
I am taking some liberties with the labeling  of nuts and seeds to make the instructions simpler…Heat the oven to 180˚C (350˚F). Put nuts on one tray and seeds and spices on another tray. Bake together in the oven for 10 minutes until nuts are lightly toasted and seeds and spices are fragrant. (If using hazelnuts separate them off, and after toasting, rub them between two tea towels to get most of the skins off – not as much of a faff as it sounds.) Cool on trays then put nuts  in a food processor  and grind seeds and spices in a mortar and pestle. Add seeds and spices to nuts and and pulse briefly so that they are all combined and the nuts are ground into chunks – I like them to have some texture, not be completely sandy butter! Add black sesame seeds and transfer to an airtight container then use for sprinkling on anything that takes your fancy.