Happy New Year!!!!!!!! As you know I have been really looking forward to seeing the back end of last year, so I am bloody beside myself that it is finally 2017. Bring it on is all I have to say. I have a huge year planned with the publication of my first book here in New Zealand, possibly Australia and (with every fibre of my being I hope) in the United States. Last year I had a good few months of eating cheese and crackers and drinking whisky for dinner (the end of a marriage is tough), but was happily just getting my act together by the end of the year. Then Christmas happened and things went rapidly down-hill – champagne at breakfast, cocktails at 4pm, endless glasses of wine – falalalala! Then that kind of rolled on into the holidays, and with the relief of getting to the end of the year and making it through the festive season it was pretty much a free-for-all.
But day 1 of 2017 and this year I am determined to get back to looking after myself, it's going to be super-important with all the stuff I want to achieve. I absolutely love yoga (ohmmm) and going for long walks, but while I love exercise and wholesome eating, I am not into mega-extremes – it is my belief that deprivation isn't necessary to live a healthy life, moderation is. Any waaay, enough words, here you have my healthier take on the traditional fry-up – just as satisfying and nourishing as the old fashioned fried sausages and eggs, but with fresh, spicy flavours: wholemeal grainy toast topped with soft, herby home-made labneh (yoghurt cheese), tender asparagus, creamy avocado, a poached egg and a good sprinkling of fragrant dukkah. So much good stuff! Wholegrain bread for fibre, vitamin rich asparagus and avocado, salmon for it's lovely omega 3s, egg and labneh for protein and (the labneh) for calcium. Wishing you an absolutely stellar start to the new year – wherever you are I hope you are surrounded by friends and loved ones, but if not – you get this brekky all to yourself 🙂
(PS – as this recipe has a loverly sponsor I also have a $150 prize to give away – head on down to the bottom of the recipe for details!)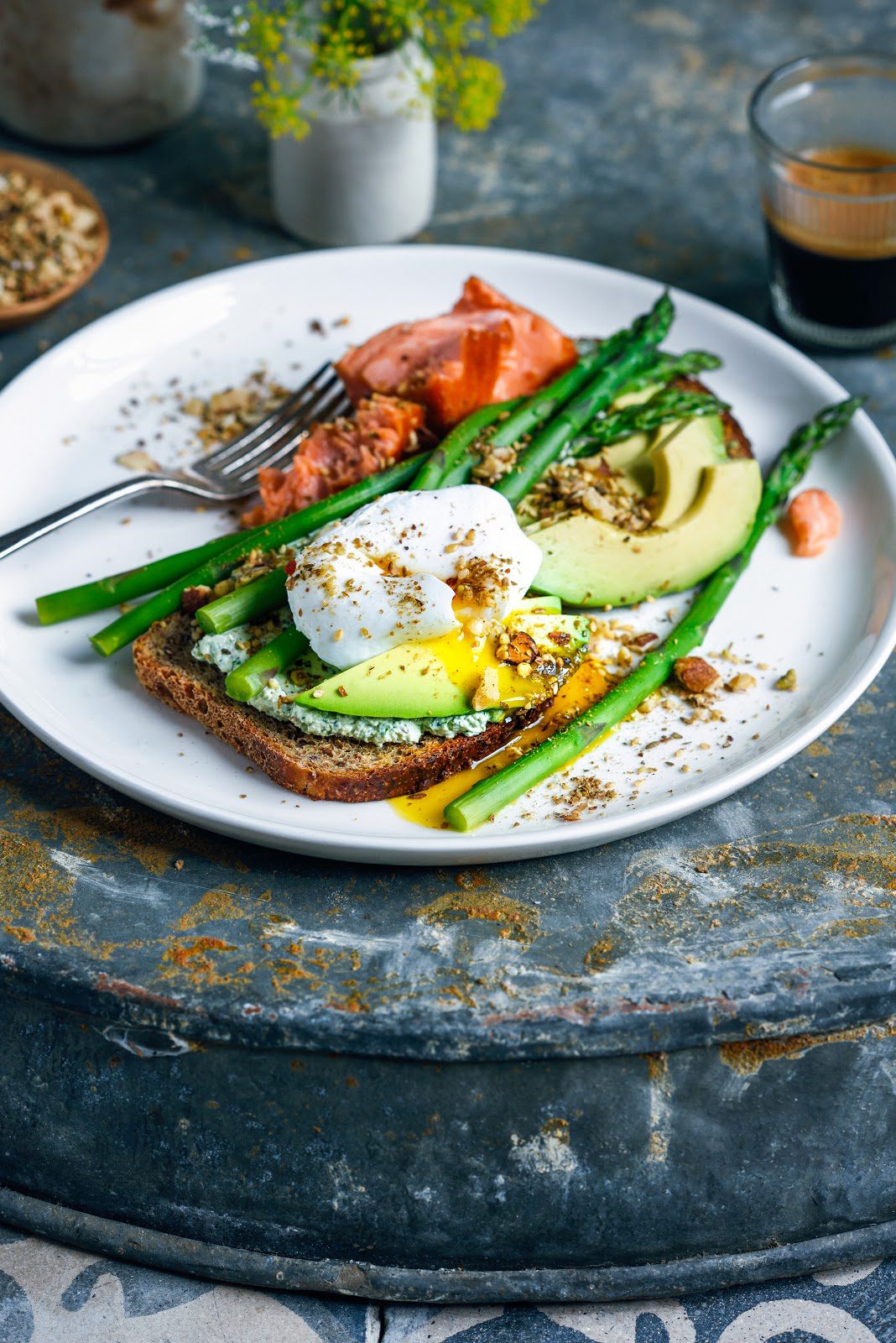 Herby labneh:
1/2 cup picked basil leaves
1/2 cup packed coriander leaves
1 large garlic clove, crushed
finely grated zest of 1 lemon
1 teaspoon sea salt
1 teaspoon toasted cumin seeds
1/4 teaspoon chilli flakes
450grams natural yoghurt
Put all of the ingredients in a small food processor and whiz to combine. (You could also use a stick blender for this). Wet a 50cm square of muslin, fold it in half and pop it in a sieve over a bowl. Pour in the yoghurt, then draw up the sides and twirl the top so that the liquid is gently squeezed out. Leave like this in the fridge – 4-6 hours for a soft spreadable labneh, and over night for a firmer consistency.
2-4 eggs
 10 small asparagus spears
2-4 slices wholemeal toast
2/3 cup labneh (see above)
1 small avocado, sliced
2 tablespoons dukkah
This bit goes without saying really! While the eggs are poaching, blanch the asparagus by dropping it into simmering water for 1 minute. Drain the asparagus and refresh under cold running water. Spread the toast with labneh and top with asparagus, salmon and avocado then top with a poached egg and a sprinkling of dukkah. Serves 2
PS – if you've made it this far you deserve a reward, I have a $150 Prezzy card to give away. All you need to do to enter is leave a comment below telling me what recipe you would like to see in my new recipe book! The winner will be announced on Facebook, and with a reply comment on the blog, on 16th January. If it's you – you must contact me with your details by Monday 30th January so I can organise the prize 🙂 (Competition only available in New Zealand) Good luck!