serves 4-6
Gah  – Wednesday again…where do the days go? Today's recipe is super simple and quick to make (especially if you already have caramelised onions, or use store bought). I have been whipping up variations of this dish non-stop as it is ready in a flash and full of snuggy, nurturing autumn vibes. The rich earthy mushrooms are coated in a little creamy, wine sauce, teamed with sweet caramelised onions, a little salty feta, crunchy pine nuts and soft pillowy gnocchi – seriously every mouthful is just a perfect little combo of comforting flavours and textures.
Right then – it's been a super stressful week trying to work out what to do about poor little Dougie (13 year old Border Terrier) who needs another operation (cruciate ligament on back leg). He is at an age when most of my friends think I'm mad to keep him around, but every time I look in his anxious little-old-man eyes I feel like he isn't ready to go yet and basically I just bawl my eyes out. Borders can live in excess of 15 years and the vet assures me he is otherwise very healthy – so operation it is then…
Other than that I have been running around to a serious  amount of work events lately – the Whittaker's Caramel launch at Culprit (yum, obviously), the Steinlager Black launch (I'm not really a beer-girl, but also yum apparently) and Masu restaurant to learn all about styles and flavours of sake with Fumi Nakatani (absolutely fascinating – which you can do too – details here). So once you add Monday quiz night (bloody hilarious as always), evenings have been very busy indeed, while during the day I have been flat out working on my next Dish spread. Meanwhile Hoob is grinding his way through his last year at Vic like a trooper, but still found time to shoot a short film with some of his mates, for the 48-hours film festival in Wellington last weekend. A tight little tech-psycho-thriller with Hoob as the actor – proud mama indeed! On the other side of the world all is going well for Pog in Ostuni as he wields his scythe every morning (apparently on dewy grass is best), and is now helping to build a cob wall, made from sub soil, straw and stuff! He is really enjoying the company of his first wwoof hosts and has also managed to nip away for day trips to places like the gorgeous Lecce so when the man/boys are happy, I am happy (apart from the Dougie situation obvs).
Right time to get up (posting this from bed with enormous mug of tea as always), loads to do – I hope you give this a whirl, it really is utterly delicious.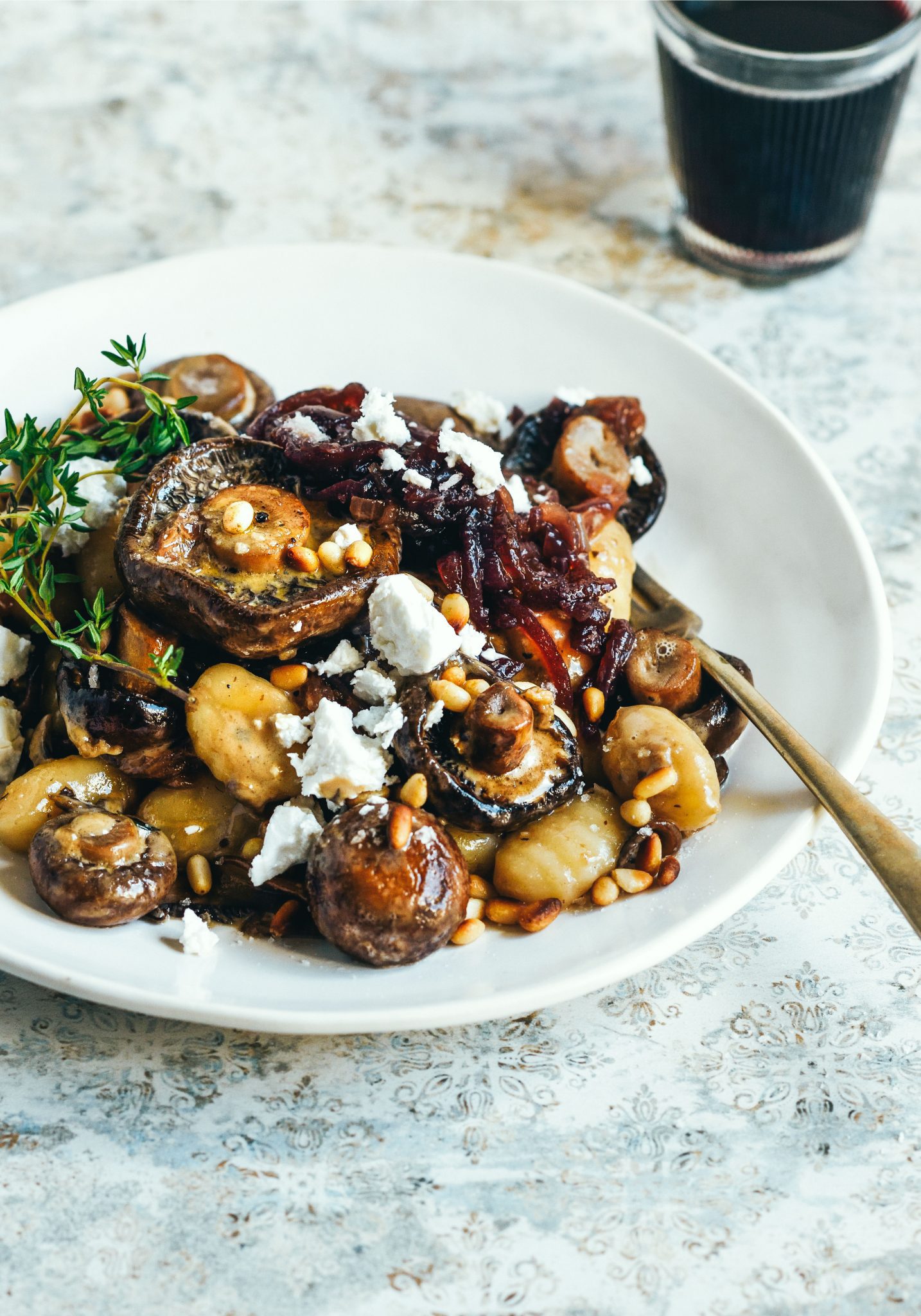 2 tablespoons butter
2 tablespoons olive oil
650grams mixed mushrooms
2 sprigs thyme
2 cloves garlic, crushed
1/2 cup white wine
3/4 cup cream
500g potato gnocchi
1 cup caramelised onions
100grams feta, crumbled
¼ cup toasted pine nuts to serve
a few sprigs of fresh thyme to garnish
Slice the larger mushrooms, and leave the small ones whole. Heat the butter and olive oil in a large, deep frying pan, add the mushrooms and season well with salt and pepper. Cook over a medium high heat, ucovered for 10 minutes. Add the garlic, thyme, wine and cream and cook a further 5 minutes, uncovered. While the mushrooms are cooking bring a large pot of salted water to boil and drop in the gnocchi. Cook according to packet instructions, until the gnocchi rises to the surface. Drain and add to the mushrooms, stir to combine and cook together for 3 minutes. Stir in half of the caramelised onions. Serve immediately garnished with the remaining caramelised onion and sprinkled with sea salt & freshly ground black pepper, crumbled feta, pinenuts and a few sprigs of thyme. This dish is great served simply with a bitter green salad, or alongside roast beef or slow-roasted lamb. Serves 4 as a main and 6 as a side.
caramelised onions:
¼ cup olive oil
5 medium red onions, peeled and sliced  – aim for thin slices
¼ teaspoon salt
2 tablespoons balsamic vinegar
2 teaspoons caster sugar
sea salt and black pepper to taste
small pinch chilli flakes, optional
Heat olive oil in a big heavy based pot. Add onions and salt and cook over a medium heat for 25-30 minutes until nice and soft, stirring every once in a while so that they don't catch on the bottom. In between stirring, half cover with the pot lid – I always rest it on the wooden spoon laid across the top of the pot, so it is mostly covered, but not completely. After half an hour add balsamic vinegar and sugar, remove lid completely and cook a further 10 minutes, stirring occasionally. If you like a little heat, throw the chilli flakes in now too. Once you add the sugar the onions will brown up more and go more caramelisey – if your heat is a little low, you might want to increase it a bit now. If the onions seem a little dry add an extra tablespoon of olive oil and stir through then season with salt and black pepper. Leave to cool then spoon into a sealable jar or container.