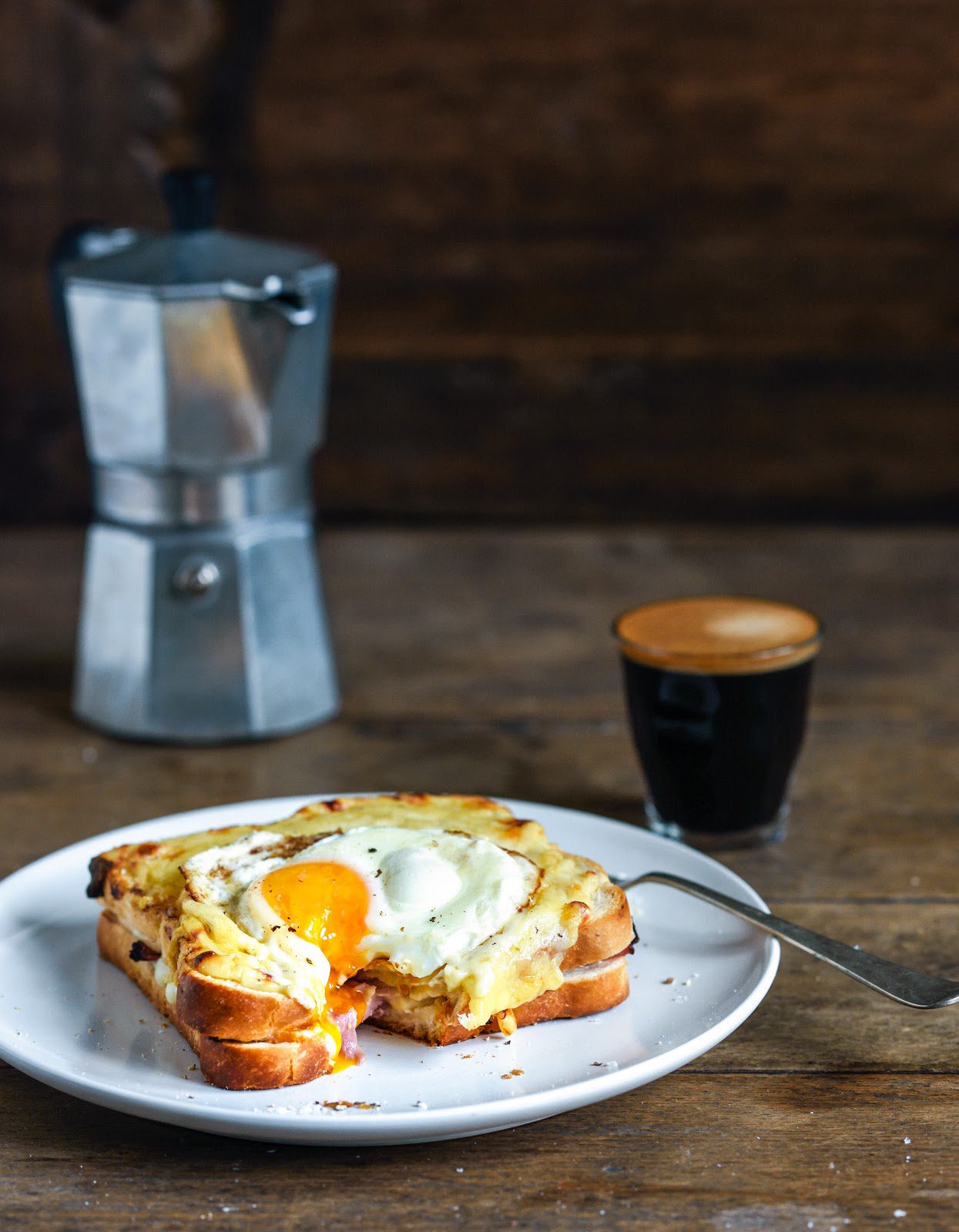 A favourite of Henry's in Paris – a fabulous breakfast, lunch or even dinner! This is so simple and so yummy – the French don't generally eat it for breakfast, but it is great for Sunday brunch. I like it best for lunch or dinner with a simple green salad, a spot of dijon mustard and a glass of red wine! This one is for you Henry!
PS – if you have just arrived here via Delish, msn or Yahoo – welcome, and feel free to come on over to the home page for a good scroll around, there are hundreds of recipes waiting for you!
4 slices white bread
2 tbsp butter
4 slices good quality ham
1/2 cup grated gruyere cheese
1 tbsp butter
2 eggs
1/4 cup grated parmesan
a pinch of freshly grated nutmeg
1 teaspoon dijon mustard
salt & freshly ground black pepper to taste
You can make the Béchamel Sauce either on the stove top, or in the microwave. The method is very similar. On the stove top, heat the butter in a saucepan over a gentle heat until just melted. Stir in the flour with a wooden spoon. Add the milk in three lots, stirring continuously, until well incorporated. Keep stirring while cooking over the heat until the sauce is thickened and smooth. If it misbehaves, just whisk it with a wire whisk until smooth – it should finish thick and silky. Add the parmesan, nutmeg and mustard and stir to combine. Season to taste with salt and pepper. Yum. Leave to cool. (Left over Béchamel Sauce can be kept in the fridge for a couple of days). Preheat oven to 200˚C (400˚F) and get out an oven tray.
Butter one side of each piece of bread. Lay 2 pieces butter-side down on baking tray. Spread each piece with 2 tablespoons of Béchamel Sauce and 2 pieces of ham. Top with remaining bread, butter side up, and spread with 1 more tablespoon of Béchamel Sauce each. Sprinkle with gruyere cheese and pop in the oven until golden and bubbling, about 15 minutes. While the toasts are cooking, heat remaining butter in a frypan and fry eggs over medium heat until cooked through, but still with a runny yolk. Remove toasts from oven and top one with a fried egg. Serve as-is for breakfast, or accompanied with a dash of dijon mustard and a small green salad for lunch or dinner. Serves 2 for breakfast – simply double the recipe quantity to make 2 each for dinner.