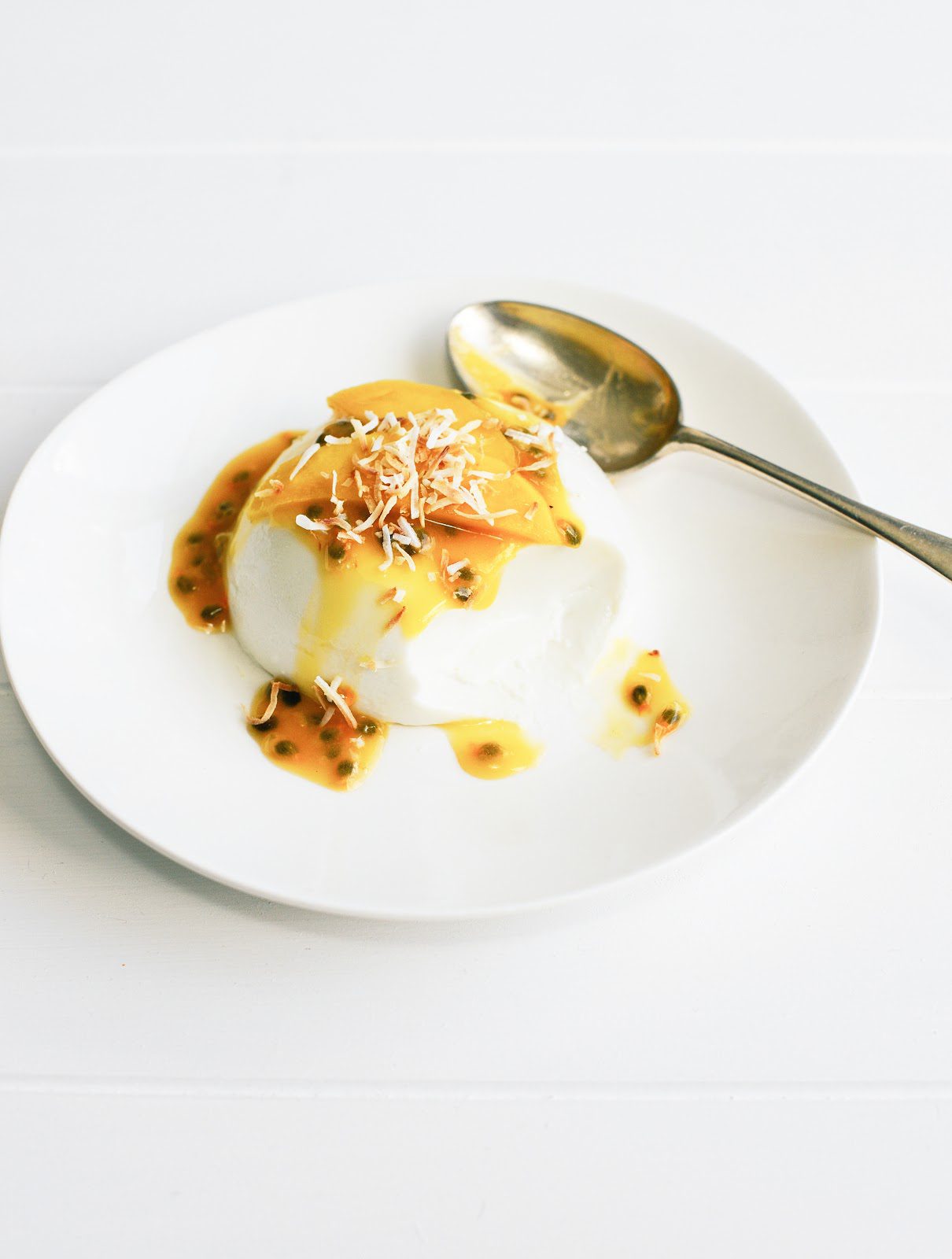 I love desserts (hello – check out the recipe index – blushing!) and love to finish off a meal with a little sweet treat, but when the weather is warm I don't want something heavy and rich. This panna cotta is outrageously light (even lighter than I expected!), the coconut milk has an earthy coconut flavour and the lime and white chocolate are just gently in the back ground – so it is very fresh and natural tasting. If you are used to fake-coconut flavourings you might find it a bit different, but if you like real, clean tastes then I really recommend you give it a go. The zing of the passionfruit, the sweetness of the mango and toasty nuttiness of the coconut threads combine so well with the silky panna cotta, it is really quite elegant! Phwoar!
Rice bran oil spray
800ml coconut milk
1/4 cup coconut threads

grated zest of 2 limes

1/3 cup caster sugar


6 x gelatine leaves, soaked in cold water
(I used Equagold leaves, total equivalent to 12grams of powder)
50g white chocolate, broken into chunks
3 passionfruits, halved
1/4 cup passionfruit curd
1/4 mango, sliced
1/2 cup coconut threads or shaved coconut extra, lightly toasted
Spray 6x ½ cup ramekins lightly with a little rice bran oil. Place the coconut milk, sugar, lime zest and coconut threads into a saucepan and bring to a simmer over a gentle heat, simmer, stirring for 5 minutes until the sugar is dissolved then take off the heat and leave to infuse for 2-3 minutes. While the coconut milk is simmering put the gelatine leaves in a bowl, cover with cold water and soak for 4-5 minutes or until soft. Remove and squeeze off excess water. Strain the coconut milk into a large jug or bowl, removing the coconut threads and zest (these were there for flavour not texture), add gelatin leaves and white chocolate and whisk until gelatine has completely dissolved and chocolate has melted. Pour into ramekins and place in the fridge to set up for at least 6 hours or over night. To toast coconut for topping, just dry fry in a pan over a medium heat for a few minutes until lightly coloured.
To remove the panna cotta from the moulds dip each mould into boiling hot water for 5 seconds then carefully turn out into shallow serving plates. If necessary repeat hot water dunk and give them a little encouragement by using a small knife to release the top of the panna cotta around the rim. Top with passionfruit pulp mixed with passionfruit curd, a couple of slices of mango and a sprinkling of toasted coconut to serve.