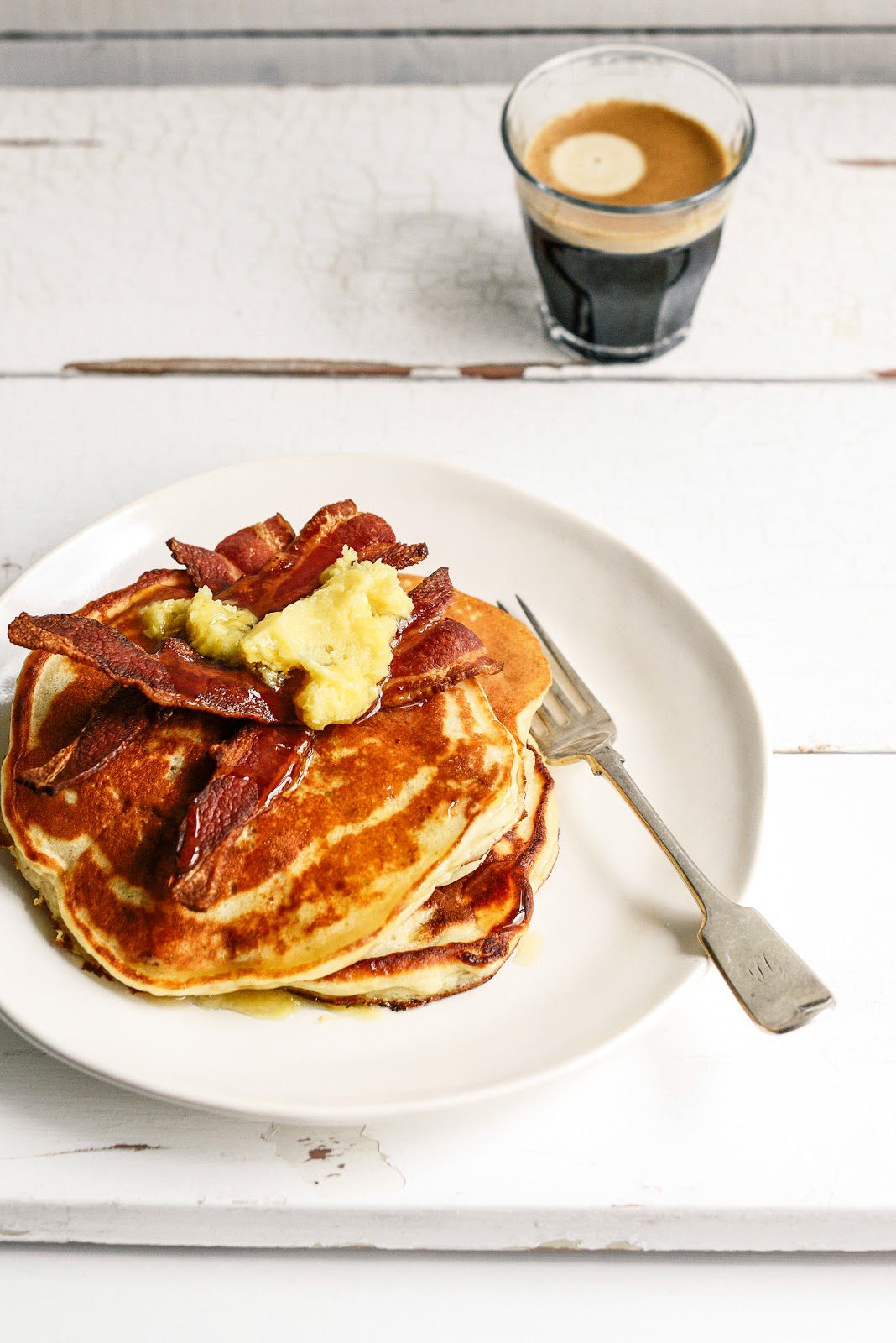 As you will know if you read the words that go with my recipes (there aren't many admittedly) recently we blatted down to Wellington to catch up with Henry (our 19-year-old design student at university) and to go to the World of Wearable Arts show. Seeing as Henry walks everywhere in Wellington (up to 12km or more a day!) I wanted to make sure I fed him and boyfriend Josh up as much as possible while I was in town. To that end we had Saturday morning breakfast at a gorgeous cafe where Henry and Josh each devoured a mound of pancakes. As always I can't help but be influenced by my experiences, so combine that with a faint memory of Bill Granger's delicious ricotta hotcakes in Sydney, and ta dah – this is my take on those lovely fat pancakes, with the sneaky addition of banana in the batter, topped with manuka honey butter. To my lovely American friends who seem to have a fondness for pumpkin around this time of year, you could easily swap the banana for mashed pumpkin, add 1 tsp cinnamon and change the honey to maple syrup et voila – 'fall hotcakes'! Whichever way you make them, honestly, just give them a go, especially if you have loved ones who need a bit of extra 'filling up'!
Manuka honey or maple butter:
120g butter, slightly softened
3 tbsp manuka honey or maple syrup
Banana and Ricotta Hotcakes:
1 1/2 cups self-raising flour
½ tsp baking powder
2 tbsp caster sugar
pinch of salt
250g ricotta
¾ cup buttermilk
3 medium eggs, separated
2 small ripe bananas, mashed (or you could use 1/2 cup mashed pumpkin)
2 tbsp rice bran oil
To serve:
16-20 rashers bacon
Manuka honey or maple syrup
150g mascarpone – optional
Stir honey through softened butter then pop in the fridge to firm up for 10 minutes. Sift flour, baking powder, caster sugar and salt into a large bowl. In a separate bowl whisk egg whites to firm peaks. Separately again (sorry about the washing up!) whisk ricotta, buttermilk, egg yolks and banana with a fork to combine. Add banana mix to flour and fold in briefly. Add egg whites and fold in. If you are serving bacon, lay it out on a baking tray and have ready to grill while you cook the hotcakes. Heat rice bran oil (a little each time) in a frying pan over a medium heat and drop in 1/3 cup lots of hotcake batter at a time. After a few minutes flip to cook other side. Serve with grilled bacon, a scoop of honey butter or mascarpone and a drizzle of honey or maple syrup. Makes 10.