Hiya and welcome back, or if it is a first-time visit – where have you been all this time – yay so glad you're here! I don't normally 'talk' much but I just have to say something about this recipe. I am posting it because I had a total crap day, and I wanted to finish on a positive note. I spent all day, all day trying to photograph a plate of pasta, and the more I fussed, the worse it got. I have since deleted all of the pics (even though the recipe was bloody delicious) and I am going to try again after I have had a few days to get my head in the right space, because you see this frigging perfectionist nature of mine will not allow me to post anything I think is poxy. Humph. Dammit. In the meantime I secretly quite like this pic, and the salad itself is so damned good – and the perfect way to use up leftover chicken or turkey from a roast, so it should come in pretty handy around this time of year. The other good thing about it is that it's light enough for summer, but with enough grunt for winter. The reasonably neutral chicken provides great texture and a base to add slightly peppery watercress, salty blue cheese and sweet roasted red onion – and the caramel salted walnuts, oh my God, so good!!!As you will see I have actually called it winter salad here as there are fewer salads that can work as well during the colder months. Anyhoo, I am feeling much improved since typing this up, and will now go off to meet a girlfriend for a drink in a better frame of  mind…see you later!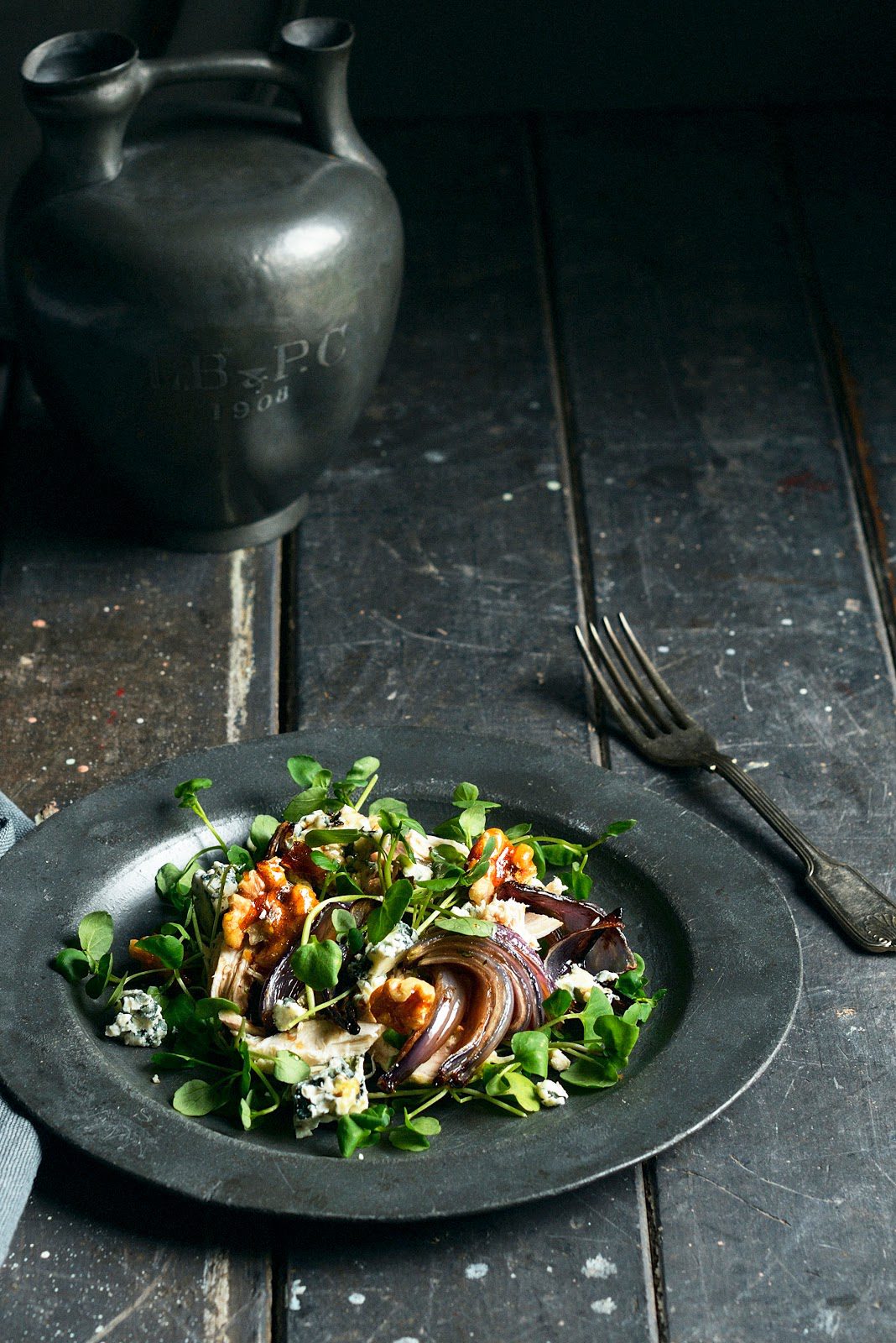 1/4 cup caster sugar
3/4 cup walnut halves
1/2 tsp sea salt
2 red onions, peeled and cut into wedges
2 tbsp olive oil
2 tsp baslamic vinegar
2 tsp sugar
sea salt and freshly ground black pepper
2 cups left-over roast chicken, torn into medium shreds
4 handfuls watercress or rocket
150g blue cheese, crumbled into chunks
1/4 cup walnut oil
1 tbsp sherry vinegar
1 tsp caster sugar
sea salt and freshly ground black pepper
Line a baking dish with baking or greaseproof paper. Heat sugar in a super-clean pot on a medium heat. After a few minutes it will start turning golden from the outside edges in. Do not stir it! If necessary give the pot a little encouraging swirl to get it all to caramelise at the same time as much as possible otherwise the outside will be too dark before the middle is done. Once it is almost all pale golden remove from the heat immediately, drop in walnuts and salt, and tip out into prepared dish to cool.
Preheat oven to 180˚C (350˚F). Put onion wedges in an oven dish in a single layer. Drizzle with oil and vinegar and sprinkle over sugar, salt and pepper. Roast giving it the odd stir, for 25-30 minutes until the onion is soft and luscious. Leave to cool in lovely juices.
When ready to serve layer watercress, chicken, onion and cheese onto a serving platter. In a small jar shake together walnut oil, vinegar and sugar. Drizzle over salad and top with caramelised walnuts, bashed into pieces. Season with salt and pepper and serve. Serves 4 for lunch or two for dinner with some lovely warm bread and good butter and a glass of red wine on the side.