Yay – I can't believe I have finally had the chance to make this recipe which I have been thinking about doing for ages! Last night I had a lovely group of long-standing (can't say 'old') friends for dinner – and after nibbles of mexican-spiced corn and pepper arancini stuffed with mozzarella (obviously not a classic – I made them up) with smoked paprika aioli, slow-roasted pulled pork with coleslaw and soft polenta (yeeep) we had a brief rest before hooking into this Salted Peanut Caramel Popcorn Tart. It is unbelievably rich (shocked?) but not actually as sweet as you might imagine thanks to the use of 70% dark chocolate and a bit of sea salt to balance it out. I am leaving the peanut butter type option up to you – I used really good quality crunchy, but if you prefer smooth, go with that. The recipe easily serves 10 as you'll only need small slices and it really was pretty damned good – definitely worth giving a go! I will try and get that arancini recipe up this week too, because they are super easy to make and great for drinks parties – easy to eat, all prepped in advance, and delicious too 🙂
Any old hoo – other news my end…Nick is back into the thick of things in Shanghai, my platinum-haired Henry is hard at work in Welly (lil shout out to Brown & Co.!) and Rich has finished his mock Cambridge exams, appeared in the New Zealand comedy/drama Step Dave as 'Kash' if anyone saw episode 2 of this season, (naturally I was exploding with motherly pride), and I have been working my arse of as usual, with yoga in between! So how are things with you? Don't be shy – if you've made something from the blog lately I'd love to hear about it – or if you have any requests, I'm all ears…
PS. When you scroll on down to the recipe link don't freak out because it looks long – I promise it is very straight forward – just follow the instructions and it'll work out no problem!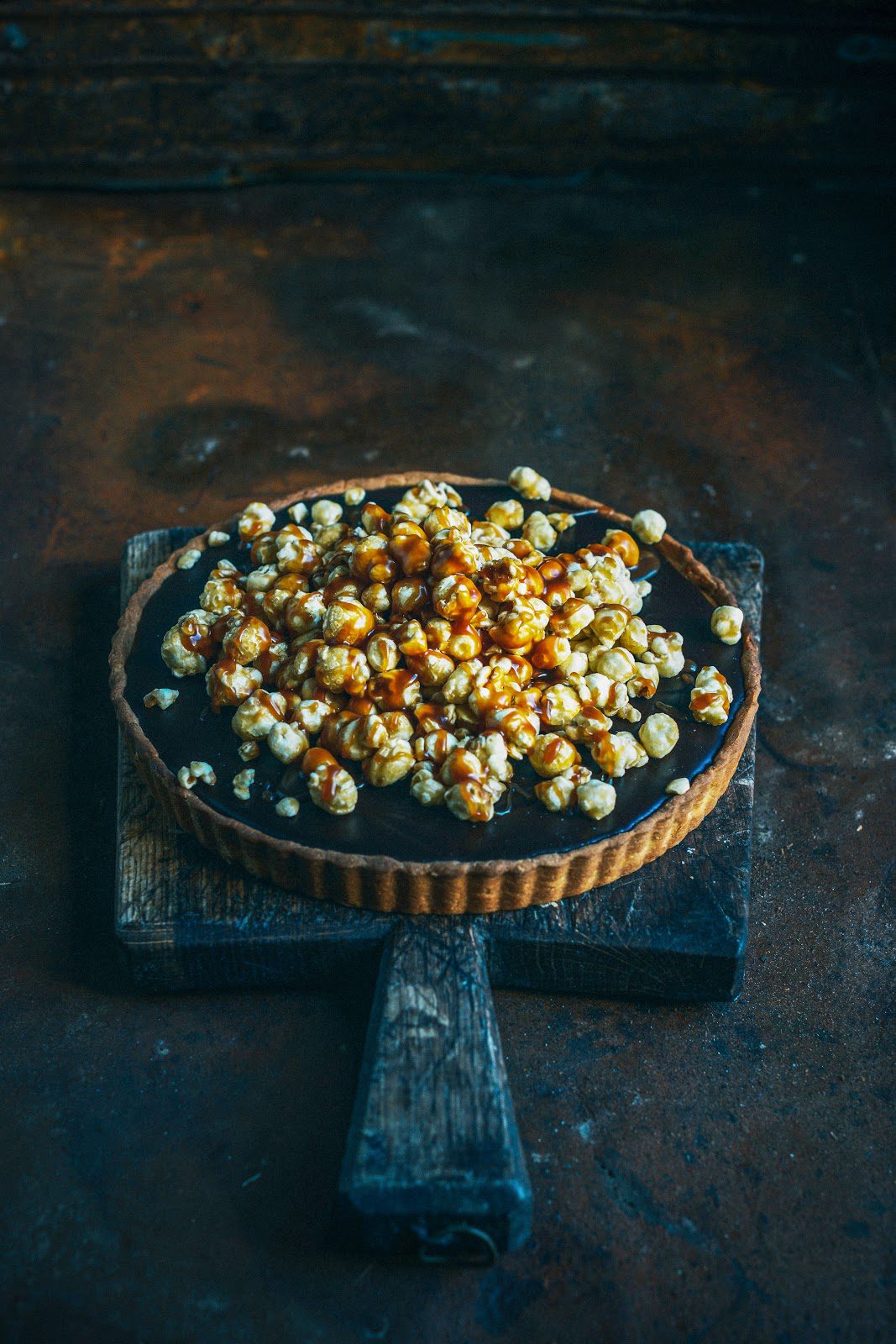 1/4 cup icing sugar
1 1/4 cups plain flour
1 1/2 tbsp peanut butter
1 teaspoon sea salt
1-2 tsp water
1 tin sweetened condensed milk
1 tin condensed milk caramel (or dulce de leche)
1/4 cup peanut butter
1 tbsp golden syrup
250ml whipping cream
250g dark chocolate (I used 70% cocoa solids), cut into chunks
1/4 cup caramel sauce (see below for recipe)
2 cups caramel corn
1/4 cup chopped salted peanuts (optional)
sea salt to serve
You will need a 25cm tart tin with a removable base for this recipe. Whiz butter, flour, icing sugar, peanut butter and sea salt together in a processor – add water until it starts coming together in big clumpy breadcrumbs. Tip onto a clean bench and squish together into a big fat disc, wrap in plastic wrap and chill in the fridge for 10 minutes.
Remove the pastry from the fridge , sit for 5 more minutes then roll out between two pieces of baking paper until it is a few centimetres bigger in diameter than the tart tin. Carefully remove one side of baking paper and put this side down into the tin, remove the top baking paper and ease the pastry into the tin. Press firmly into the sides and base then trim excess from the top. Prick gently with a fork and pop in the fridge while the oven preheats to 180˚C (350˚F). Line the pastry with baking paper and fill with baking beans or rice and bake for 10 minutes. While it is cooking put the condensed milks, peanut butter and golden syrup in a large microwave proof bowl. Heat in 30 second bursts, whisking between each until it is smooth and luscious. Give one final 30 second burst at the end to start a little cooking. After 10 minutes remove baking paper and baking beans from pastry case and cook a further 10 minutes then pour filling into base. Cook a last 10-15 minutes until filling is set and pastry cooked through. Remove from the oven and allow to cool to room temperature. While it is cooling heat cream until simmering, remove from the heat and drop in dark chocolate. Leave for a minute then whisk to combine until smooth. Once the case is cooled pour chocolate filling in and leave to set – this will take at least 3 hours, but you can easily make it until this point the day (or even 2) before. Don't store it in the fridge unless it's really hot, but if you do, remove it from the fridge half an hour before serving.
To serve, top with caramel corn and peanuts and drizzle with caramel sauce. Serve with a little sea salt to sprinkle and an optional defibrillator!
Salted Caramel sauce:
1 1/2 cups caster sugar (Americans/Canadian just blitz regular sugar in the food processor to make it a bit finer – not essential it just speeds up the caramelization process)
4 tbsp water
300 ml cream, microwaved until simmering
2 tbsp butter
1 -2 tsp sea salt (to taste)
Heat sugar and water together in a super-clean sauce pan. Whisk so sugar is fully wet then don't touch again. Heat over a medium high heat as sugar changes to whitey-crystallised then slowly clear, liquidy bubbles then finally a light golden amber. Do not let it colour too long or it will burn (it keeps cooking even after being taken off the heat and is viciously hot). As soon as it is light golden add the cream alittle at atime, whisking to combine. It will froth up freakily but just keep going until all the cream is incorporated. Add butter and salt and whisk to combine. Pour into a container and store in the fridge. Fabulous over ice cream, bananas, on a milkshake or any kind of appley baked pudding.