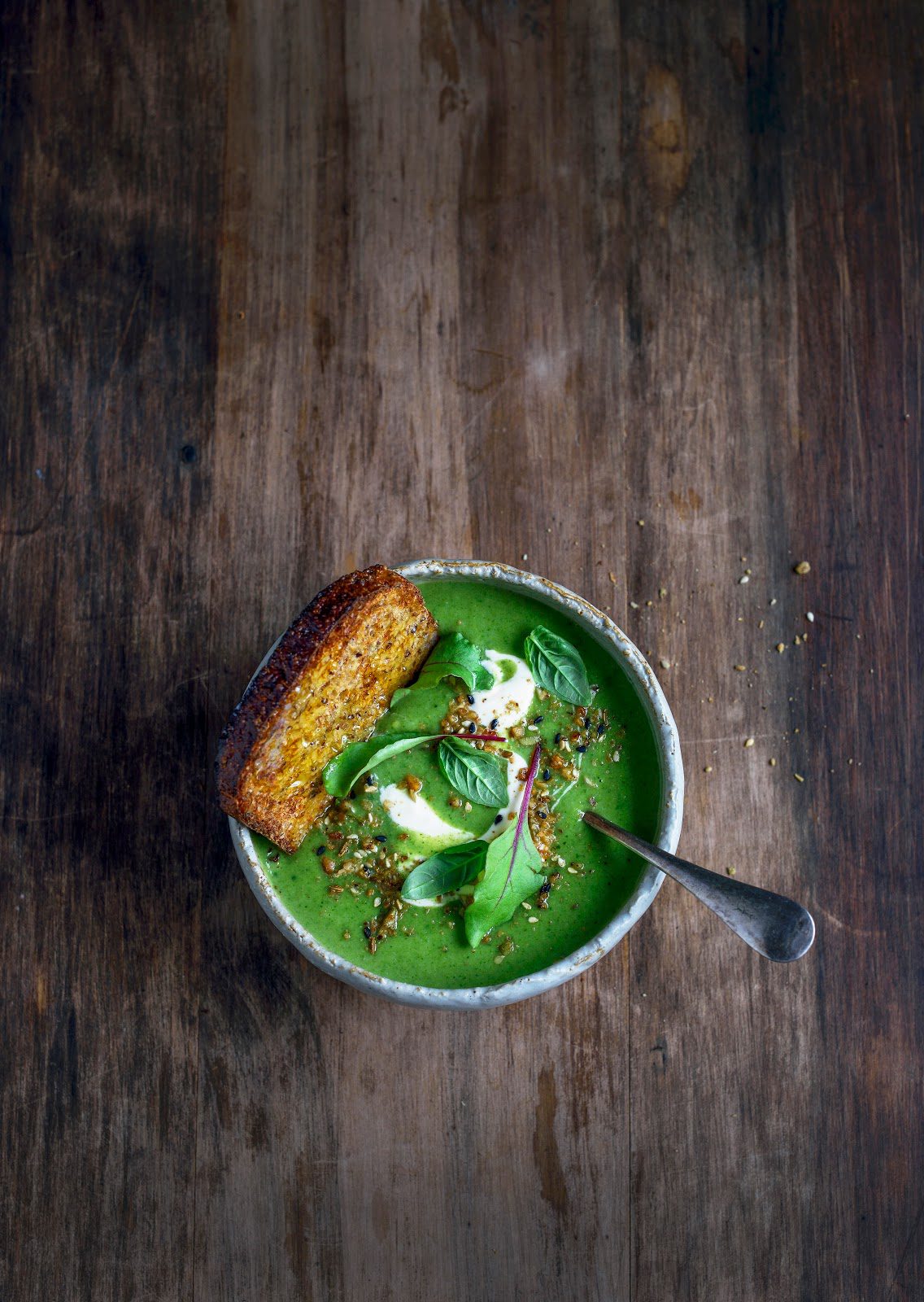 Yesterday Nick arrived back from Shanghai, tired and a little rumpled as usual – it's a tough gig sometimes, zooming back and forwards between countries. Usually we have a ritual of softly scrambled eggs for dinner on his first night back (along with a catch up of whatever series we happen to be watching at the time – currently we are the last people on the planet to be watching Homeland…). After traveling and eating out with restaurant and hotel food for a few weeks, it is such a treat to have something nourishing and homemade – last night for a change I made fresh, vibrantly green soup for a little pick-me-up. The things that make this soup so good are these – you can taste the vegetables, the last minute addition of fresh herbs gives it a bright note and the yoghurt and dukkah at the end bring lightness and texture. Bloody delicious.As you probably know I don't normally do endorsements of products, it's just not really my cup of tea for various reasons – however recently I was delivered a loaf of Lewis Road Creamery's new kibbled grain bread with a packet of the sea salt crystals butter and I have to say, they are so good, and totally perfect with the soup. No money exchanged hands in the endorsement of this product – haha – I just like it! 🙂
Anyhoo – today we have given ourselves the mammoth task of cleaning out the garage (exploding with props and photography backboards), my office (eek!) and the linen cupboard (not so bad), so I had better get busy. Have a great weekend, and if you have a weary traveller, or just someone who needs a bit of extra nurturing in your life, this recipe is for you…also pretty damn perfect for a Sunday night.
2 tablespoons olive oil
1 onion, chopped
1 leek, trimmed, halved lengthways and chopped
1 large agria potato, peeled and chopped
3 cloves garlic, crushed
1 litre good quality chicken or vegetable stock
1 broccoli head, chopped into florets
1 cup peas
120g baby spinach leaves
1/2 cup cream
1/2 cup basil leaves (a few reserved for garnish)
1/4 cup mint leaves
beetroot leaves if you have them!
1/2 Greek yoghurt
sea salt and freshly ground black pepper
Heat butter and oil in a large pot and cook onion and leek for 10 minutes over a medium heat (Season with salt during this time). Add potato and garlic, cook for 2-3 minutes then add stock and bring to a boil. Reduce to a simmer and cook 15-20 minutes until potato is soft. Add broccoli and peas and cook for 5 minutes, add spinach and remove from the heat allowing spinach to wilt into it – give it a bit of a poke of encouragement. Remove from the heat and whiz with a stick whizzy (or transfer to a food processor which is more of a faff). Add cream, basil and mint and whiz again until smooth, taste for seasoning and add sea salt and freshly ground black pepper. Serve with a swirl of yoghurt, some fresh basil/beetroot leaves and a sprinkling of dukkah. Serves 4 for lunch, 3-4 with dinner.