I'm back in my usual blogging position (in bed with a cup of tea) listening to the rain pattering away outside – dammit there goes my morning walk! Today's recipe is one I put together for Fairfax: wholegrain jumbo oats and chia seeds soaked overnight with dates, quickly cooked in the morning into a big bowl of nourishing porridge. To serve, you can stir through a lovely big blob of fig and date puree, and top the lot with smooth, creamy Greek yoghurt and crunchy honeyed nuts. I don't know whether you've noticed this but I usually detail what flavours and textures you can expect in each recipe – to me those combinations (and their balance) are so important. Anyhoo – balance or not, it's nutritious, hearty, and will sustain you for hours…and tastes good too! (Also the ideal start to a wet, cold winter's day..)
In other news, I'm so excited that Rich arrives back from his visit with Henry in Melbourne today – and has eight nights in Auckland before heading back to uni in Wellington. Hurrah! I have no doubt that he will want to spend a minimal amount of time being uber-nurtured by his enthusiastic, son-starved mother and will be more keen on catching up with Auckland mates…but I will grab the moments that I can and make the most of them! (That may be sitting drinking tea while he plays play station, but that'll do!). Meanwhile poor old Pog has developed a crappy cold, but is being ably looked after by the lovely Will who arrived on his doorstep last night with pizza and flowers – perfect! (Ohh, the rain has stopped, up I get!!!)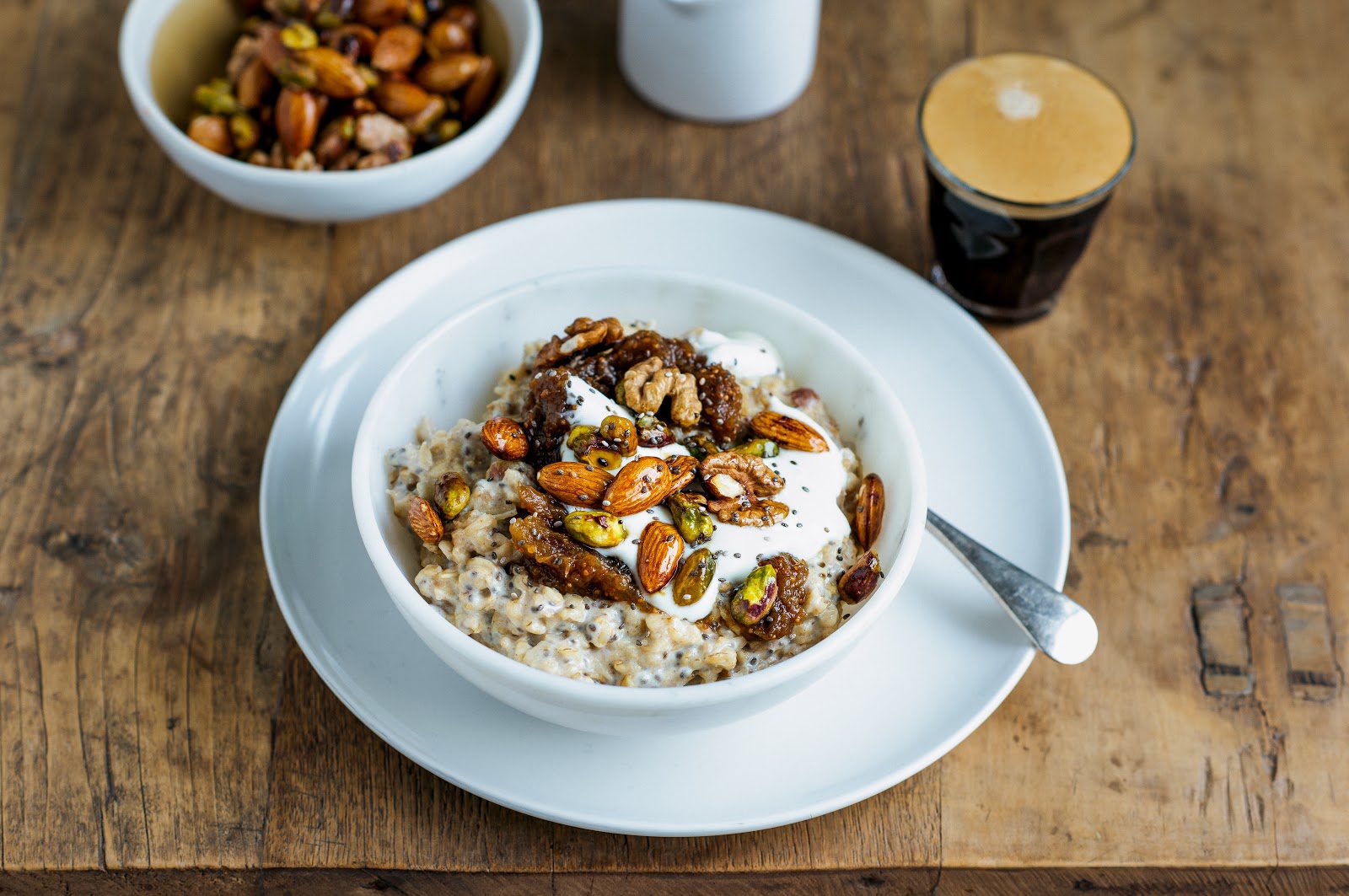 Put oats, 2 tablespoons of the chia seeds, 3 cups of the milk and the dates in a sealed container in the fridge over night. Dry fry walnuts, pistachios and almonds in a large frying pan, over a medium heat for 2-3 minutes. Add honey and cook a further 3-4 minutes until lightly toasted and glazed with honey. Stir occasionally so that the nuts don't catch and burn. Although toasted the nuts remain a little sticky, so store in an even layer until ready to spoon over porridge. To cook porridge, bring the oat mixture to a gentle boil, reduce the heat to a simmer, and cook, stirring for 8-10 minutes until thickened. Add extra milk to achieve your desired consistency. Remove from the heat and serve immediately with a dollop of date and fig puree, a spoonful or two of yoghurt and a sprinkling of nuts. For garnish, sprinkle with the extra chia seeds if desired. I find porridge serving sizes vary wildly – and while this would happily serve four of me, I know some men would demolish half of it, so use your judgement with regard to servings!
6 dried figs, stems removed, roughly chopped
10 dates, halved and stones removed
1 teaspoon vanilla extract
finely grated zest of half a lemon
1 teaspoon honey (optional)
Put all of the ingredients in a small pot with ¾ cup water and bring to a gentle boil. Reduce the heat to a simmer and cook, stirring, for 5 minutes then remove from the heat. Leave to cool for 5 minutes before mashing to a paste with a fork – or for a smoother consistency blend in a small food processor. For a thinner consistency simply add ¼ cup more water. Cool and store in a covered container in the fridge until ready to use.