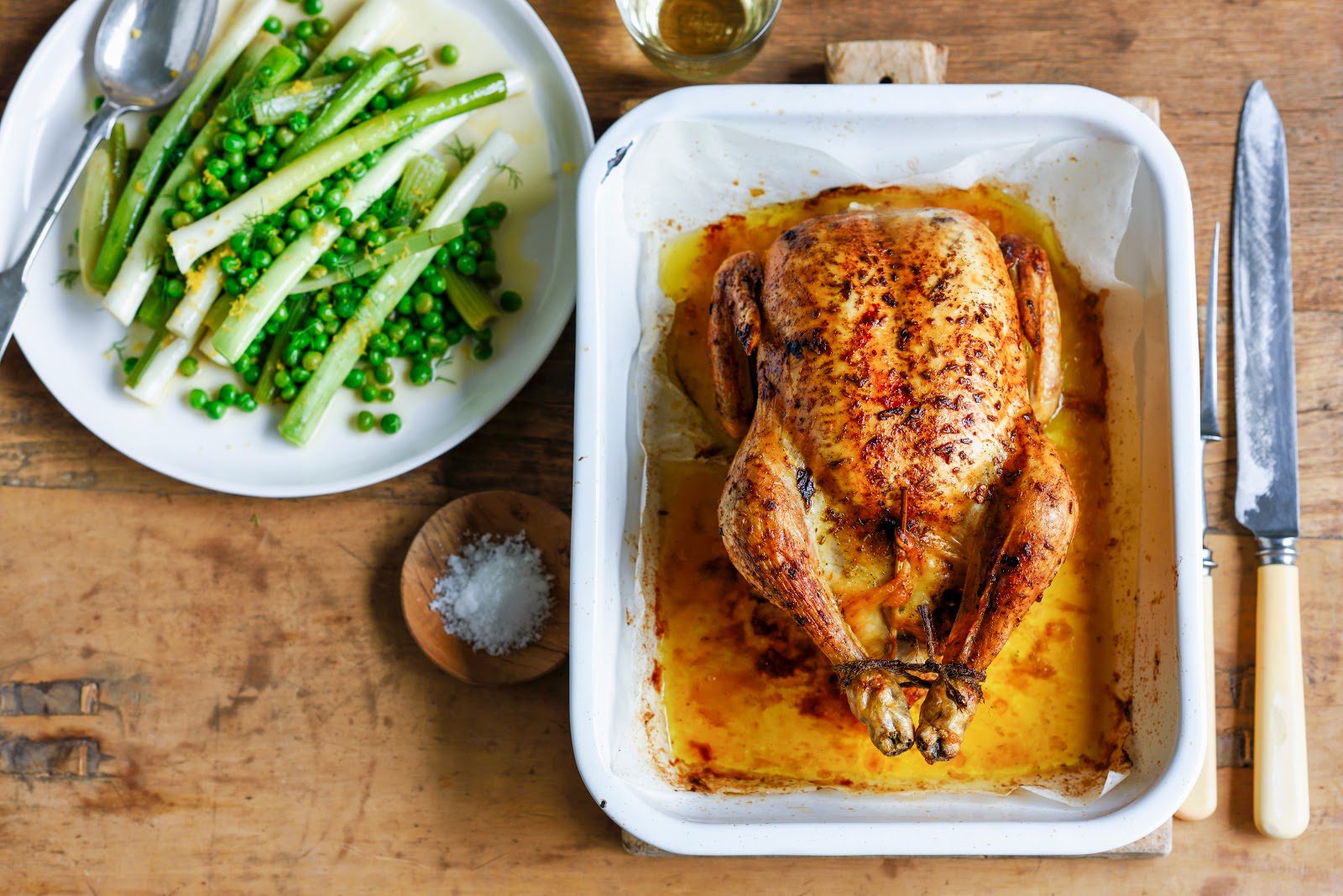 Gooood very early morning, I am quickly getting this sorted before heading to the airport for a flight to Fiji, wooo hoooooo – bring it on, I can't wait! I can't believe how quickly the last six months have flown by, and now Christmas is fast approaching – I swear time goes faster every year. I must say I am hanging out for this trip – it is for work (and of course a blog post), but also for the opportunity to take a few moments just to sit quietly (fingers crossed) in the warm air, swim in the sea and just literally escape for a few days. I know when I get back, this is exactly the kind of meal I will be looking forward to – a classic herby stuffed roast chook with sweet braised baby leeks with herbs and fennel – a perfect welcome home dinner 🙂
When I was approached by New World to do a l'il collaboration as part of their 14th annual New World Wine Awards I was hardly going to say no – are you kidding, I may not be an expert but it would be fair to say that I do love wine! So – every year 13 wine judges blind taste over 1,300 wines sold for under $25 and award gold medals to the very best. In a secret squirrel fashion I was sent a list of the top 50 to choose from – three wines that I would normally happily buy, and to pick one which I would then create a recipe to match. I selected the Giesen Riesling 2015, Clearview Estate Beachhead Hawkes Bay Chardonnay 2015 and Sandalford Estate Reserve Cabernet Sauvignon 2014 – and then realised I had made my decision very difficult indeed, given they are three such different wines. I really struggled because I seriously loved all three (and I still want to make some mini crab cake bites to go with that riesling, it is utterly delicious) – but in the end I decided to go with the chardonnay. These days (observationally) I would say that chardonnay is just starting to gain a little popularity again after years of being overshadowed by sauvignon blanc. The Clearview one I selected (which was also the category champion) is described as having 'ripe, sweet stone fruit and warm tropical fruits, integrated oak and a long creamy textured palate' – and I can confirm is jolly fine indeed. Anyhoo – getting to the point – I decided to match it with a recipe that suits late spring in New Zealand, a crispy skinned roast chicken packed with aromatic herbs served with sweet, braised baby leeks, fennel and peas. The combination was perfect – totally luscious…and easy!
In exciting news I also have a fab and super easy COMPETITION for you! To be in to WIN a $150 New World Voucher (think of all the loverly ingredients you could buy for your pre Christmas entertaining!) all you need to do is comment in the 'post a comment' section below, telling me your favourite recipe from From the Kitchen. The lucky winner will be drawn on November 19th, so don't forget to check back in here (or at my Facebook page) to see if you've won!
Preheat the oven to 200˚C, pat the chicken dry and put it in a roasting dish. Pop the onion, garlic, lemon and herbs inside the main cavity, and use a little cooking twine to tie the legs together as pictured. Use the skewer to secure the opening so that your aromatic goodies don't escape. Rub the chicken all over with herb butter and roast for 1 hour and 20 minutes or until the thigh juices run clear when tested. Baste with cooking juices 2-3 times during roasting. Rest for 10 minutes before serving with sweet braised baby vegetables. I also served mine with a kumara and potato gratin as it was a rainy night, but in finer weather some small boiled new potatoes with a little sea salt, ground pepper and butter would also be perfect!
1 size 16 chicken (I used free-range, corn fed)
1 small onion, quartered
3 cloves garlic
2 bay leaves
a sprig of thyme
1 small lemon, quartered
1 sprig rosemary
1 sprig sage
1 skewerHerb butter:
70g soft butter
1/4 cup mixed herbs (I used more of the ones I used to stuff the chicken)
1 clove garlic
1/2 teaspoon fennel seeds
sea salt and freshly ground black pepper
Whiz all together and use to smear liberally all over chicken. This butter is also delicious on steak, lamb and even fish!
Braised Baby Vegetables: Leek, Fennel and Peas
(If using large leeks and fennel, slice the leeks once trimmed, and halve the fennel and remove any tough core)
2 tablespoons olive oil
2 tablespoons butter
8 baby fennel, trimmed (reserve 1-2 tablespoons of fronds for garnish)
12 baby leeks, trimmed and cleaned
1/4 -1/2 cup Clearview Beachead Hawkes Bay Chardonay 20145
finely grated zest of 1 lemon (reserve a little for garnish)
1 clove garlic crushed
1 teaspoon caster sugar
2 tablespoons cream
1 1/2 cups baby peas
Heat oil and butter in a large frying pan with a lid. Cook the fennel and leeks for 2 minutes then add the wine, zest, garlic and sugar. Cover and cook over a gentle/medium heat for 15 minutes – check every 5 minutes and if drying out add a splash more wine. Remove the lid and add the cream and peas. Cook a further 5 minutes then remove from the heat and serve immediately sprinkled with reserved fennel fronds and a little extra lemon zest.
Serves 6