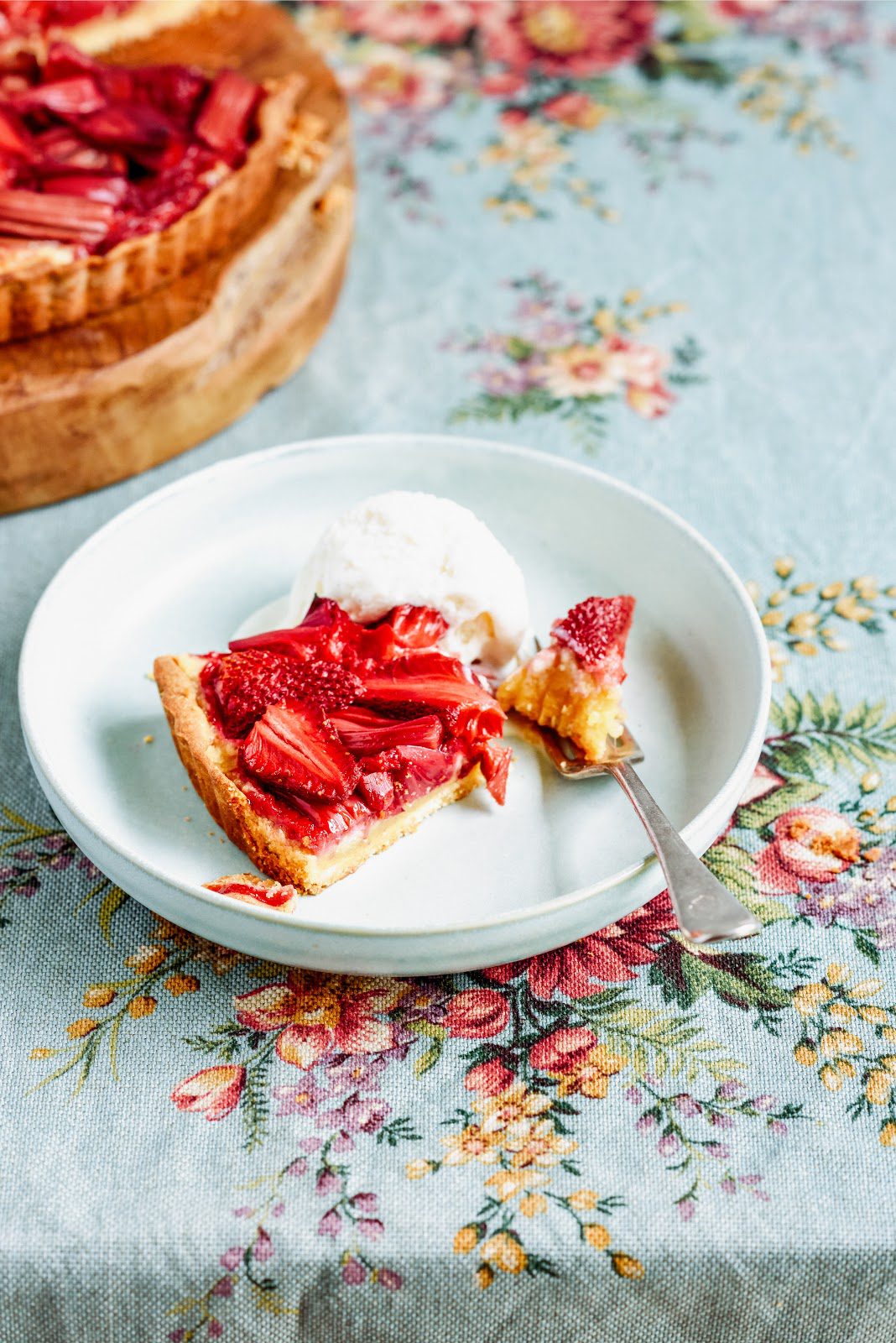 As you know I have been doing a few collaborations lately – but I am such a nerdy-britches that I have some self-imposed criteria that I always stick to when doing any sponsored posts. So anyway, I was recently approached by the Spring Sheep Milk Company and asked if I was keen to work together. I asked if they could first send me the product so I could try it, then decide, (see nerdy McNerdy face that I am…) and I truly love it. They sent me both vanilla bean and dark chocolate gelatos to try, and the vanilla was my favourite – it has such a silky, clean, fresh mouth feel that I immediately wanted to pair it with rich roasted spring/summer fruit. As far as I understand it is also gentle on the stomach which is an added bonus for people who are sensitive to cow's milk, so definitely worth a try.Anyhooooo, on to the tart – look at this glorious thing!!! I have an issue with fridge-cold, not quite ripe enough strawberries, so in this recipe I have first roasted the tart/sweet rhubarb then added the strawberries at the end to finish off in all the luscious juices, taking them from early season averageness to gorgeous, intense full-on fabulous.  (So many adjectives today…) The base is a crisp short pastry, filled with vanilla frangipane, then topped with the fruity business, and served with the clean vanilla bean gelato. I will definitely be making this again, quite possibly for the Christmas table as it has that kind of festive vibe. If you wanted you could always dust it with a wee bit of icing sugar, but personally I love it just the way it is.
Fruit:
450grams rhubarb, washed and chopped into 4cm lengths
2 tablespoons vanilla extract
2 tablespoons caster sugar
350grams strawberries, halved
Pastry:
1 cup plain flour
1/3 cup ground almonds
1/2 cup icing sugar
85grams chilled butter, chopped
1 egg yolk
2 teaspoons vanilla extract
Frangipane:
90grams butter, at room temperature
1/2 cup caster sugar
1 3/4 cups ground almonds
2 tablespoons plain flour
2 eggs
1 teaspoon vanilla extract
vanilla bean gelato or ice cream to serve – I used Spring Sheep Milk Gelato
Preheat the oven to 180˚C. Put the rhubarb in a single layer in a roasting dish and add vanilla and caster sugar. Toss to combine and roast for 15 minutes. Add the strawberries and toss very gently, then cook another 5 minutes. Remove from the oven and allow to cool in the juices.
Put pastry flour, almonds, icing sugar and butter in a food processor and whiz to form breadcrumbs. Add vanilla and egg yolk and pulse until the pastry starts coming together. Tip it out onto a floured bench and pat together into a pastry disc. Cover in plastic wrap and pop in the fridge for 10 minutes. Flour the bench again then roll the pastry out to fit a 25cm removable base tart tin – about2 cm diameter wider all around than the tin. Use a fish slice (I actually use a metal pizza slice) to scoop it off the bench and into the tin. Press into the sides and base, trim neatly, patching any holes, and prick the base lightly with a fork. pop back in the fridge to chill while you make the frangipane and pre heat the oven back to 180˚C (350˚F).
Put the frangipane butter, sugar, almonds and flour in a food processor and whiz to combine. Add eggs and vanilla and whiz again until smooth. Cut a large circle of baking paper and place into the pastry shell. Fill it with baking beans or rice and bake for 12 minutes. Remove the baking paper and beans and cook a further 12 minutes. Remove from the oven and reduce the temperature to 170˚C (325KF). Fill the tart shell with frangipane, then draining the fruit as you go, place it on top of the frangipane. Bake a further 35 minutes, reducing the temperature a little at the end if the pastry is browning too much (I didn't). Remove from the oven and allow to cool before removing from the tin. It can be either briefly reheated in the oven or served at room temperature – either way it is amazing served with vanilla bean gelato or ice cream. Serves 8-10.