Woooooooo! Competition time for Mother's Day – I am so excited to have three of these absolutely gorgeous Le Creuset Stoneware Heritage Oval covered dishes to give away. I have long been a fan (and collector) of the brand, and I can't think of a more special gift for any mum…and it is too easy to enter. All you need to do is reply in the comments below, telling me what quality you love most about your mother – for me it is my mum's unshakeable faith that things will always work out in the end! I'll be choosing three lucky winners and announcing their names on the blog Wednesday 10th May at 5pm. (See below the recipe for further details).
I had so much fun playing around with the dish and decided that my perfect Mother's Day lunch or dinner would be this pot-roasted chicken with fennels and apple. I stuffed it with lemon, garlic and fennel stalks, then nestled it on a bed of onion, fennel and pancetta. It is started covered to lock in all the lovely moisture, then finished with a good blast uncovered to get the rich, burnished skin. I would serve this with a mound of mash, some green beans, and a bowl of creme fraiche swirled with dijon mustard on the side. A few glasses of bubbly never go astray when it's time to say thank you either…
Wishing you a great week, and happy time spent celebrating your mum next weekend – I so wish I had my lovely men/boys to celebrate with, but I'm lucky to be catching up with my mum instead! Thanks so much to the lovely team at Le Creuset for their support – and don't forget to enter below!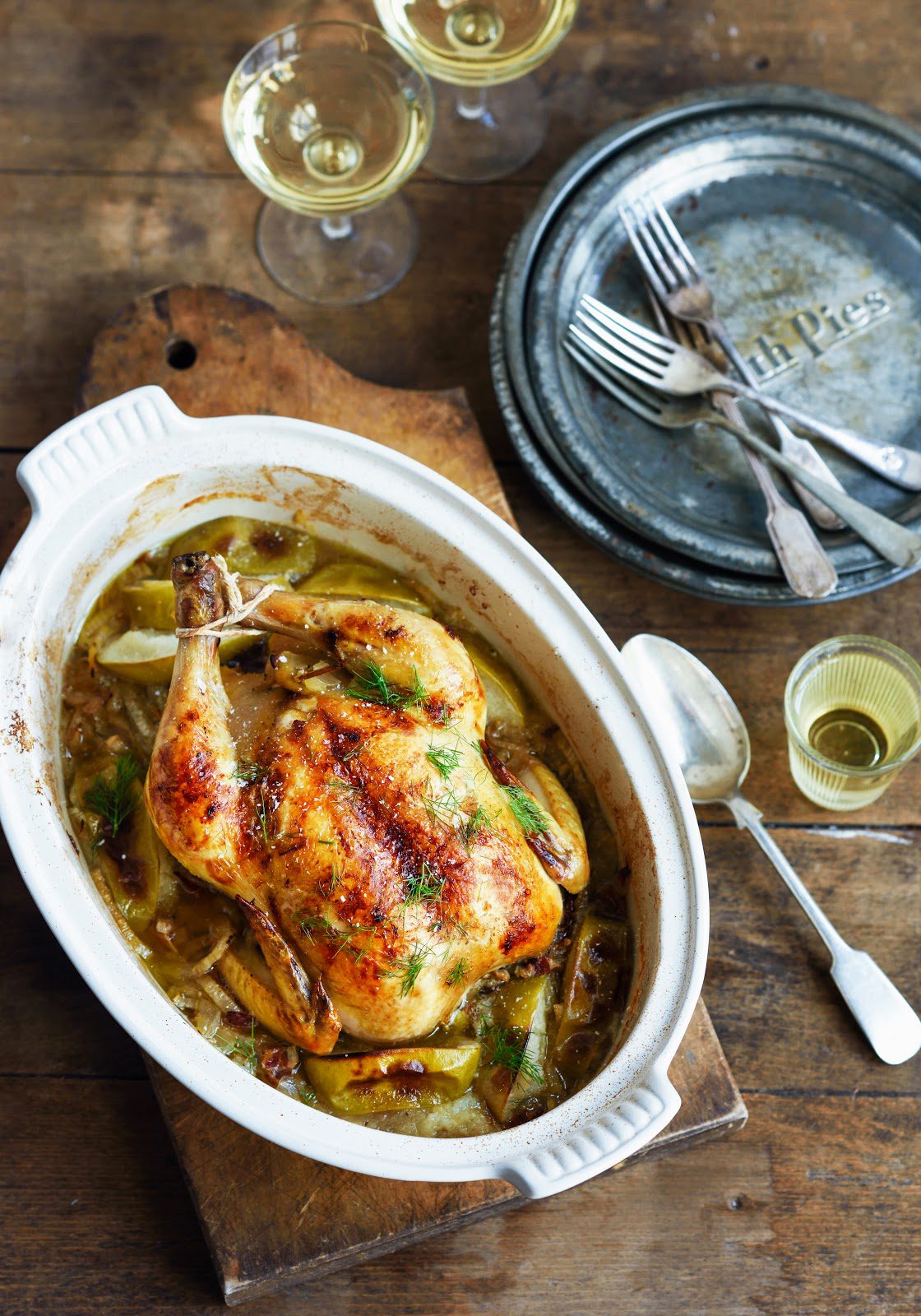 2 tbsp olive oil
80g pancetta, sliced
1 onion, chopped
2 fennel bulbs, trimmed, halved and sliced
1.4kg chicken
3 cloves garlic, squashed
fennel stalks, roughly chopped
2 lemon quarters
sea salt and freshly ground black pepper
330mls apple cider
2 Granny Smith apples, cut into 10 wedges
fennel fronds to garnish
Preheat the oven to 170˚C (340˚F). Put one tablespoon of oil in a large frying pan and cook the pancetta over a medium heat for 4-5 minutes until crispy then remove with a slotted spoon, add the onion and fennel, sea salt and pepper and cook 10 minutes, stirring occasionally. Add the pancetta to the fennel and onion and stir to distribute, then pour into the base of the casserole dish.  Stuff the chicken cavity with garlic, lemon and fennel stalks and secure with a tooth pick. Put the chicken on the vegetables, and pour cider around the base. Rub the chicken with the remaining oil and season well with salt and pepper. Cover and roast in the oven for 45 minutes. Remove the lid, baste the chicken with some of the liquid, increase the heat to 180˚C (350˚F) and cook, uncovered for  30 minutes, add the apple wedges and cook (still uncovered) a further further 20-25 minutes until the chicken is golden and the juices run clear when the chicken is pierced with a skewer. (If you fancy, you can always crank up the grill for the last few minutes to get that extra crispy skin…!) Rest for 5 minutes before serving with mash, blanched green beans and a bowl of creme fraiche swirled with dijon mustard. Serves 6.
COMPETITION DETAILS
(competition only available in New Zealand)
Win one of three stunning Le Creuset Stoneware Heritage Oval covered dishes. (36cm, colour – Dune).
All you need to do is comment below sharing what you love most about your mum. I will be drawing three winners at 5pm Wednesday 10th May (when the competition will close), and announcing them here and via Facebook. The winners must email me their delivery details and address by 9am Thursday 11th May (at
fr************@ic****.com
) then we will make every effort to get prizes sent out in time for the weekend!