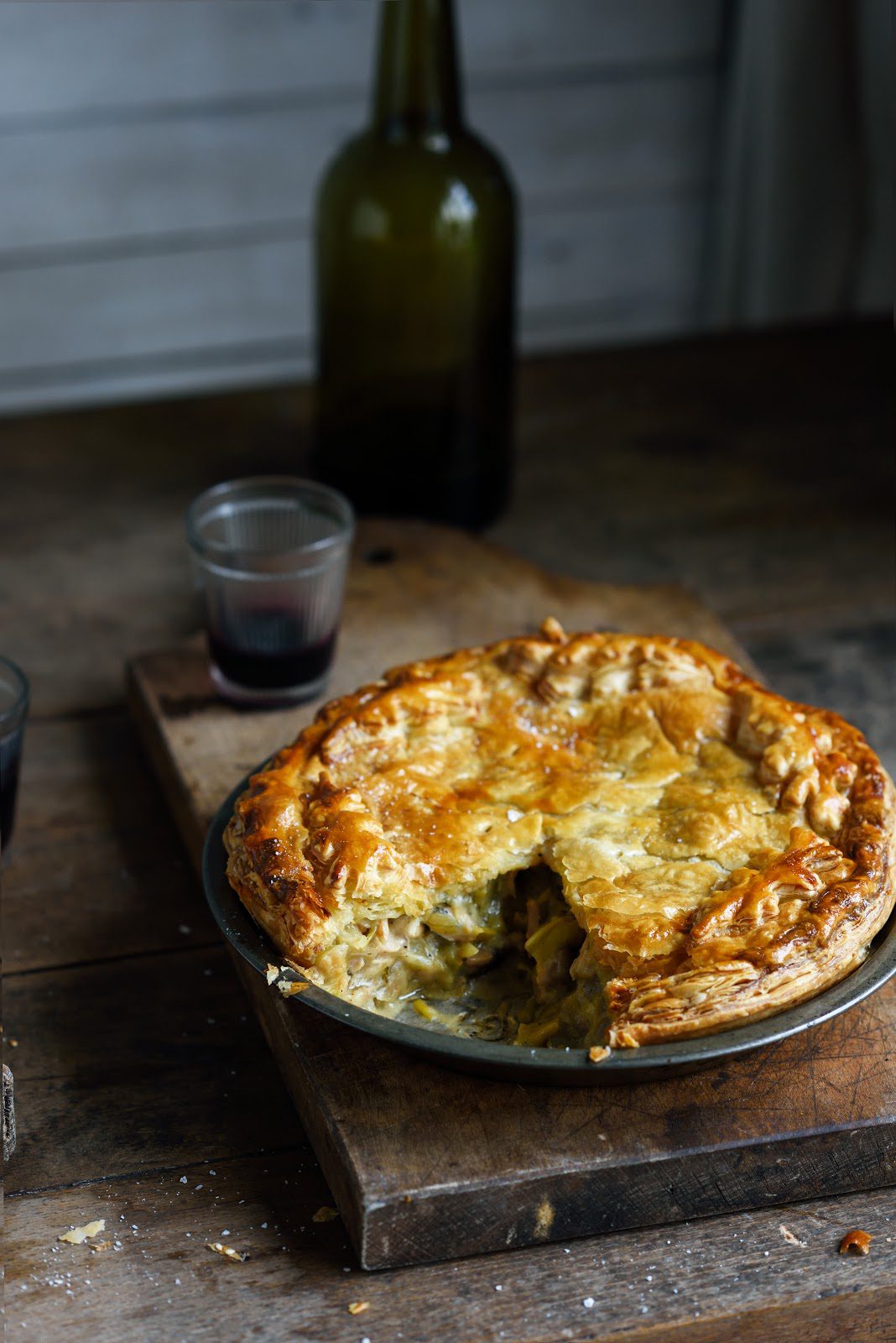 Oh my God I can't actually remember the last time I typed out a blog post sitting in bed with a cup of tea – it feels like an eternity ago! But here I am, second cup in hand, thinking you might like to give these recipes a whirl for the weekend. Who doesn't love a good pie? These two variations are ones I put together for Fairfax so appearing in newspapers around the country today – the first is a traditional chicken, leek and mushroom pie, swathed in flaky, buttery pastry and the other a batch of mini spiced lamb and eggplant pies, studded with crunchy pine nuts. Both are perfect for eating while watching the rugby with a few mates so good timing with the Lions tour kicking off (pun much?) this weekend.
Crikey, where to start on latest news…it seems like a lot of time has passed but the majority of it has been spent finishing of the cookbook. It has been a massive mission (ahem, perhaps slightly more challenging than first anticipated), but it is almost, very nearly finished. I am so f*kng excited. Both to be finishing, 'cos let's face it, I haven't had a day off since mid-January, but also, because, unusual for a semi-perfectionist such as myself, I absolutely love it. I will be able to share more details with you soon, but meanwhile I am eternally grateful to Henry and my gorgeous NZ designer for all of their hard work…they have made it beautiful. In addition to working on the book Pog has started a new job with uber-cool furniture store, Space, in Melbourne and been throwing gorgeous little dinner parties with Will – table set, fire crackling in the grate and record player spinning. Those two make it look easy, even when it's not, I'm so proud of them! Meanwhile back in Welly Hoob has done an absolutely stellar job of juggling uni, work, basketball and acting in a local production of Chicago. I have been so impressed that he has managed it all so well, and seriously enjoyed reading the odd essay on American politics along the way. I am flying down to see the final night on Saturday and can't wait to see my darling 'baby'…eeeeee, I'm so excited!
Right then, must get up – try the pies if you have a minute – I promise they are both bloody easy to make and delicious. With the chicken pie, if you can't be faffed with the base, just spoon the filling into a dish, top with the pastry lid and you have pot pie. If you must.
Chicken, leek and mushroom pie:
1 tablespoon butter
1 tablespoon olive oil
1 onion, finely chopped
1 large leek, trimmed and sliced into 1cm rounds
800grams chicken thighs, trimmed
250grams mushrooms, sliced
3 tablespoons white wine
2 tablespoons plain flour
1-2 teaspoons Dijon mustard to taste
2 tablespoons cream
¼ cup grated Parmesan
1/3 cup finely chopped parsley
Cooking oil spray
1 ½ sheets (225 grams) ready rolled puff pastry (I used Edmonds for the base)
180grams ready rolled butter puff pastry (I used Paneton for the lid)
1 egg, whisked
Heat oil and butter in a large heavy based pot. Add onion and leek, season well with salt and pepper and cook over a medium heat for 8 minutes. Trim the fat from the chicken thighs and cut each into about 4 pieces. Add to the onion with mushrooms and cook, stirring occasionally for 15 minutes. Add the wine and flour, stir to combine and cook 1 minute then add the Dijon and cream and cook a further 15 minutes until the chicken is cooked through and the sauce has thickened. Cool. Preheat the oven to 180˚C.  Spray the base of a   24cm pie dish very lightly with cooking spray and brush to coat the sides. Line the base and sides of the dish with the ready rolled pastry and sprinkle over the Parmesan. Stir parsley through the chicken and put on top of the Parmesan. Cut a circle to match the top of the pie dish from the butter puff pastry. Brush the edges of the pastry in the tin with egg, and place the pastry lid on top. Squash the edges to seal, trim the excess pastry and use your thumb or the tines of a fork to make a pattern around the edge. Decorate if desired with cut outs from the excess pastry. Brush with egg and cut a few slits in the top with a sharp knife. Cook for 55-60 minutes until golden. Cool for 5 minutes before serving with mashed potatoes and green beans. Serves 4-6
Spiced lamb & eggplant pies:
2 tablespoons olive oil
850grams lean lamb mince
2 teaspoons cumin seeds
1 red onion, finely chopped
2 small eggplant, cut into 3cm pieces
4 cloves garlic, crushed
2 teaspoons ground cumin
2 teaspoons ground coriander
½ teaspoon cinnamon
2 tablespoons plain flour
400g tin crushed tomatoes
¼ cup currants
½ teaspoon chilli flakes
½ cup pine nuts
7 sheets (1 kilo) ready rolled puff pastry (I used Edmonds)
1 egg, whisked
2 tablespoons sesame seeds
Heat one tablespoon of oil in a large heavy based pot and cook lamb over a medium heat for 8 minutes. Break the meat up with the back of a fork as it browns. Once it is an even colour, remove the meat from the pot. It will have rendered some fat. You need about a tablespoon to cook the onions next, so if necessary add a little more olive oil, or if too much, drain some off. Add the cumin seeds and cook for a minute then add the onion, season well with salt and pepper and cook for 5 minutes. Add the lamb back into the pot with the eggplant, garlic, cumin, coriander and cinnamon and cook for 5 minutes. Stir in flour, cook, stirring for a minute then add the tomatoes, currants and chilli flakes. Reduce the heat to a simmer and cook, stirring occasionally for 30 minutes. Cool. Preheat oven to 180˚C. Cut each piece of pastry into four squares and brush the edges with whisked egg. Put about 2/3 cup of filling, rounded, into the centre of each square. Cut another four pieces of pastry and place on top of each. Use your hands to press down firmly around the filling and the base. Trim the edges and press with the tines of a fork. Brush with egg and sprinkle with sesame seeds. Use the tip of a sharp knife to cut two little slits on the top of each pie.  Repeat with remaining filling and pastry. Line two oven trays with baking paper and bake pies for 25-30 minutes until golden. Serve with a good tomato chutney. Makes 14