Quick l'il re-post of this perfect winter soup, originally posted waaaay back in September 2015!I am writing this as I watch the weather forecast on TV, and despite the fact that it is now officially spring in New Zealand, the weather forecast is predictably grim: 0˚ or 1˚C degree lows in many places over night (-2˚C in Christchurch!) and rain all over the country in the next few days. Soooo even though the shops are full of spring fashion – this is a good option for lunch or dinner over the coming weekend! This soup (which I put together for Fairfax) reminds me of my childhood – it's very similar to one made by both my mum and paternal grandmother…minus the pesto 🙂 The irony is that even though it sets me off into fits of nostaligia, it is also just the soup for budding hipsters, made as it is with a bone broth stock. Bone broth – hee hee – to me it's just stock and reminds me how everything old can be new again, ideas go in cycles (whole foodies, of which I am kind of one – erm – check out the 70s, Mollie Katzen and Moosewood!), but I do love it that ideas that make sense stick around.
Apart from that I am also bursting with pride (next morning addendum) after having watched Rich appearing as the character Kash in last nights episode of the NZ comedy/drama Step Dave. It was his first time acting for TV (apart from a KFC ad), and I thought he made the transition from stage beautifully – go Hoobie! 🙂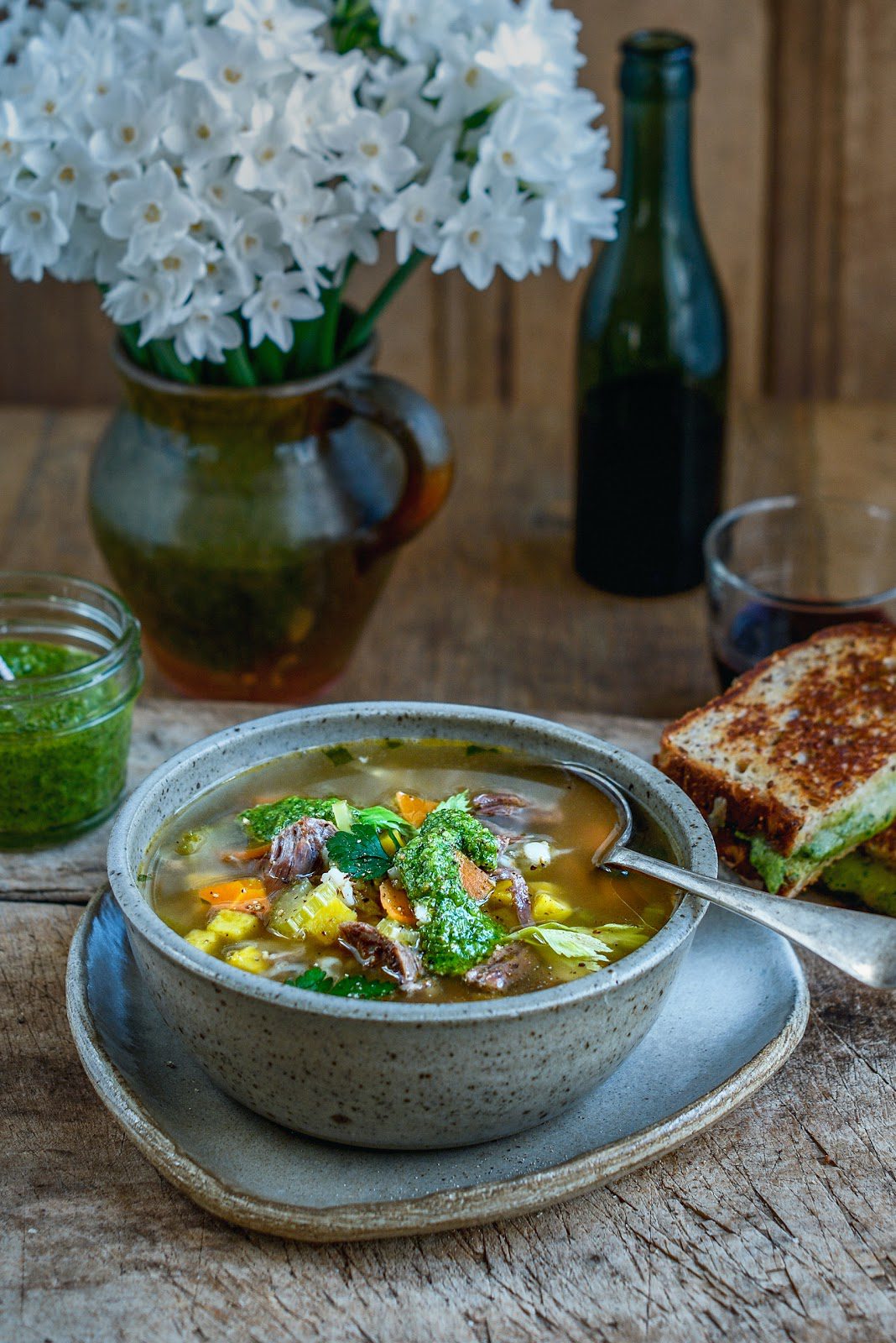 1.5kg beef shin or osso bucco
1 tablespoon cider vinegar
1 onion, quartered
2 carrots, 1 roughly chopped and 1 quartered and sliced
3 sticks celery and leaves, 1 roughly chopped and 2 finely sliced
2 bay leaves
a handful of parsley un-chopped
1/2 teaspoon peppercorns
1 cup pearl barley
1 parsnip, grated
1 small kumara, peeled and diced
1/4 cup finely chopped parsley
Put beef shin in a very large pot and cover with 3 litres of water. Add cider vinegar, onion, roughly chopped carrot, roughly chopped celery, bay leaves, parsley and peppercorns and season with salt. Bring to the boil then reduce heat and simmer, covered for four hours. Chill, remove fat from surface and strain stock. Reserve meat and return stock to a gentle boil. Add barley and simmer 30 minutes, then add remaining carrot, celery, parsnip and kumara and meat shredded from the bones and cook a further half hour before serving with a sprinkling of parsley and a dollop of winter pesto.
You can add whatever vegetables you like to this soup; zucchini, peas, cauliflower, broccoli and leeks all work well.
Winter Pesto (Parsley, Rocket and Walnut pesto)
1 cup packed parsley leaves
1 cup packed rocket leaves
½ cup extra virgin olive oil
½ cup lightly toasted walnuts
½ cup grated Parmesan
2 small (or 1 large) cloves garlic
Whiz all ingredients together in a small food processor and season to taste with salt and pepper.
To make toasties, butter bread on 1 side and place buttered side down in a hot fry pan. Spread bread with pesto and top with grated cheese. Top with bread 'lids' buttered side up. When golden on the bottom, flip to cook the other side.