Wait, what, didn't I just post a pie? Well yes…but this is a different one! I don't know, I couldn't help myself – it's pie and rugby weather, what can I say? This one (or two actually) I put together for my lovely mates at Dish magazine, and is made from super tender, slow roasted lamb leg which is then shredded, folded in a little intense gravy then tucked in a pastry shell with some melty mozzarella for maximum indulgence. Basically – bung the lamb in the oven for 5 1/2 hours, shred it and plop it in pastry. There is a tiny bit more to it, but really not that much! I love this with a good tomato chutney on the side, served with a creamy mash and either peas or blanched beans. Comfort food extravaganza :)Right then – crikey it's been a busy time. I zoomed down to Welly to see Hoob last weekend and it was such a treat. He was bloody fabulous in Chicago, I am so very proud of him! The after-party was a bit of a hoot too, drinks, followed by more drinks and a bit of a boogie 'til 3am…haven't done that for a while. Next morning brekky, basketball (Rich not me obvs), then I was back on the plane. It was just the ticket after being house-bound for so long – like a little holiday! I can't wait 'til I get the chance to hang out with Henry like that again – I haven't seen him for six months which is such poo. I'll get there soon Pog – promise, I'm hanging out to see your new work, the incredible-looking apartment, lovely Will and your gorgeous self :)!
Since then it's been back to work, work, yoga, work with my darling nephew Rupert staying a couple of nights, and a few lovely friend catch-ups along the way. The book is on the cusp of being done – the second cover sample is under way (I bloody love it – let's hope you do too), the foreword and index are being written and I can see the finish line…I can't quite believe it! Meanwhile I've also just shot my next spread for Dish and am about to start working on the next issue of Cuisine. No rest for the wicked…I must be very wicked…right then, stuff to do, have a great weekend!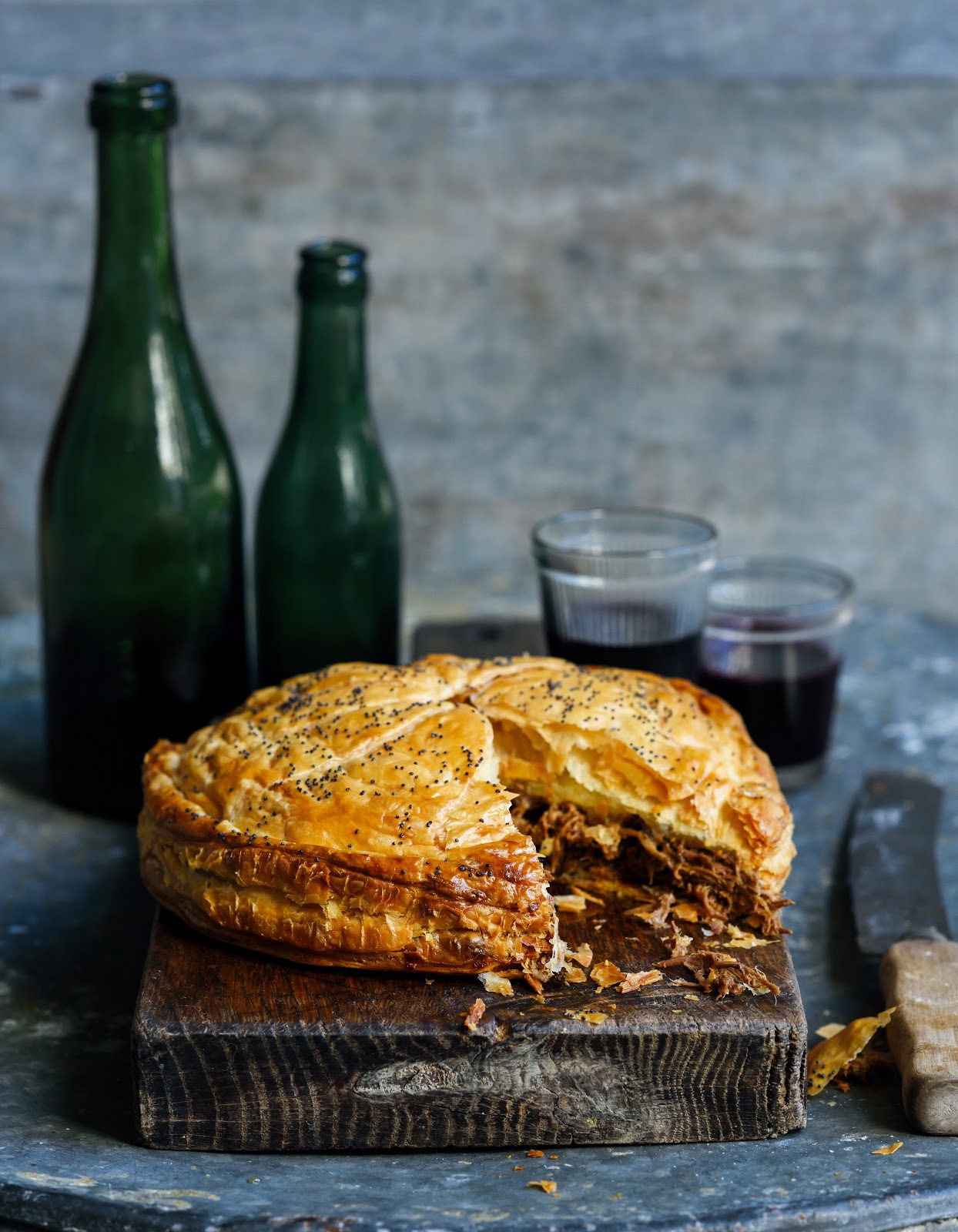 2 large sprigs rosemary plus 1 tbsp finely chopped
2kg leg of lamb, bone in
5 cloves garlic, peeled
sea salt & freshly ground pepper
1 cup red wine
1/2 cup water
3 tbsp flour
3/4 cup boiling water
1/4 cup cream
2 squares Edmonds ready rolled puff pastry
500 g Paneton butter puff rolled pastry
2/3 cup grated mozzarella
1 egg, whisked
1 teaspoon poppy (or sesame) seeds, optional
Preheat oven to 160˚C,  put rosemary sprigs in an oven dish and put lamb leg on top. Make five small slits in the lamb with the point of a sharp knife and poke garlic into holes. Pour wine and water into the base of the dish and season the lamb well with sea salt and freshly ground black pepper. Cover the whole dish with tinfoil and roast for 5 hours. Remove foil and cook a further 40 minutes uncovered. Shred meat from the bone with two forks, discarding fat. Add finely chopped rosemary to meat, season with sea salt and pepper and set aside. Remove rosemary and drain fat from the oven dish. Put on a gentle heat on the cook top, add flour and use a wooden spoon to scrape up the good bits stuck to the pan. Add boiling water and keep stirring (use a whisk if necessary) until gravy thickens, add cream and cook a few minutes more until thick and glossy. Remove from the heat and season to taste with salt and pepper. Cool lamb and gravy in the fridge for half an hour, fold together and chill over night. Put baking paper on two oven trays. Cut a 22cm circle from each of the Edmonds pastry squares and place on the trays. Divide the lamb mixture between the two pastry circles, making sure you leave a 1.5cm of clear pastry around the edge, then brush this edge with egg. Pat the meat into a neat, flat circle and top each with half of the mozzarella. Cut the Paneton pastry into 2x 25cm circles (a little patching will be required on one, but it will be fine!). Place each circle on top of the meat and use your hands to smooth pastry firmly over meat then use your thumb or the tines of a fork to seal the edges. Trim neatly, brush with egg and score gently in a circular pattern from the centre out, make a small hole in the middle with the tip of a knife. Sprinkle with poppy seeds and refrigerate for half an hour while the oven heats to 180˚C. Place two oven trays in the oven to heat up for 5 minutes then slide the pies onto them. Cook for 45 minutes, (you may need to swap the pie levels while cooking to ensure even colour) then rest for 5 minutes. Serve with tomato chutney or mint jelly, mashed potatoes and peas. Serves 8 You can freeze the pies before cooking, then defrost overnight in the fridge and cook as normal – so you can make them, cook one and freeze one!