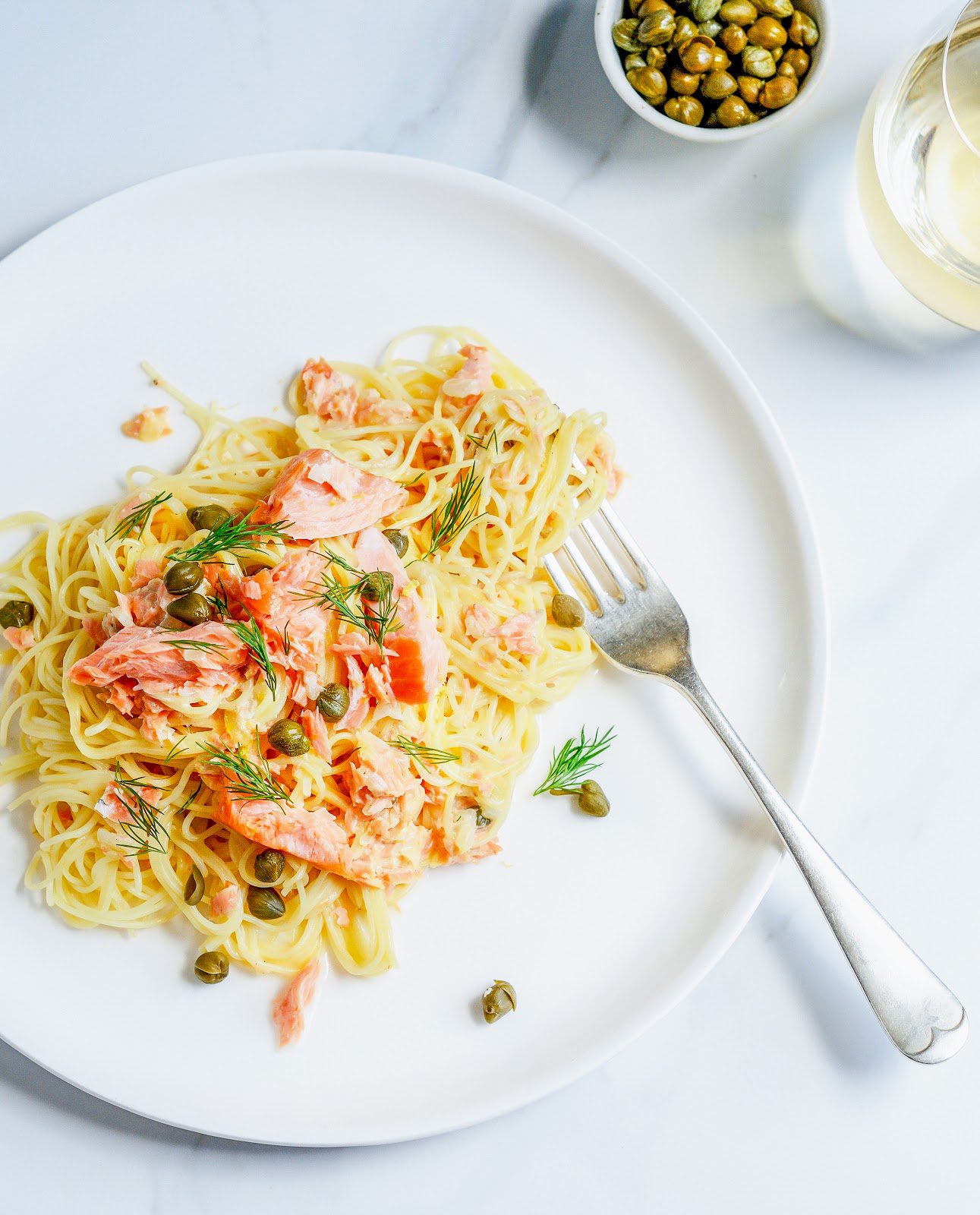 Woah this is a bit of a blast from the past – these two recipes first appeared on the blog quite a few years ago now, but are still two of my favourites ever for an easy and delicious l'il V-Day dinner for two. The salmon pasta is a variation on one I have been making for many years,  it takes five minutes to make but still has a naughty decadent quality thanks to the rich, flaky hot smoked salmon, elegant, finely sliced smoked salmon, salty capers, zingy lemon and a touch of herby dill or fennel. The luscious dessert is like a cheesecake in a glass with sweet, juicy roasted plums and apricots tucked away in a smooth cream-cheesy filling, layered between a crumbling of nuts and gingernuts – a perfect pillowy combination of textures. Happy eating all you gorgeous lovers out there.
This Valentine's Day I have a hot date (bahahahaha) at my first ever Spanish lesson – an evening class for beginners. It was going to be Italian as I am desperately hoping to make it to Italy later this year, but a lovely girlfriend was keen on Spanish – so right then, I'm swapping my prosciutto for chorizo and seeing if my brain is still functioning enough to learn a new language…we shall see, it could just be a mortifying wake-up call to the insidious effects of the aging process. Anyhoo, apart from that I'm nipping into the opening of the rooftop Aperol garden bar at Ostro tonight and packing my bags for Melbourne on Thursday night – I can't wait to see my Pog! Daytime hours it's back to business with Dish, Cuisine and Fairfax, and believe it or not, possible planning for cookbook number 2. Crikey, it's like forgetting the labour soon after childbirth, I'll keep you posted on that one!
Smoked Salmon Pasta:
Serves: 2
Prep time: 10 mins
Cooking time: 15 minutes
1 tablespoon olive oil
1 teaspoon butter
½ small onion, finely diced
3 tablespoons dry white wine
100g sliced smoked salmon, roughly chopped
1/2 cup cream
200g capellini or spaghetti
150g hot smoked salmon, roughly flaked
finely grated zest of half a lemon
2 tablespoons capers, drained
2 tablespoons finely chopped dill or fennel
Heat oil and butter n a large frying pan and bring a large pot of salted water to the boil. Fry onion over a medium gentle heat for 8 minutes until softened but not coloured. Add white wine and cook for a minute then add sliced smoked salmon and cream, season with salt and pepper and cook gently for 5 minutes. The salmon will break up and the liquid will reduce during this time. Cook the pasta until only just al dente (according to packet instructions), drain reserving ¼ cup pasta water. Add drained pasta to the sauce with the reserved pasta water, and half of the hot smoked salmon, lemon zest, capers and dill. Cook stirring for one minute to heat through. Divide the pasta between two plates and top with remaining hot smoked salmon, lemon zest, capers and dill and a grinding of black pepper.
Plum Cheesecake Cups
Serves: 2
Prep time: 10 mins
Cooking time: 15 minutes
3 plums, apricots or a combination, halved, stones removed
3 tablespoons caster sugar
2 teaspoons vanilla extract, Frangelico or Galliano
1/3 cup sour cream or Greek yoghurt
100g cream cheese, at room temperature
4 gingernut biscuits
2 tablespoons toasted, skinned hazelnuts (or almonds or walnuts)
Preheat the oven to 180˚C and line an oven dish with baking paper. Place the fruit cut side down on the baking paper and roast 5-10 minutes, turn over and sprinkle with half of the sugar then roast another 10 minutes. Remove from the oven to cool in the baking dish then slice each half in half (quarters). Whiz gingernuts in a small food processor to form crumbs, add hazelnut and pulse to break up and combine with the crumbs. Divide half of the crumb mixture between two serving glasses and top each with 4 fruit quarters. In a clean food processor whiz remaining sugar with Frangelico, sour cream and cream cheese until smooth. Spoon on top of fruit in glasses and refrigerate for an hour. Divide remaining plums between the glasses and sprinkle with remaining nut biscuit crumb to serve.
*Roasting time of the fruit will depend on how ripe they are to begin with – harder fruit will take longer