serves 6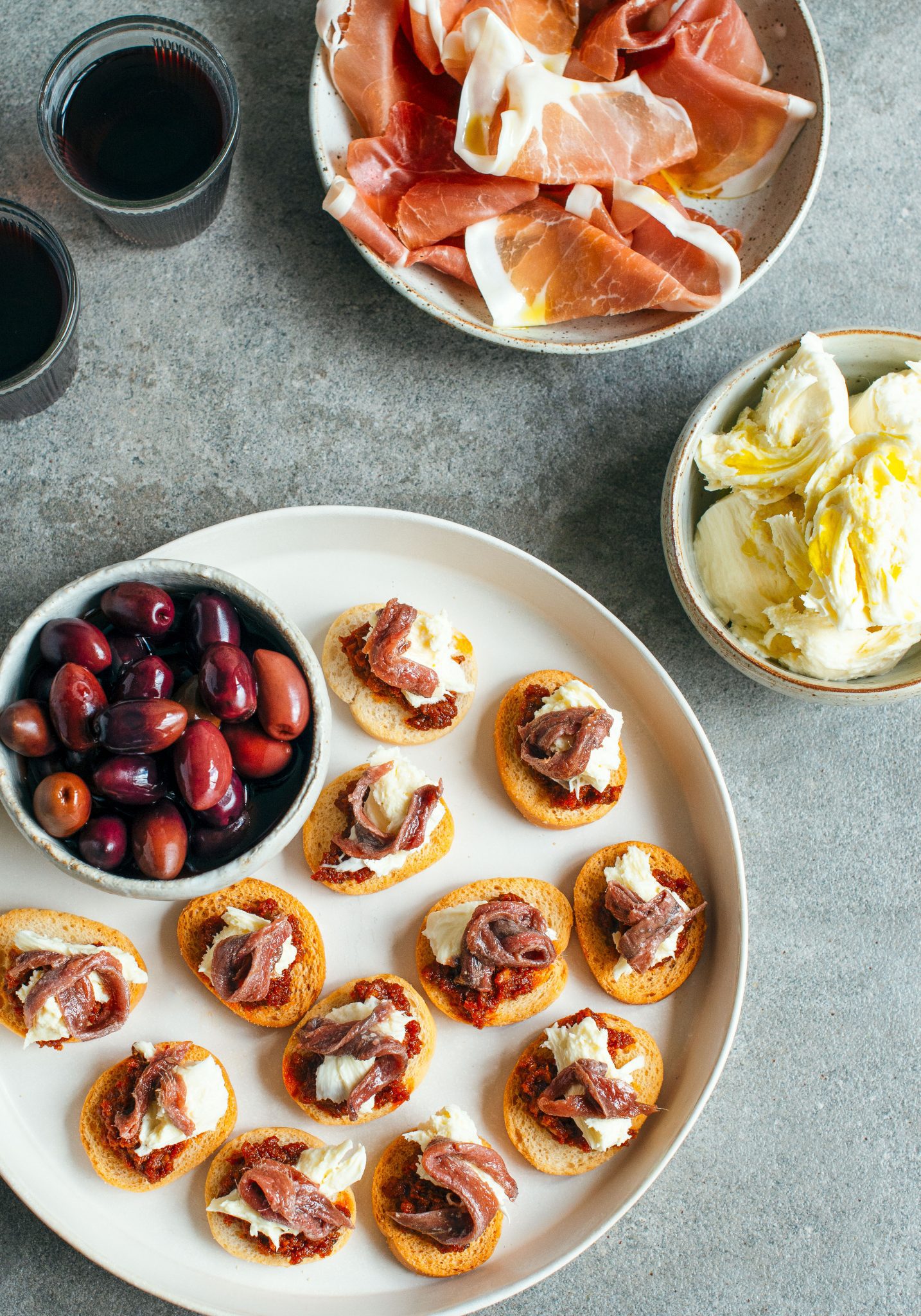 As you know I have been flat out lately, zooming around like a headless chook working on my magazine contract work as well as flying down to Welly for Hoob's 21st and, (in case you hadn't heard) getting stuck into (pun intended) my next book! In between I, like you no doubt, have had extra family and social commitments and sometimes it is hard to see how to fit everything in – so, today I thought I would share with you my cunning plan for a dead-easy dinner party for 6, and the next instalment in my collab with the gorgeous Smith & Caughey's Queen Street store. This also forces me to make a small confession about just how easy it is to cheat a dinner party, putting in just enough effort so that it is still fabulously home made yet on the table in no time, looking style-y and delicious, with minimum fuss. Rather than list all of the products that I selected from the fine foods department and wine cellar here, I will include them in italics in the recipes and if you click here you can link directly to the Smith & Caughey's website – and of course you can nip in store on your way home/lunch hour to stock up for your own last minute dinner party!
These ideas and recipes are exactly what I serve at home – first up bruschetta with mozzarella, anchovies and pesto all'arrabbiata, served alongside olives, buffalo mozzarella and prosciutto, followed by two types of pasta – one a quick creamy mushroom linguine given extra mushroom power by using both reconstituted dried mushrooms and intense and luscious porcini paste (bloody delicious), and the other a pasta bake of shells (or orecchiotte) stuffed with ricotta, pancetta, sweet pepper pesto and parmesan baked in a rich tomato sauce. If you can't be faffed making two options, by all means serve one or the other then all you need is some bitter greens tossed in a simple vinaigrette on the side. Start by making the stuffed pasta shells, then bung them in the oven and forget about them (they take about 15 minutes to put together and 45 minutes to cook), then prep the mushroom pasta including soaking the dried mushrooms. Plate up and serve the antipasto platter and finish off the mushroom pasta which takes about another 15 minutes.  I know what you're thinking…it sounds like hard work, but I promise you the whole lot is a cinch! Read on for the recipes – and as always, if you have any questions about them, feel free to get in touch via the comments…
Antipasto platter:
Italian Tavola Bruschetta
Oritz anchovies
2 balls buffalo mozzarella
Sabato Pesto all'arrabiata
The Olive Lady whole Jumbo Kalamon olives
olive oil
prosciutto
Spread a little pesto all'arrabiata on each crostini and top with a torn piece of buffallo mozzarella and an anchovy (or pop in bowls for guests to create their own). Put the olive in a serving dish and the remaining mozzarella in a bowl, and layer the prosciutto onto a plate. Drizzle both with olive oil. Ready in 5 minutes!
Orecchiotte stuffed with ricotta & red pepper pesto:
1 tbsp olive oil
80g pancetta, chopped
1 brown onion, finely chopped
400g ricotta
1 cup grated mozzarella
1 cup grated Parmesan
1 egg, whisked
1/3 cup Sabato Sweet Peppers Pesto
300g Pastificio Orecchiotte
530g Sabato Pasta sauce with sweet peppers & chilli
300ml Sabato Tomato Passata
1/4 cup white wine
1/2 cup vegetable or chicken stock
2 tbsp finely chopped parsley
2 tbsp chopped toasted walnuts
Preheat the oven to 200˚C. Heat the olive oil in a large heavy based pot then add the pancetta and cook for 4 minutes. Add the onion and cook, stirring for another 8 minutes then remove from the heat. Put the ricotta in a large bowl and add the mozzarella, 2/3 cup of the Parmesan, whisked egg and pesto. Season well with salt and pepper, stir to combine then mix in the onion and pancetta. Mix the pasta sauce, passata and stick together in a 24cm x 32cm baking dish. Spoon the filling into the shells and sit them into the pasta sauce. Top with the remaining Parmesan, cover with tinfoil and cook for 25 minutes. Remove the foil and cook a further 20 minutes. Serve sprinkled with parsley and walnuts.
Creamy mega-mushroom linguine:
15g dried Borde Gourmet Mushrooms, rinsed
1/2 cup boiling water
2 tablespoons olive oil
1 tablespoon butter
350 grams mixed mushrooms, sliced
sea salt and freshly ground black pepper
3 cloves garlic, crushed
4 sprigs thyme (plus extra to garnish)
1/2 cup cream
2 tsp Mazzetti Balsamic Vinegar of Modena
2 tbsp Sabato Porcini crema
500g Rustichella D'Abruzzo Linguine
Pour boiling water over the dried mushrooms and leave to steep for 10 minutes. Next heat the oil and butter together in a large, heavy based pot. Add the fresh mushrooms, season well with salt and pepper and cook over a medium/high heat for 5 minutes, stirring occasionally. Drain the reconstituted mushrooms, saving the pungent mushroomy water, chop roughly and add to the fresh mushrooms. Add the garlic, thyme and cream and reserved mushroom water and cook a further 5 minutes. While the mushrooms sauce is finishing, cook the pasta in plenty of salted boiling water for 9 minutes. Drain the linguine well, reserving 2-3 tablespoons pasta water and toss through the sauce with the porcini cream and pasta water. Heat together for one minute then serve piled into a big serving bowl, garnished with thyme sprigs and a good grinding of black pepper.