serves 6
Well by crikey prepare yourselves, I have a veritable extravaganza of recipes for you today! I had some of my dearest friends staying with me for the last four days, in between moving house, so I thought I would take the opportunity of having house guests to round up some of my other besties and get stuck into a Mexican feast. The serendipity continues (you might remember I talked about that a few posts back), and as luck would have it I had arranged to do a collaboration with my mates at Silver Fern Farms – et voila, the menu was planned. Their current campaign is based around the idea that 'delicious starts here', and indeed it does. Honestly, the lamb loins and flat-iron steaks I used were so simple and easy to prepare, quick-cooked to perfection and beautifully tender. I eat very little red meat these days, so when I do I want to be sure it is thoughtfully raised, locally sourced and premium quality. On this occasion we started with lashings of guacamole and corn chips (cos you know – a Mexican gathering), followed by a spicy lamb and red cargo rice salad loaded with corn, tomatoes, avocado, feta, red onion and of course tonnes of fresh coriander. Next up was the beef fajitas – super tender beef with a chilli kick, topped with mixed peppers, avocado and my secret spicy green sauce. (Well obviously not that secret given that the recipe is below…). Basically we all tucked in and decided we couldn't possibly squeeze in dessert, but of course we did – no-churn caramel and orange ice cream with dark chocolate, chilli orange sauce, bloody delicious if I say so myself. Everyone who knows me understands that for me, caring for people, gathering them together, preparing food and drinks to share with music and laughter is my happy place, I was like a pig in mud. But don't go thinking this all required a mountain of preparation, I confess it was pretty much a cinch to throw together.
Aaand what else? Well, having farewelled my guests this morning it's nose back to the grindstone with my next issue of Dish to work on (Cuisine submitted last Thursday, hurrah), and then it's back to working on the next book which I feel has been languishing for a few weeks needing my attention – and I can't wait to get back to it. I am so determined to make sure no.2 is just as good, if not better than the first – personally I find a lot of second books are full of recipes that didn't quite make the grade for the first one – I am NOT doing that! Anyhoo, much to do – get yourselves stuck into your own fiesta, and if you get the chance, I'd love to hear how it goes…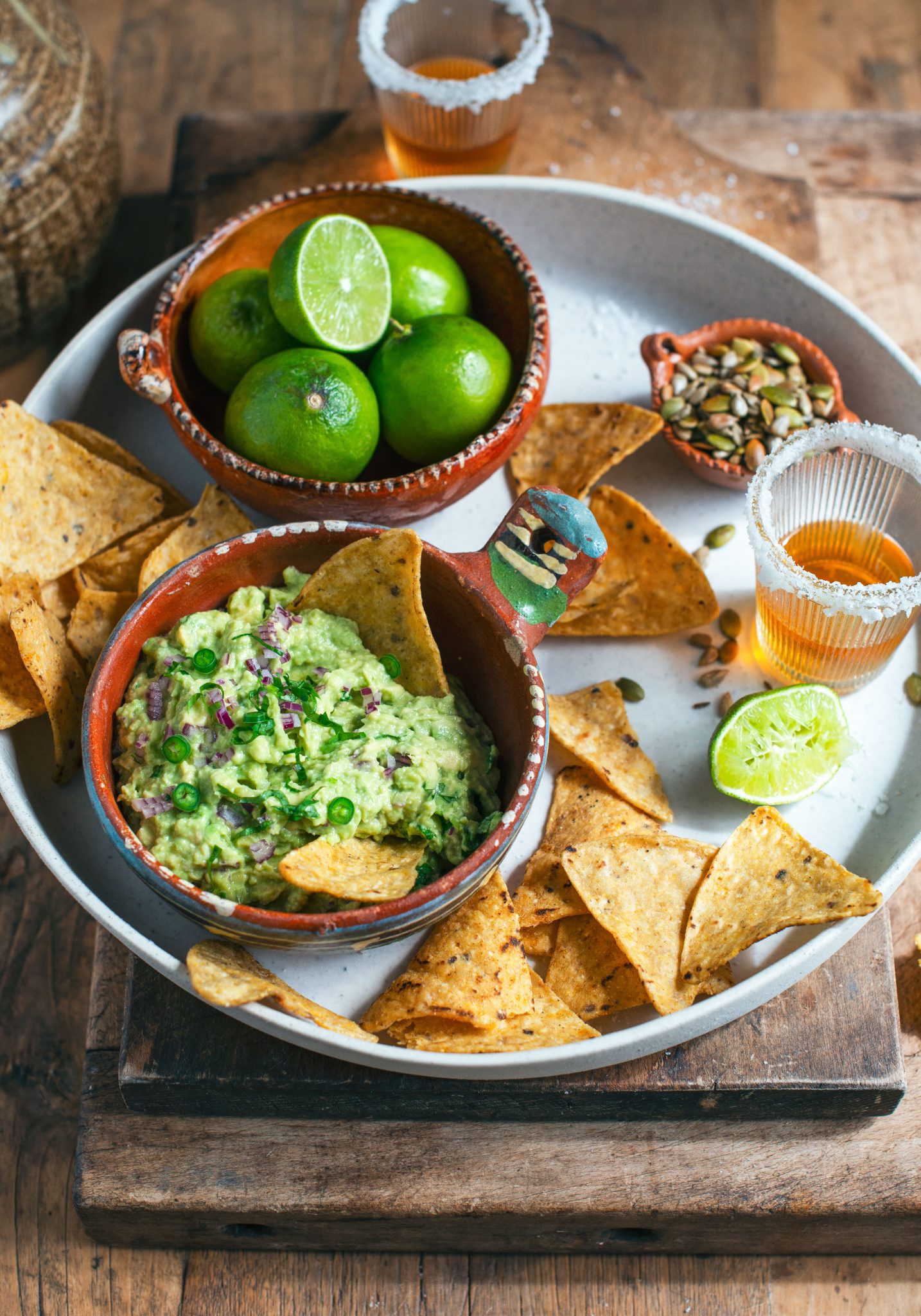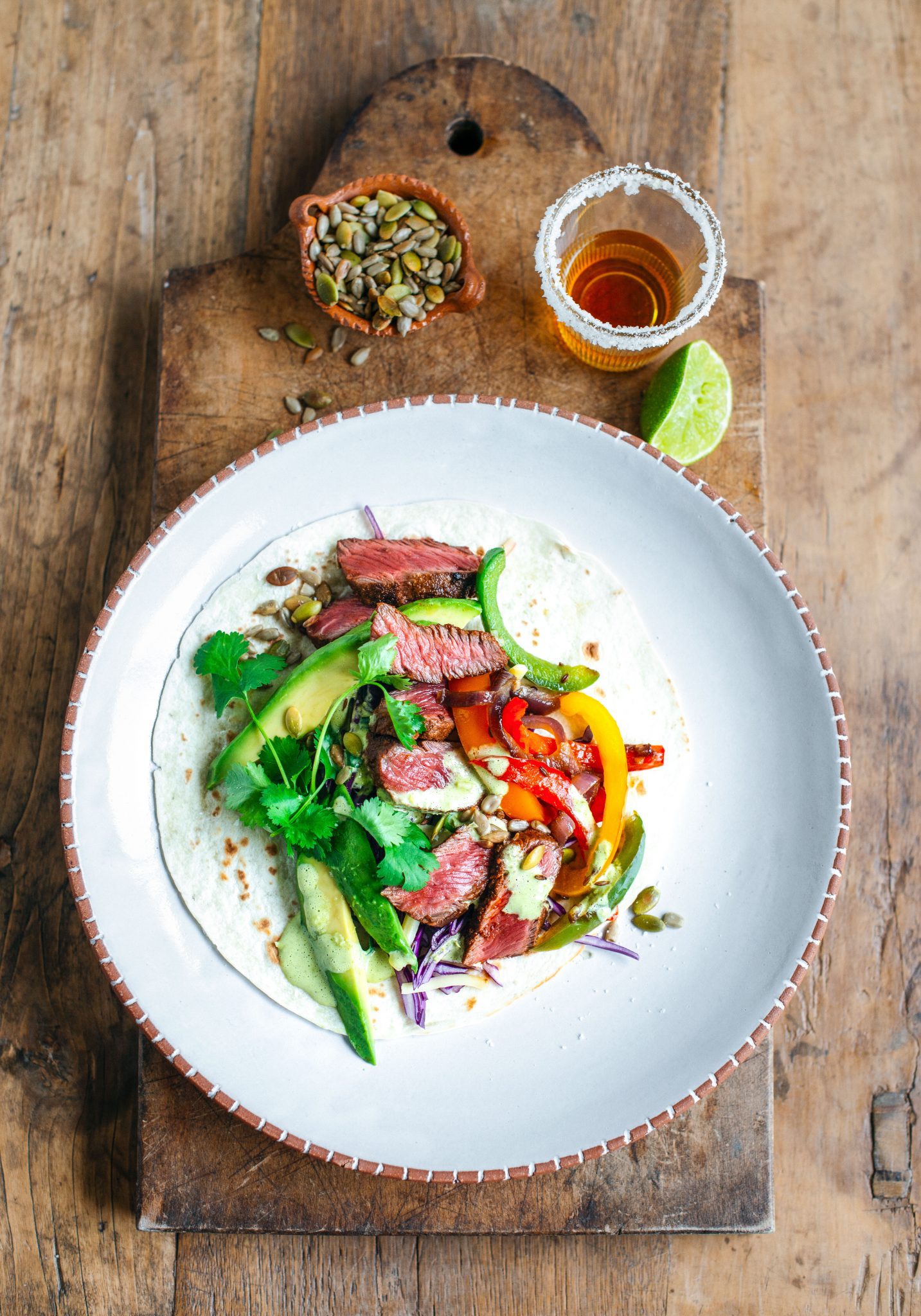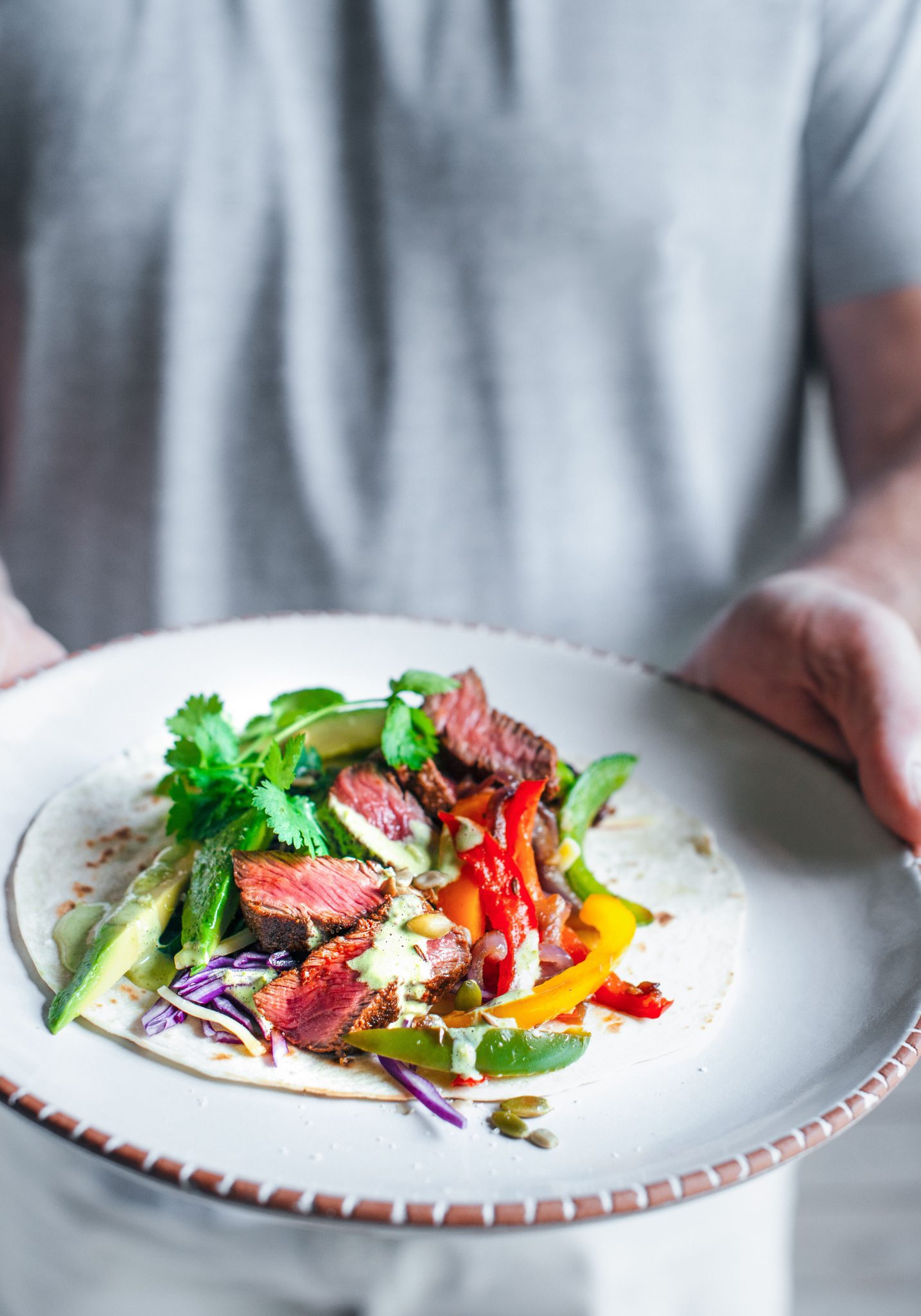 quick guacamole:
3 ripe avocados
1 large clove garlic, crushed
finely grated zest & juice of 1 lime
1 tbsp good quality mayonnaise
1 tomato, diced
1/3 cup finely chopped coriander
2 spring onions, chopped
half a small red onion, finely chopped
corn chips to serve
1 small green chilli, finely sliced
sea salt & freshly ground black pepper
Mash the avocados, garlic, zest, juice and mayonnaise together. Stir through the remaining ingredients and serve within an hour.
red rice salad with spicy seared lamb:
1 1/2 cups red cargo rice (or brown rice)
2 tbsp + 1 tsp olive oil
finely grated zest of a lime
sea salt and freshly ground black pepper
1 pack Silver Fern Farms Lamb Loin Fillets
1 tsp ground cumin
1 tsp chipotle
3 cobs corn
2 cup wild rocket leaves
black beans, drained
2 avocados, halved and chopped
2 cups chopped cherry tomatoes
1 green capsicum, finely chopped
200grams feta, crumbled (reserve some for garnish)
1 red chilli, finely sliced (reserve some for garnish)
1 cup coriander leaves, picked (reserve some for garnish)
1/2 red onion, finely sliced
Cook the rice according to the packet instructions and drain well. Rinse through with water, drain again for 5 minutes then tip into an air tight container. Stir through 1 teaspoon of olive oil, a sprinkle of sea salt and the zest of a lime. Leave to cool, refrigerating, covered up to overnight. Put the lamb loins in a ziplock bag with 1 tablespoon of olive oil, the cumin and chipotle. Massage the spic and oil mix into the meat and leave to marinate for 6 hours or up to overnight. Remove the lamb from the fridge. Put the corn into a pot of rapidly boiling water and cook for 10 minutes. Drain well. Brush the cobs well with the remaining olive oil and fry in a hot pan for a few minutes each side until lightly blackened. Set aside to cool. Cut the corn off the cobs in strips. Heat a frypan to medium hot and sear the lamb fillets for 3 minutes each side then set aside to rest for 5 minutes. Toss the rice with the salad greens, corn, black beans, avocados, tomatoes, capsicum, feta, chilli and coriander. Angle slice lamb fillets and dot into the salad. Drizzle with dressing and top with finely sliced red onion, reserved garnishes and 2 tablespoons of nut topping.
dressing:
1 tbsp olive oil
3 tbsp lime juice
1/4 cup good quality mayonnaise
1 tsp caster sugar
finely grated zest of 1 lime
1 clove garlic crushed
Shake together in a lidded container to combine.
seed topping:
1 tsp olive oil
1/2 tsp cumin seeds
1/3 cup sunflower seeds
1/3 cup pumpkin seeds
1/2 tsp sea salt
Heat the oil in a frying pan over a medium heat, add the cumin and fry for 30 seconds. Add the seeds and salt and cook, stirrin, for 4-5 minutes until the pumpkin seeds start to make popping sounds. Remove from the heat, allow to cool and store in an airtight container for up to a  month.
flat-iron steak fajitas:
3 packs Silver Fern Farms Beef Flat-Iron Steaks
1/4 cup olive oil
2 tsp sweet smoked paprika
1 tbsp sriracha sauce
2 tsp ground coriander
1 tsp cumin seeds
1 each – red, green, yellow & orange capsicum, sliced
1 1/2 red onions, thinly sliced
2 cloves garlic
1 green chilli, sliced
1/4 cup fresh oregano leaves, chopped
1/2 red cabbage, finely shredded
3 spring onions, sliced
1/4 cup good quality mayonnaise
1 tbsp lime juice
1 tbsp orange juice
finely grated zest of a lime
1/2 cup chopped coriander
2 avocados, sliced
1 1/2  cups grated cheese (I used smoked mozzarella & tasty)
12 tortilla wraps
Put the flat-iron steaks in a large snap lock bag with 2 tablespoons olive oil, the smoked paprika, sriracha and ground coriander. Refrigerate for 6 hours or up to overnight. Heat the remaining olive oil in a large frying pan over a medium heat and add the cumin seeds. Cook for 1 minute, then add the sliced capsicums and onions. Cook over a medium heat, stirring for 4 minutes. Add the garlic, and chilli and season well with salt and cook a further 4-5 minutes. Remove from the heat, stir through the oregano leaves then set aside to cool. Remove the steaks from the fridge for at least 10 minutes. Put the sliced cabbage and spring onions in a large bowl. Whisk the mayo, juices and zest together, season with salt and pepper and pour over the slaw, tossing to combine. Heat a large frying pan and cook the steaks (in batches if necessary so as not to crowd the pan) over a medium high heat for 3 minutes each side. Set aside to rest, covered in foil, for at least 5 minutes while you heat the tortillas. Serve all of the components together inviting guests to help themselves – layering up the slaw, steak, avocado, cheese, coriander and peppers. Top with a good drizzle of hot sauce and garnish with coriander.
chilli, coriander & lime hot sauce:
Makes: ¾ cup
5 green chillies
2 teaspoons olive oil
3 large cloves garlic, crushed
½ teaspoon sea salt
1 ½ cups fresh coriander leaves
finely grated zest of 1 lime
½ cup good quality mayonnaise (I used Best Foods)
Remove the stems from the chillies, slice each in half and use the tip of a teaspoon to scrape out the seeds. Roughly chop the chillies. Heat the oil in a small pot and add the chillies, garlic and salt. Cook, stirring for 5 minutes then add 1 cup of water. Bring to the boil then reduce to a simmer and cook uncovered for 15-20 minutes. Remove from the heat, then add coriander and use a whiz stick to blend until smooth. Allow to cool for half an hour then add the lime zest and mayonnaise and whiz again until smooth.
caramel ice cream with hot chilli orange choc sauce:
700mls cream
395g caramel condensed milk
1/3 cup salted caramel sauce (recipe here)
finely grated zest of 1 orange
1/4 cup toasted flaked almonds
200grams dark chocolate, chopped
1/4 tsp chilli powder
1/2 tsp cinnamon
Whip 500mls of the cream to firmish peaks then beat in the caramel condensed milk. Stir through the zest of 1 orange and spoon into a container for freezing. Swirl the caramel through the ice cream and top with flaked almonds. Freeze for 5 hours or up to overnight. Heat the remaining cream in the microwave with the chocolate until the cream is simmering (about 50 seconds). leave to sit for a minute then whisk to combine, giving another 30 seconds in the microwave if necessary to ensure the chocolate is melted. Whisk in chilli powder, cinnamon and the zest of the second orange. Sauce can be prepared up to 3 days in advance and reheated when ready to serve. Scoop ice cream into bowls and slather with hot sauce!