I have been in 'sad-arse dinner for one' mode again lately, which has ironically worked out spectacularly well for my latest collab with Regal Marlborough King Salmon! Today's recipes are for two cold smoked salmon snacks, both of which are super quick and easy to prepare, and can be increased in volume if you want a gruntier-sized serving. (These are though, exactly the size I would eat them). I have always had a bit of a split personality when it comes to moderation and excess, and as you will know if you come here often I like a whisky or two three and getting out and about for drinks and dinners as often as I can. However I also walk 10km every day at a lunatic pace, go to the gym and eat very healthily (apart from chocolate…). So these two dishes are exactly what I make myself – the first a 2-egg scramble with just 1 tablespoon of cream ('cos you know – yolo and all that), with cold-smoked salmon stirred through as it cooks, served with avo on a sesame bagel, topped with sea salt and extra lashings of salmon. Getting loaded up on the good stuff (omega-3s right thar) with a dish that tastes way more indulgent than it is. The second recipe is for a salmon slaw that literally takes 3-4 minutes to put together, light and pleasing with nubbly edamame beans, creamy avo, crunchy Savoy cabbage and a light mayo dressing. Bloody brilliant. Each recipe serves 2 but can easily be halved for one snack-serve.
Aaaaaand in other news…I have been in full-on manic mode on five concurrent deadlines in the last ten days while making sure my house is at all times open-home ready and doing my very best to secure a gorgeous little property I have had my eye on. So. The deadlines are now over and all work has been approved (hurrah), the auction to sell my place is on March 28th (cross your fingers for me!!!), and negotiations are well under way on the purchase of my dream home. Now I just have to hold my breath and hope it all comes together, no stress…who needs sleep any way?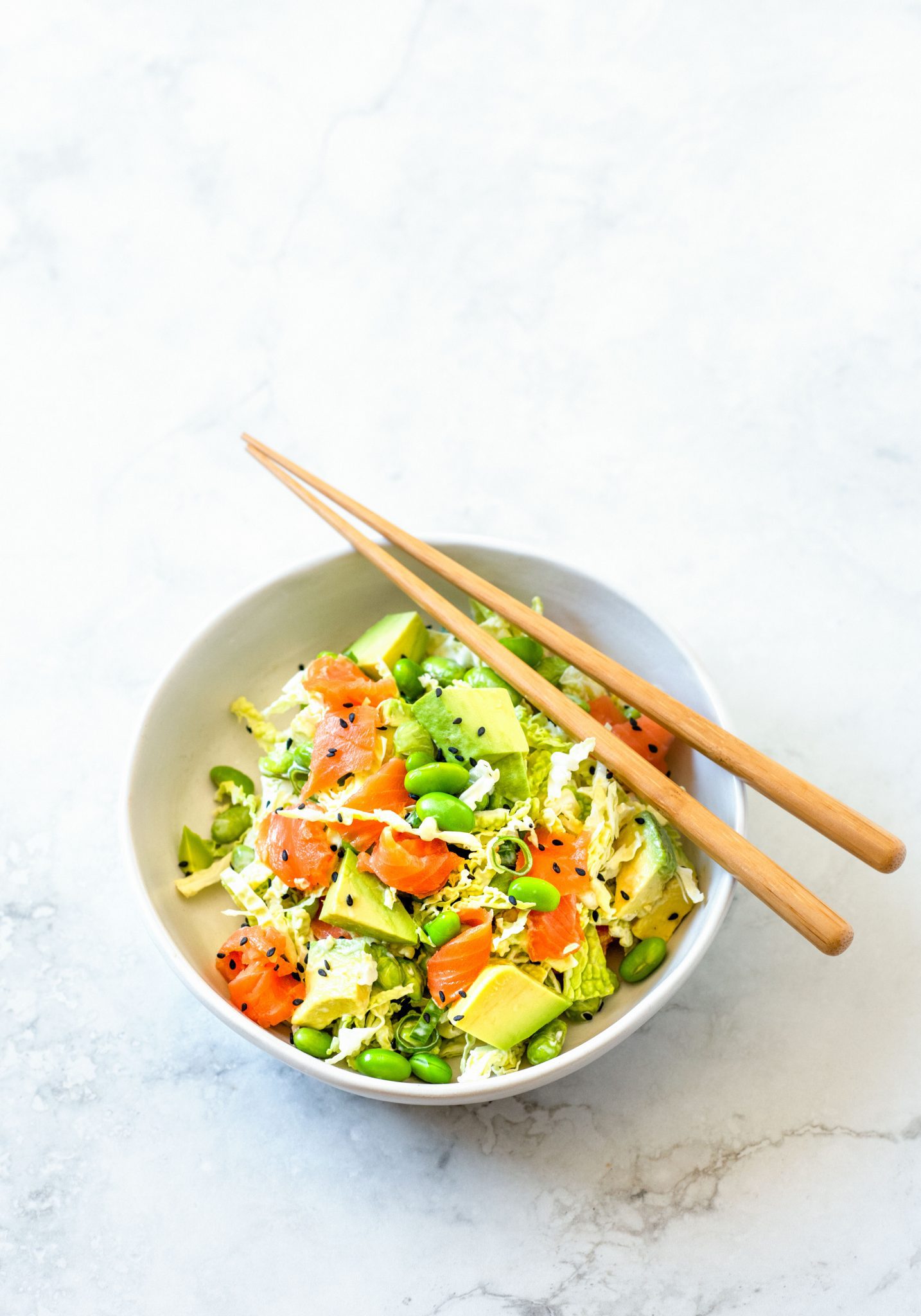 the ultimate scrambled egg with king salmon
4 eggs
2 tablespoons cream
2 teaspoons butter
100grams Regal cold smoked salmon
1 avocado halved and sliced
2 bagels, toasted
sea salt & freshly ground black pepper
2 teaspoons chopped chives
Gently whisk the eggs and cream together. Heat one teaspoon of butter in a smallish frying pan, add the eggs and cook over a gentle heat for 3-4 minutes until the eggs start coming together as you stir them with a wooden spoon. Add half of the salmon and continue cooking until the eggs are just set, then season well with salt and pepper. Divide the avocado between the bagels, top with eggs, extra salmon and a sprinkling of chives. Ta dah!
king salmon, edamame bean & avo slaw:
1 cup frozen edamame beans
2 tablespoons Japanese mayo
1 teaspoon rice wine vinegar
1 teaspoon caster sugar
1/3 small Savoy cabbage, finely sliced
1 avocado, halved and chopped
1 spring onion, finely sliced
100 grams Regal cold smoked salmon, sliced
1 teaspoon black sesame seeds
Cover the edamame beans in boiling water to resuscitate then drain through a sieve. Whisk the mayo, vinegar and sugar in a large bowl. Add the cabbage, avo, spring onion and salmon and stir to combine. Serve with a sprinkling of sesame seeds.