Lordy lordy I have one epic recipe for you today! It is the second in my current collaboration with Castello and utilises their absolutely outrageous Castello Double Cream Truffle Brie and involves salty pancetta, sweet onion, earthy mushrooms, soft pillowy gnocchi, and a crumbling of walnuts…but seriously the thing that makes it so decadent is the cheese that melts throughout and on top…you'll be fighting over who gets to dig into the 'prime spot' when serving.
It makes a perfect dinner for four to serve over the Easter break, all you need alongside is a bitter green salad or some just-cooked green beans. And frankly it will be on my go-to list this winter…I may just be spending it watching Netflix with mates, but hey at least dinner will look like it could be eaten in a snowy log cabin in front of a roaring fire! You don't need any more excuse to try it for yourself, but I also have two $40 Castello vouchers to GIVE AWAY – all you need to do is to leave a comment below, and I will draw the two lucky winners on Friday 12th April.
What more is there to share with you!? Heaps as it happens – my house sale, and the one I have bought will be confirmed unconditional tomorrow – wooooo hoooooo!!!! I am so excited – move in date for me will be the third week in May, so there is much to get done before then, and I absolutely can't wait. I also just got back from the fabulous Upsurge Festival in the Bay of Island, where I was lucky enough to be the speaker for a gorgeous bunch of festival goers on Friday. I was joined by a hilarious friend from Australia, so it turned into a super-fun little roadie. Meanwhile Hoob will be in Auckland for a few days at the end of next week as he accompanies the Wellington uni basketball team that he coaches (hurrah) and a few weeks later Pog will also be up for a few days post Easter (more hurrah)! I miss my lovelies every day as always so will be hanging out to seem them. Right – that's enough from me – I really hope you give this gnocchi dish a try, it is outrageously good!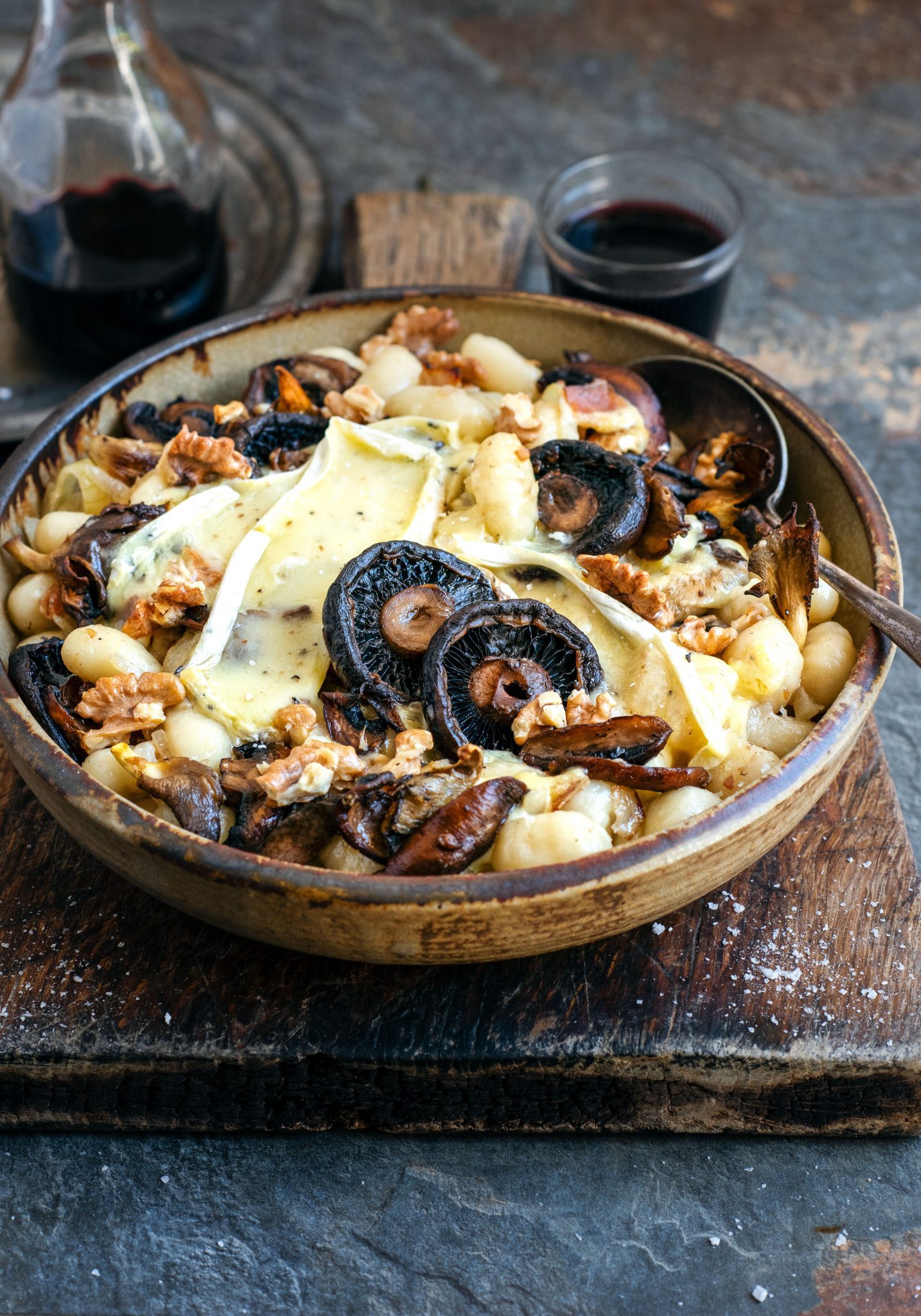 1 tablespoon olive oil
2 tablespoons butter
80grams pancetta, sliced
1 onion, halved and sliced
400grams mixed mushrooms, large ones sliced, smaller ones left whole
1/4 cup wine
1/3 cup cream
sea salt and freshly ground black pepper
500grams good quality gnocchi
150grams Castello Double Cream Truffle Brie, sliced
1/2 cup walnut halves, roughly chopped
Preheat the oven to 190˚C. Heat the olive oil and butter in a large frying pan and cook the pancetta for 5 minutes until crispy and golden. Scoop out of the pan and set aside. Add the onion to the fat remaining in the pan and cook over a gentle heat for 10 minutes. Remove and add to the pancetta. If necessary add 1 more teaspoon of olive oil and cook the mushrooms over a medium/high heat for 10 minutes, stirring occasionally to stop them from catching. While they're cooking bring a large pot of water to boil. Add the pancetta and onions to the mushrooms with the wine and cream and cook together for 5 minutes. While they're cooking, cook the gnocchi according to the packet instructions then drain well. Add the gnocchi to the mushrooms with half of the Castello Double Cream Truffle Brie and stir to combine. Spoon into an oven proof dish and top with the remaining brie and the walnuts. Finish in the oven for 5 minutes before serving with a simple bitter green salad or freshly cooked green beans.