Well good morning and happy Wednesday! Today's recipe is such a treat to share, and part of my latest collaboration with the good people at Castello – a super easy, totally decadent and delicious puff pastry tart loaded with sweet caramelised onions, luscious figs, cured prosciutto and melted Castello Double Cream Brie. Topped with a few peppery rocket leaves they make an amazing autumn lunch or easy dinner to share with friends and a wee glass of chard…magic. As every friend of mine knows I always have a half round of Castello Creamy Blue in my fridge (it is an actual addiction), so it was great fun to have a play with some of the other cheeses in the range. The Castello Double Cream Brie is so rich and voluptuous, it pairs amazingly with the sweet onions – and if you can get your hands on fresh figs by all means use them, although good quality dried ones will work just as well…and the end result is a tart which has taken very little effort but tastes incredible !
Aaaand in other news…one more sleep to go before my house auction. Yikes. I am trying to be very 'what will be will be' about it, but, yeah -nah…I want it to sell! There will be so much to do afterwards (a total life Marie Kondo situation), but I can't really get cracking on anything until the house is sold. Meanwhile I had my fourth drum lesson yesterday – I can't believe that's all I've had. I picked up my kit over the weekend and set it up (thanks 8 year old girl on YouTube and your how-to-set-up-a-drum-kit tutorial) so have been bashing away at it since. Both my drum teacher and the guys at The Rock Shop have been so encouraging, given I'm not your average beginner. Meanwhile down in Welly Hoob is hard at work, but also finding the time to coach uni basketball – such a cool thing to do. Pog is back at uni and turning out amazing design work while keeping up his job too. They're are such gorgeous, fine, young men, I couldn't be prouder…love my lovelies! Right, I had better get up, shooting for the book, then house titivation before tomorrow to be done.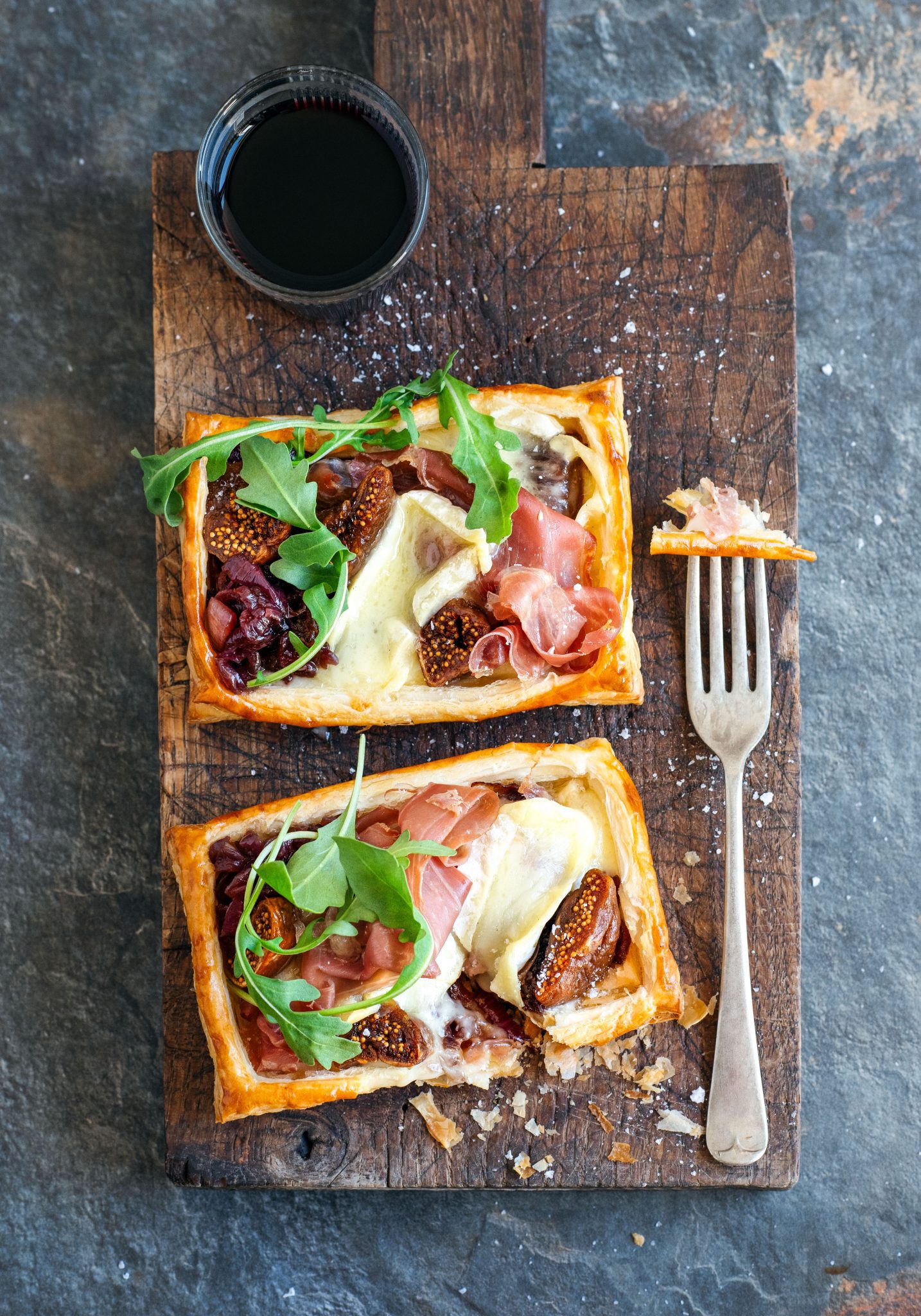 250grams ready rolled butter puff pastry (I used Paneton)
1 egg whisked with 2 teaspoons milk or cream
1 1/2 cups caramelised onions (use store bought or the recipe below)
8-10 dried figs or 4 fresh, halved
150grams Castello Double Cream Brie, sliced
80grams prosciutto
1 cup wild rocket leaves
Preheat the oven to 200˚C and line an oven tray with baking paper. Cut the puff pastry into 4 equal pieces and place on the oven tray. Gently mark a 1cm border around the edge of each piece of pastry, cutting just halfway through. Brush the border with a little of the egg wash and use the tines of a fork to gently prick the inside base of each pastry square (Make at least 8-9 prick marks). Bake for 10 minutes, then remove from the oven and poke down all of middle pastry bits that have over-puffed. Divide the caramelised onion between each piece of pastry. Top with figs, thick slices of Castello Double Cream Brie and little swirls of prosciutto. Reduce the oven temperature to 190˚C and bake a further 6-8 minutes until the cheese is oozing and melted. Season the tarts with salt and freshly ground black pepper and serve immediately garnished with wild rocket.
caramelised onions:
¼ cup olive oil
5 medium red onions, peeled and sliced – aim for thin slices
¼ teaspoon salt
2 tablespoons balsamic vinegar
2 teaspoons caster sugar
sea salt and black pepper to taste
small pinch chilli flakes, optional
Heat olive oil in a big heavy based pot. Add onions and salt and cook over a medium heat for 25-30 minutes until nice and soft, stirring every once in a while so that they don't catch on the bottom. In between stirring, half cover with the pot lid – I always rest it on the wooden spoon laid across the top of the pot, so it is mostly covered, but not completely. After half an hour add balsamic vinegar and sugar, remove lid completely and cook a further 10 minutes, stirring occasionally. If you like a little heat, throw the chilli flakes in now too. Once you add the sugar the onions will brown up more and go more caramelisey – if your heat is a little low, you might want to increase it a bit now. If the onions seem a little dry add an extra tablespoon of olive oil and stir through then season with salt and black pepper. Leave to cool then spoon into a sealable jar or container.