Well by crikey, as you know my last few weeks have been wildly, crazily busy…but so bloody good, I feel like I need to pinch myself to make sure it is all real. I am writing this in the office of my new home, music playing, sun filtering in the window and I can't get the smile off my face. Today I went into Dish in the morning, then was joined at home in the afternoon by Claire Aldous, the food editor, laden down with this beautifully prepared meal for me to style and photograph for you. In the midst of moving house, heading to and from Welly to see Hoob graduate and starting as editor at Dish, I was presented with the opportunity to do this collab with the team at Countdown, showcasing a selection of their own-brand range. Given I could barely remember where I put my toothbrush lately, Claire came to the rescue with the recipe – and here we are: with a beautifully comforting, nourishing dish packed with smoky bacon, hearty sausage and chicken with sweet onion and soft white beans all slathered in a dreamy tomato sauce. Serve it as I have plain, with greens mixed through at the last minute, or feel free to stir through pasta, or load it onto your creamiest potato mash or soft polenta. Even though it is designed as a family dish, I would have no hesitation serving this up to mates with a glass or two of red. As alluded above, almost every ingredient in this recipe is from the own-brand range at Countdown, and frankly Claire and I were gob-smacked by their quality and affordability.
So – here I am, feeling unbelievable after all that has happened lately. Yesterday was my first official day as editor (after zooming in and out ad hoc), and oh my God, it is actually my dream job…I'm like a kid in a candy store! The Dish squad has been incredibly welcoming, and even though we are shortly heading to the design stage of the winter issue, I don't feel overwhelmed – I feel energized and pretty much on fire with enthusiasm (long may it last!). It is a miracle given the energy and effort required to move house – Hoob and my dear nephew Will were a massive help, and it was a huge treat to have Rich here for actual moving day. Meanwhile Pog is having his wisdom teeth out at the end of next week so will come and stay here for his recovery…so both of the gorgeous men/boys will have seen the house all put-together – hurrah! Any waaaay, it's been a while so I obviously have a lot of words, however…time to wade through some emails and let you get to the recipe, see you again soon.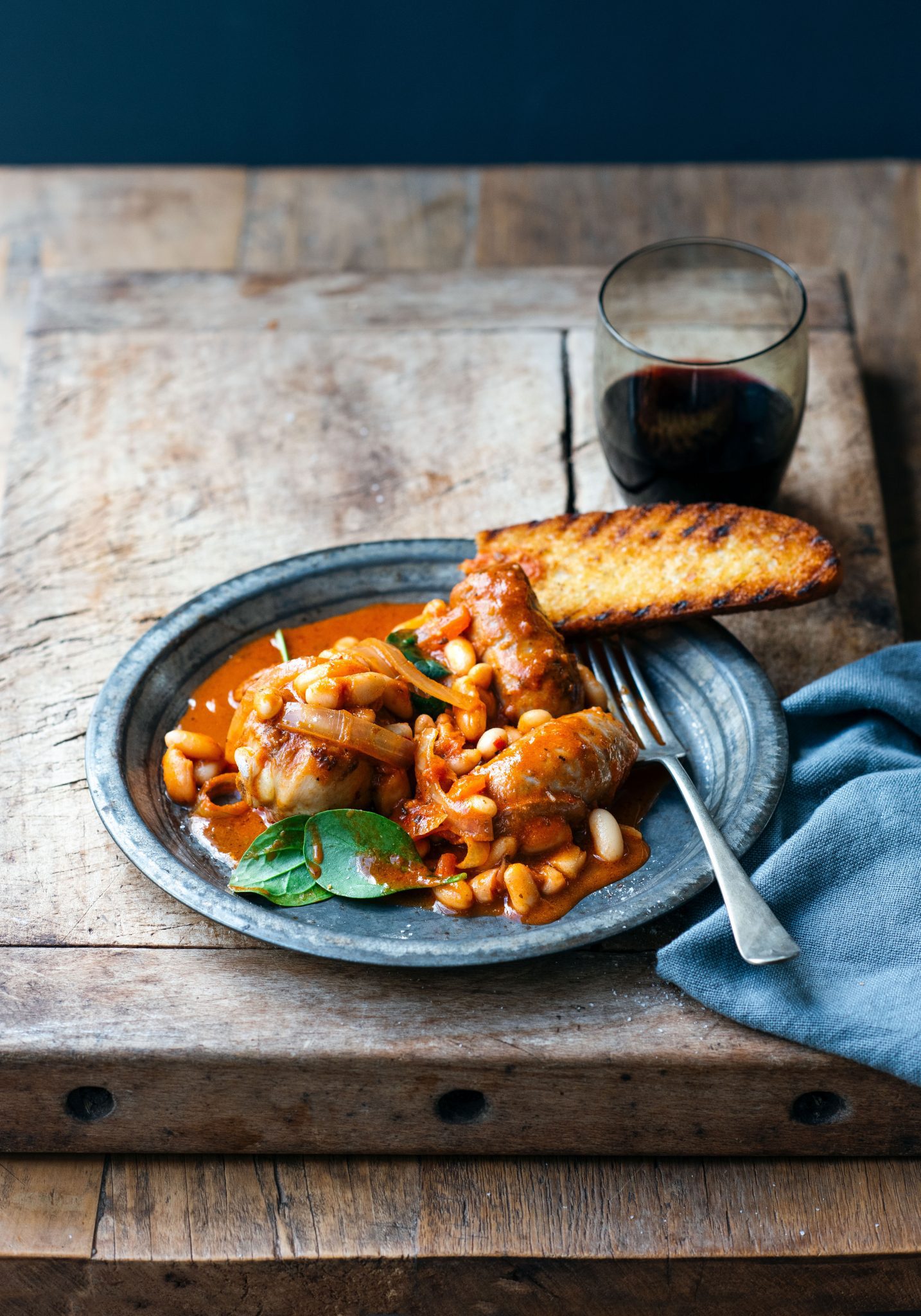 Chicken, Bacon & Sausages with Smoky Tomato Beans
 1 kilogram chicken drumsticks (about 8)
6 pork sausages
4 slices streaky bacon, roughly chopped
2 tablespoons olive oil
sea salt and freshly ground pepper
1 large brown onion, thinly sliced
2 cloves garlic, crushed
3 tablespoons Worcestershire sauce
2 tablespoons Dijon mustard
1 tablespoon brown sugar
1 tablespoon apple cider vinegar
2 teaspoons smoked paprika
½ – 1 teaspoon crushed chilli
2 tins no added salt cannellini beans, drained and rinsed
1½ cups chicken stock
1 ½ cups traditional pasta sauce
To serve
1 bag mixed baby spinach and kale leaves
2 loaves tiger bread, sliced lengthways, brushed with oil and grilled until golden and crisp
Preheat the oven to 170˚C fan bake. Season the chicken with salt and pepper. Heat the oil in a large oven proof frying pan and brown the chicken on all sides. Cut each sausage in half to make two smaller fat sausages. Add the sausies to the pan along with the bacon and cook for 5 minutes over a medium-high heat, turning to brown. Remove with a slotted spoon and add to the chicken. Add the onions to the pan and cook for 5 minutes, adding a splash of water if the pan is too dry. Combine the garlic, Worcestershire sauce, mustard, sugar, vinegar, smoked paprika and the chilli together in a small bowl until smooth then stir into the onions. Cook for a couple of minutes then stir in the beans, stock and the pasta sauce. Bring to the boil then tip over the chicken and stir everything together. Place in the oven and bake for 40 minutes, stirring once. To serve: Top with a few of the baby greens, serving the rest separately as a simple salad, along with the grilled bread. Serves 6.