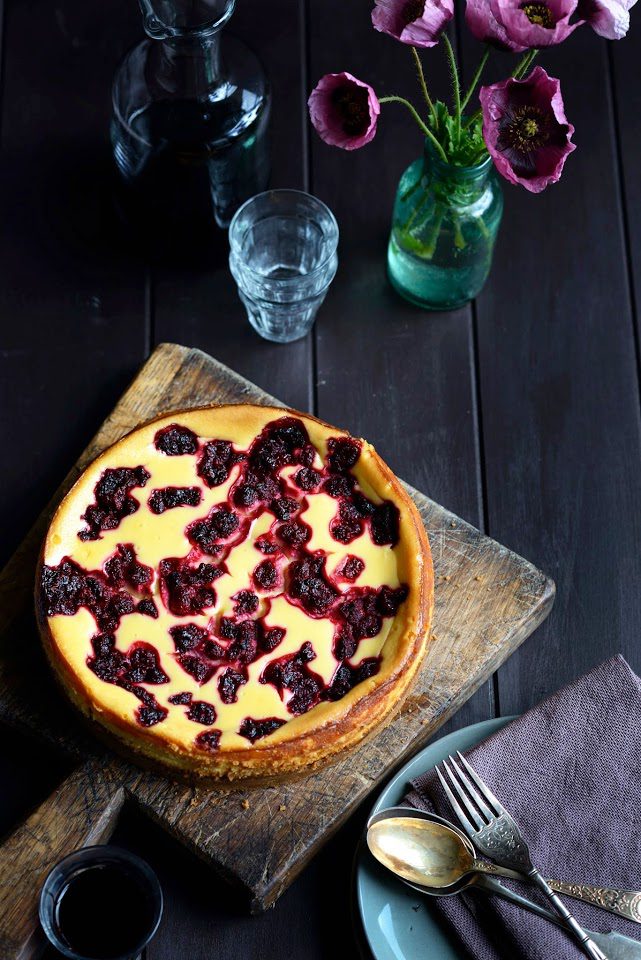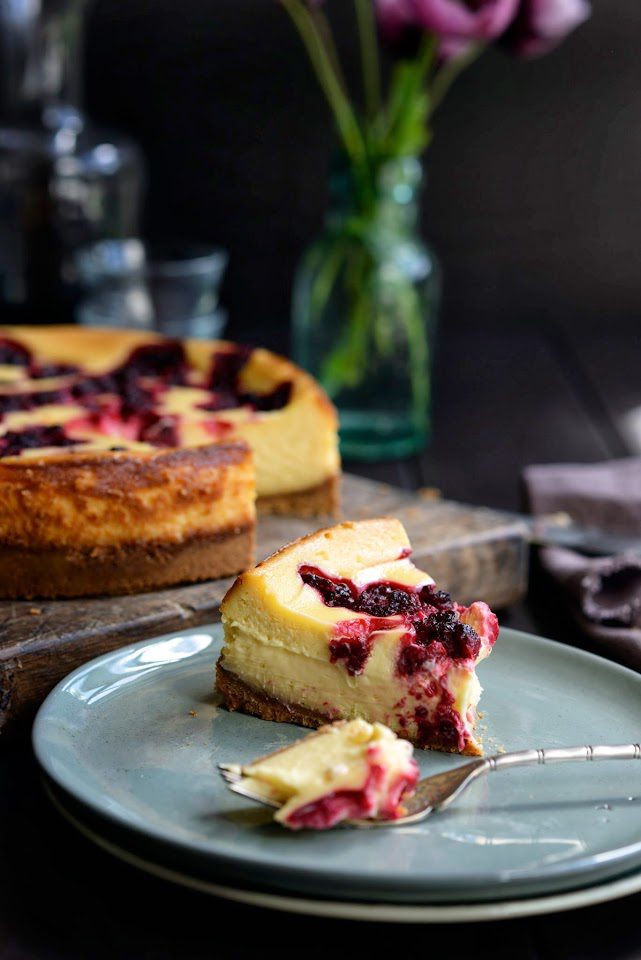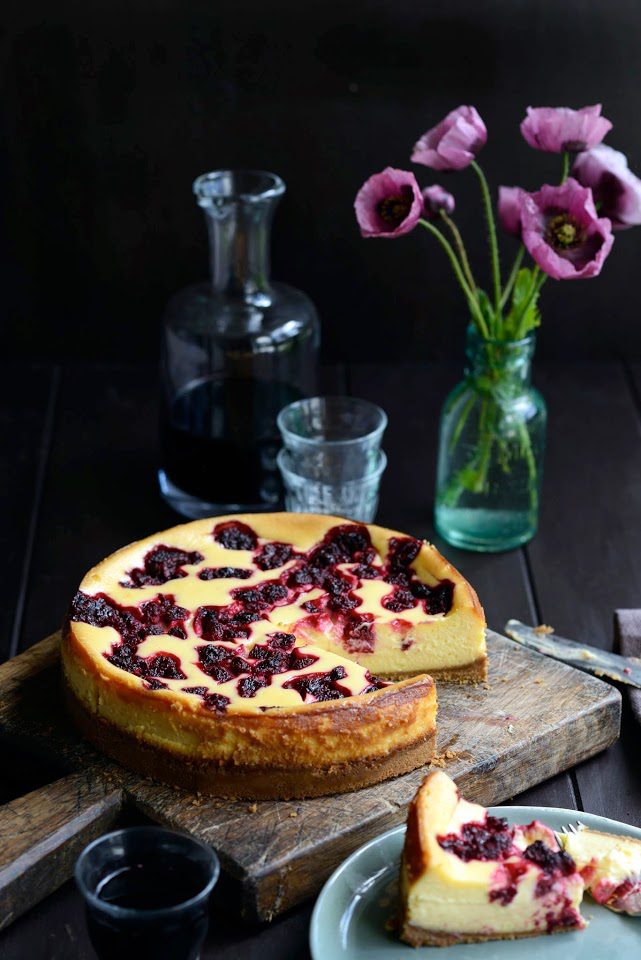 I had a feeling this blog would have had over 150,000 views by the time I returned from San Francisco and I was so thrilled that it had – thank you my lovely bloggie friends! I wanted to give you a really lavish celebratory recipe to show my appreciation, and by crikey this hits the nail on the head! I was really conscious of having a recipe that would be perfect for my New Zealand followers patiently waiting for spring, but also fit in with the start of autumn as currently being experienced by all of my lovely northern hemisphere followers (hello USA and Canada in particular!) – and this works perfectly.
Umm, where to start to convince you to give this recipe a try? How about, thick luscious cheesecake with a hint of vanilla and a good white chocolate kick (without being cloying or overly sweet) topped with tart, juicy raspberries. Melt in the mouth filling with a perfect biscuity base – not too hard or soft, and not too thick – juuust right. It is super quick and easy to make, and pretty impressive to look at if I say so myself. If you do give it a go (go on!!!) please let me know how you like it! Don't forget, if you haven't already to come and say 'hi' at my
Facebook
page 🙂
250g plain biscuits
60g butter, melted
600g cream cheese at room temperature
200g mascarpone
150g caster sugar
2 tbsp custard powder
1 tbsp vanilla extract
1 tbsp water
2 eggs
2 egg yolks
150g white chocolate, chopped into small chunks
200g fresh or frozen (and defrosted) raspberries (I used frozen)
Line the base of a 23cm removable base cake tin with baking paper, and lightly grease or spray the sides with neutral oil such as Rice Bran. Whizz the biscuits and melted butter together in a food processor until they resemble fine breadcrumbs then pour into the tin and squash down first with your fingers, then smooth out with the back of a tablespoon. I like to go a little bit up the sides just to give the cheesecake a bit of extra support, but keeping it not too thick on the base. Preheat the oven to 160˚C (325˚F) and pop the base in the fridge while you make the filling.
Melt the white chocolate either in a heat proof bowl over a saucepan of gently boiling water (don't let the base of the bowl touch the water) or in bursts in the microwave. Whisk until smooth. Whizz the cream cheese, mascarpone and sugar together in a food processor (just give the food processor bowl a quick rinse after making the base) until smooth. Mix the custard powder together with the vanilla and water and add to the filling with the eggs and extra yolks. With the motor running add the white chocolate in a couple of lots and whizz until well incorporated. Pour the filling on top of the base.
If your raspberries were frozen like mine were, drain them in a sieve, and if they are fresh, give them a gentle mash with a fork until a little squishy. Plop on top of the filling in little blobs. Cook for 1 hour and 10 minutes, then turn off the heat and allow to cool in the oven with the door open just a crack – wedge something small in the door so its stays just a tiny bit open. If your oven runs a little hot, reduce the cooking temperature to 150˚C (300˚F) during cooking. Once cool keep in the fridge, and just remember to remove it half an hour before serving. Enjoy!