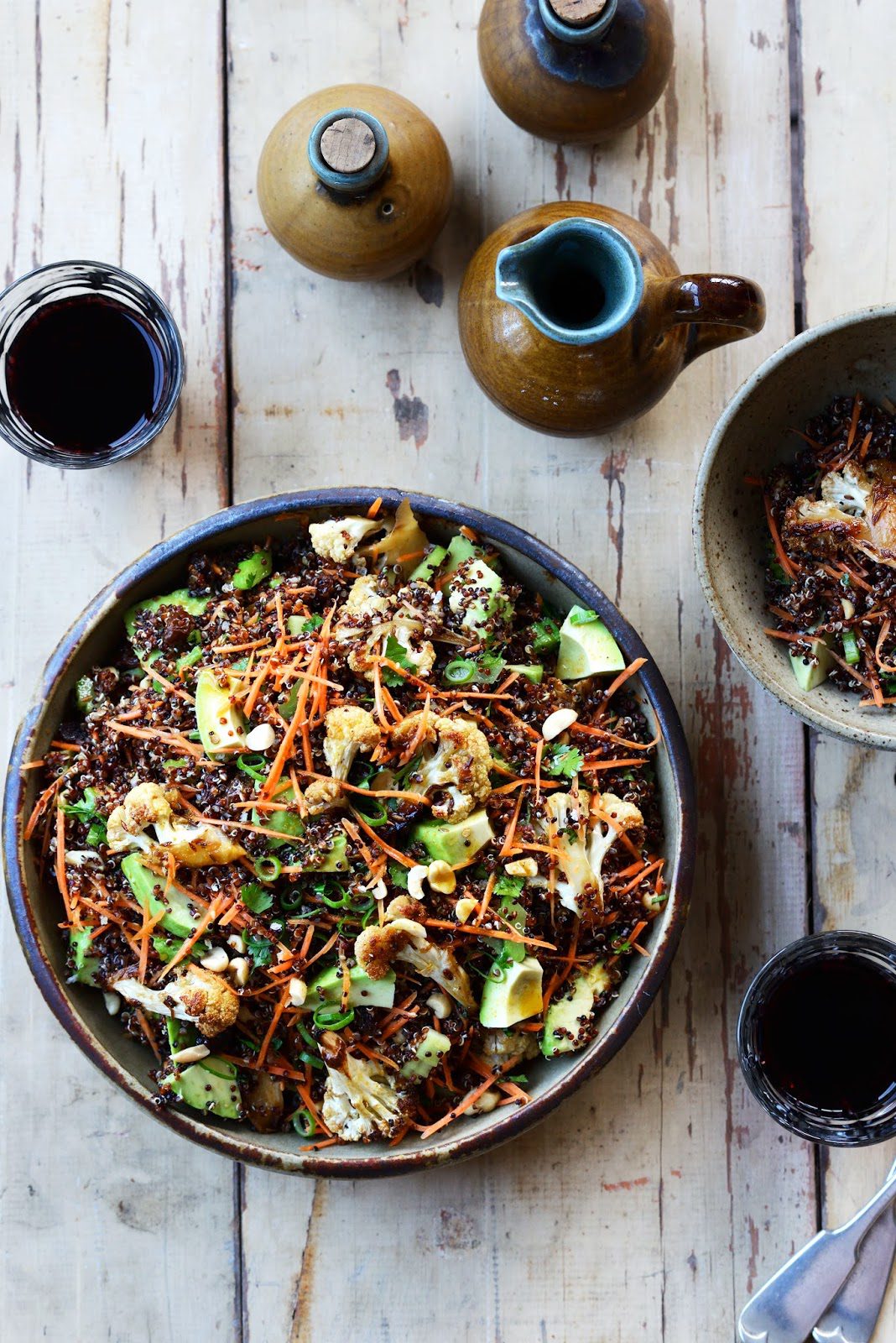 Hellooooo! I have been keen to use
quinoa (haha) for some time now. It is such a power-packed little morsel
loaded with protein and anti-inflammatory properties, but sometimes it
can be a little, how shall I put this, boring and flavourless. It is all
to do with what you put with it – and this my lovely bloggie friends,
is a combination that is both spectacularly healthy and loaded with
spicy flavour! The quinoa, carrot and celery work perfectly with the
nutty roasted cauliflower, creamy avocado, sweet sultanas and crunchy
peanuts. Top the lot with a zingy curry dressing, and you will hopefully
be struggling, like me, not to keep picking before dinner time 🙂 I
Love it when things that are so good for you taste so damn good too!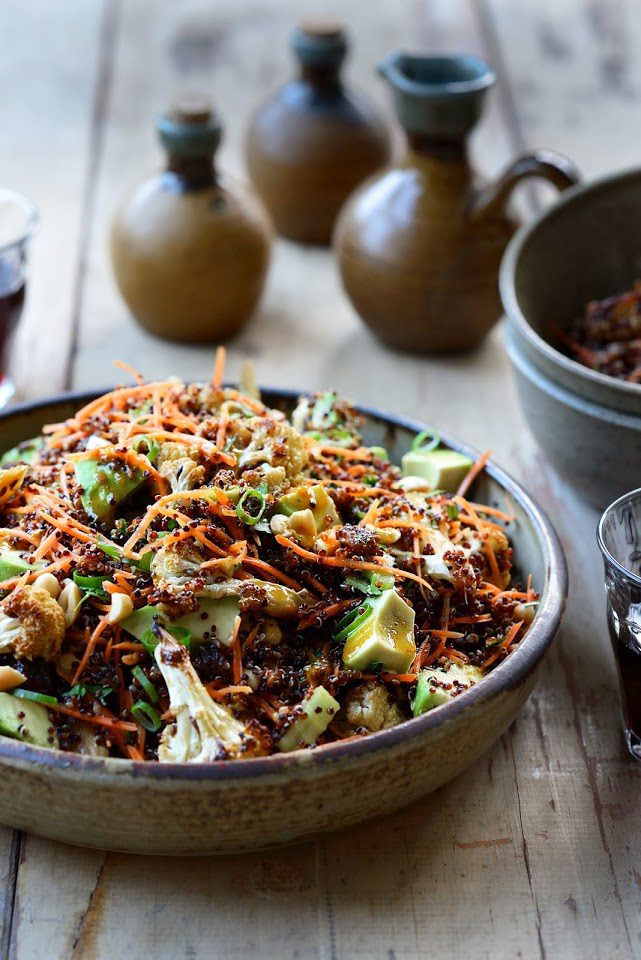 1/2 large cauliflower broken into florets
2 tbsp olive oil
1 tbsp runny honey
1 tsp cumin seeds
sea salt and freshly ground black pepper
3/4 cup red quinoa
3/4 cup black quinoa (or 1 1/2 cups of just one sort)
1 tsp oil
2 1/4 cups water
2 sticks celery, reasonably finely chopped
2 avocados, chopped
2 spring onions, sliced
1/2 cup sultanas
1/2 cup roasted peanuts (or toasted almonds or walnuts), roughly chopped
1 large or 2 medium carrots, grated
Dressing:
4 tbsp freshly squeezed lemon juice
1 tbsp runny honey
1 tsp curry powder
1 tsp dry toasted cumin seeds
sea salt and freshly ground black pepper
Right! First set the oven to heat up to 180˚C (350˚F) and line a roasting pan with baking paper. Put the quinoa in a large bowl and cover with fresh water, Give it a good swish around, keeping an eye out for any little stones and leave to sit for a few minutes. Drain through a fine sieve, flush with more fresh water then leave to drain. Lay the cauliflower in a single layer in the roasting pan and drizzle over the honey and oil. Sprinkle with cumin seeds, sea salt and black pepper. Roast for 30 minutes or until the florets are caramelised and delicious, and easily pierced with a knife.
While the cauliflower is cooking heat the next tsp of oil in a large pot and add the well drained quinoa. Allow it to toast slightly over a medium heat for just 2 minutes, then add the water. Bring to the boil, then reduce the heat to a simmer and cook a further 20 minutes or until tender and the whirly germ spirals have separated from the quinoa seeds. Turn off the heat and allow it to sit for a minute – all of the water should have evaporated and you should be able to fluff it with a fork.
For the dressing, pop everything in a jar and shake to combine. I like to pour a few tablespoons over the quinoa while its still warm so that the flavour can start to infuse into it. Once your quinoa is cool, add the cauliflower and all of the salad vegetables and toss to combine. Reserve a little of the carrot, coriander and nuts to sprinkle over at the end. (When you add the cauliflower drizzle over any of the honey cuminy oil it has roasted in – delicious!!!). Serve with the remaining dressing and a good sprinkle of sea salt and freshly ground black pepper. This salad is truly yummy just as it it, but if you want another protein with it, feel free to add shredded chicken, and oddly enough, it is also amazing with a poached or scrambled egg! Serves 4