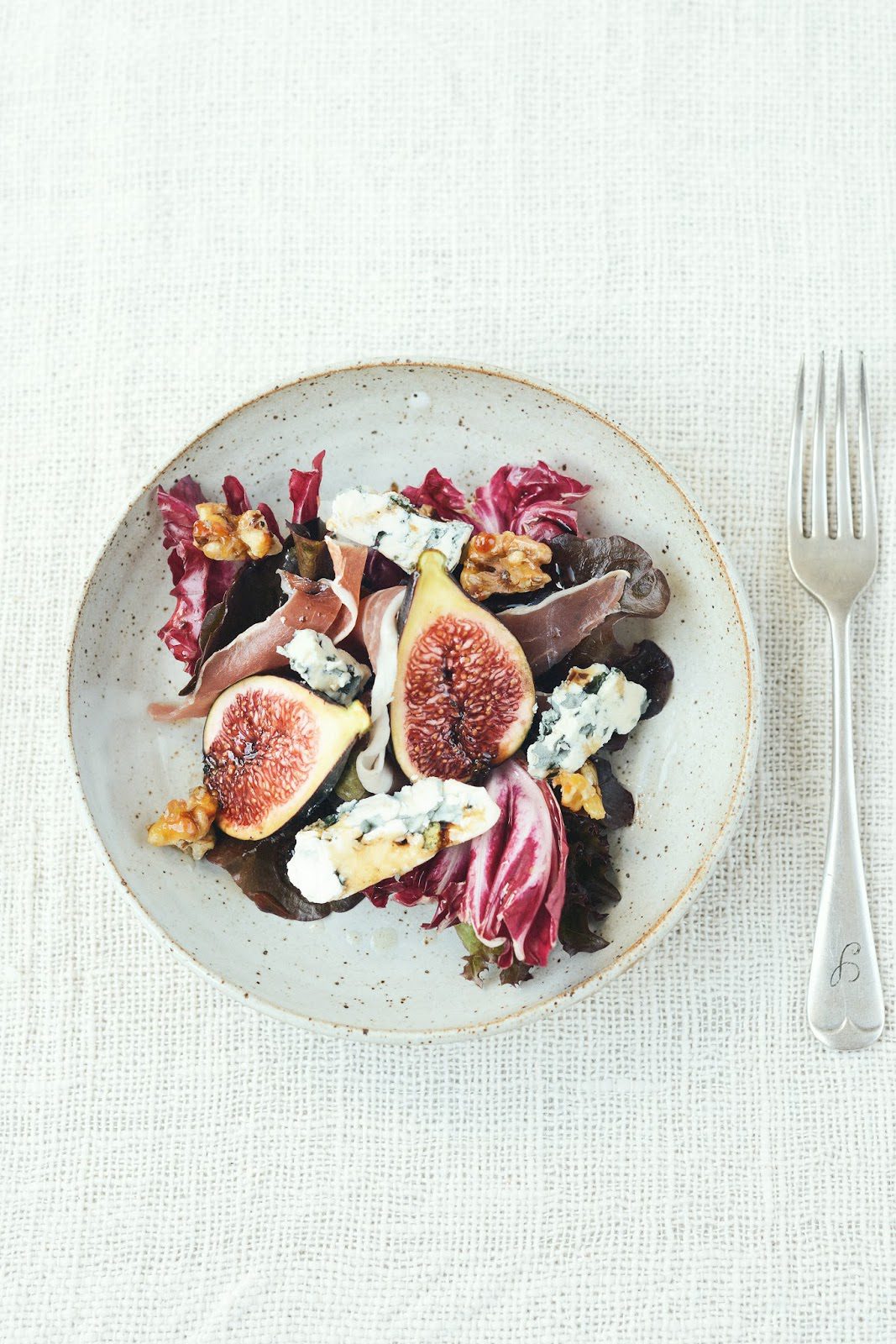 This is not so much of a recipe as a list of ingredients which really are all a bit of a no-brainer to put together. Autumn has well and truly kicked in here in Auckland, but the last of the late summer figs haven't quite disappeared, so it would seem terribly wasteful to leave them languishing at the fruit and vege shop when what they really want is to be laid on a bed of mixed salad leaves snuggled up with some slices of prosciutto and a few chunky bits of good blue cheese. With a sprinkling of caramelised salted walnuts and a drizzle of olive oil and balsamic vinegar you have a perfect autumn starter, lunch or side salad. I have a spectacularly decadent, chocolatey extravaganza in mind for Easter so thought this might be a good little healthy option before we get into the hard-core calories!
1/2 cup walnuts
2 tbsp sugar
1 tsp water
1/2 tsp sea salt
6 handful mixed lettuce leaves
6-12 figs, halved if small (use 12) and quartered if large (use 6)
80g prosciutto slices
120g hard blue cheese
3 tbsp extra virgin olive oil
2 tbsp balsamic vinegar
Heat sugar and water in a small fry pan over a medium heat until sugar has gone white and crystally and is just starting to turn a caramel colour. Add walnuts and sea salt and give it a shake around. Keep cooking until walnuts are toasted and sugar has melted and lightly coated them. Remove from heat, tip onto a plate lined with baking paper and leave to cool. Place a small handful of salad leaves onto 6 serving plates. Top with figs, prosciutto slices, crumbled blue cheese and a sprinkling of nuts. Drizzle with olive oil and balsamic vinegar and serve with sea salt and pepper on the side.