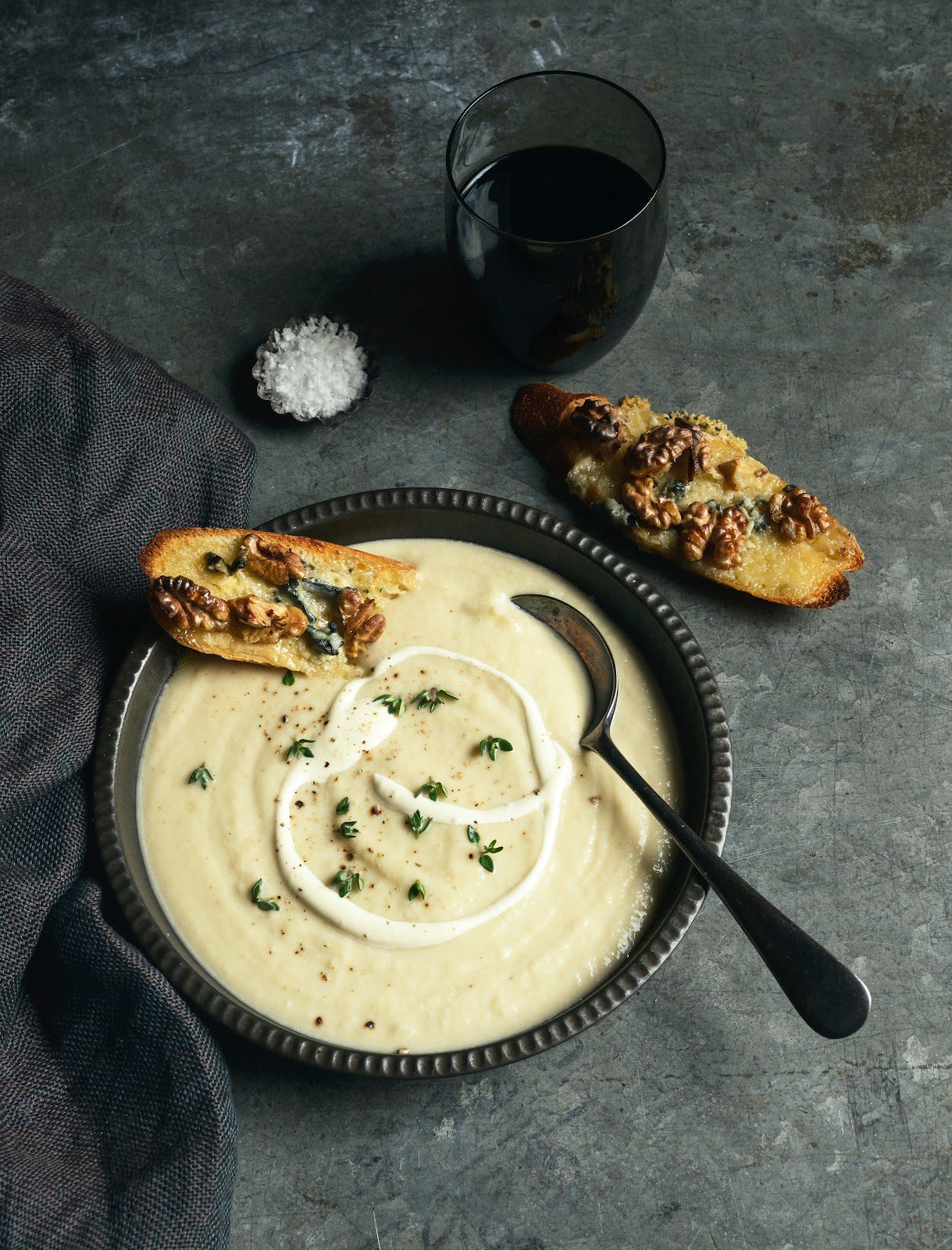 Well I don't know what the weather is like for you outside your window this morning, but outside mine it is raining, windy, cold and miserable – yay! I love it…it gives me the perfect excuse to make this soup again (featured in a recent issue of
Dish magazine
) and even though I love the creamy cauliflower soup, it is sneakily the blue cheese and walnut toasts that make it extra good! If you don't have a massive cauliflower, please reduce the stock to 900mls – 1 litre to ensure a really good result. Today I will be finishing off the last of the editing of all of my pics for the
Savouring Australia
campaign, then I need to get busy on the scripts – crank up the coffee machine, I'm on a mission!!! Have a happy Sunday!
2 tbsp butter
1 brown onion, peeled and chopped
3 big cloves garlic, crushed
2 sprigs fresh thyme
1 large Cauliflower, broken into florets
1.2 litres chicken stock
½ cup cream
½ cup milk
½ cup grated Parmesan
sea salt and freshly ground black pepper
¼ tsp freshly ground nutmeg
2 tbsp cream extra
2 sprigs fresh thyme extra
1 French stick
250g soft blue cheese
1 cup walnuts, very roughly chopped
Melt butter in a large saucepan and add onion with some sea salt and freshly ground black pepper. Cook over a gentle heat for 10-12 minutes until the onion is soft but not coloured. Add garlic and thyme and cook a couple of minutes more. Add cauliflower and stock, cover and bring to the boil then remove the lid and reduce to a simmer and cook for 20 minutes or until the cauliflower is easily pierced with a knife. Add cream, milk and Parmesan and cook a further 5 minutes. Remove from the heat and blend in a food processor or using a whiz stick until smooth and creamy. Test for seasoning and if necessary add a little more sea salt and freshly ground black pepper and nutmeg. Serve hot with a wee swirl of extra cream and some fresh thyme leaves.
Slice French stick on the diagonal into 1cm thick slices. Heat the oven to 180˚C and bake for 10 minutes until just crispy and lightly golden. When ready to serve, smear 12 bread slices with cheese and top with walnuts. Grill until golden and bubbling, serve immediately
Serves 6