This is the third recipe in my month of meatball variations, and once again it uses the same base recipe as the Mexican Meatball Wraps and the Meatball Subs with Smokey Barbecue Sauce – so you can easily make one big batch and either use it to feed 8 straight away, or freeze half and you have the base of two dinners for four. I have been wanting to try Swedish style meatballs for ages, I have googled loads looking for the critical components and have found lots of discussion about the ones at Ikea. Well, we don't have Ikea in New Zealand, and I have never been to Sweden, so these are my own interpretation based on my findings. Such a laugh – I know Norway is completely different to Sweden, but even so Nick and I tucked into these watching an episode of Fortitude the other night, and it did feel rather perfect! The sauce that the meatballs are in has a surprisingly rich slightly sweet flavour and they are perfect either spooned on top of wide egg noodles or (like we did) on a pile of creamy mash.
Roll on Easter – I am feeling oddly creatively exhausted at the moment – I need a recharge! Just listening to Lay Me Down by Sam Smith as I type this, overplayed, but such a good song…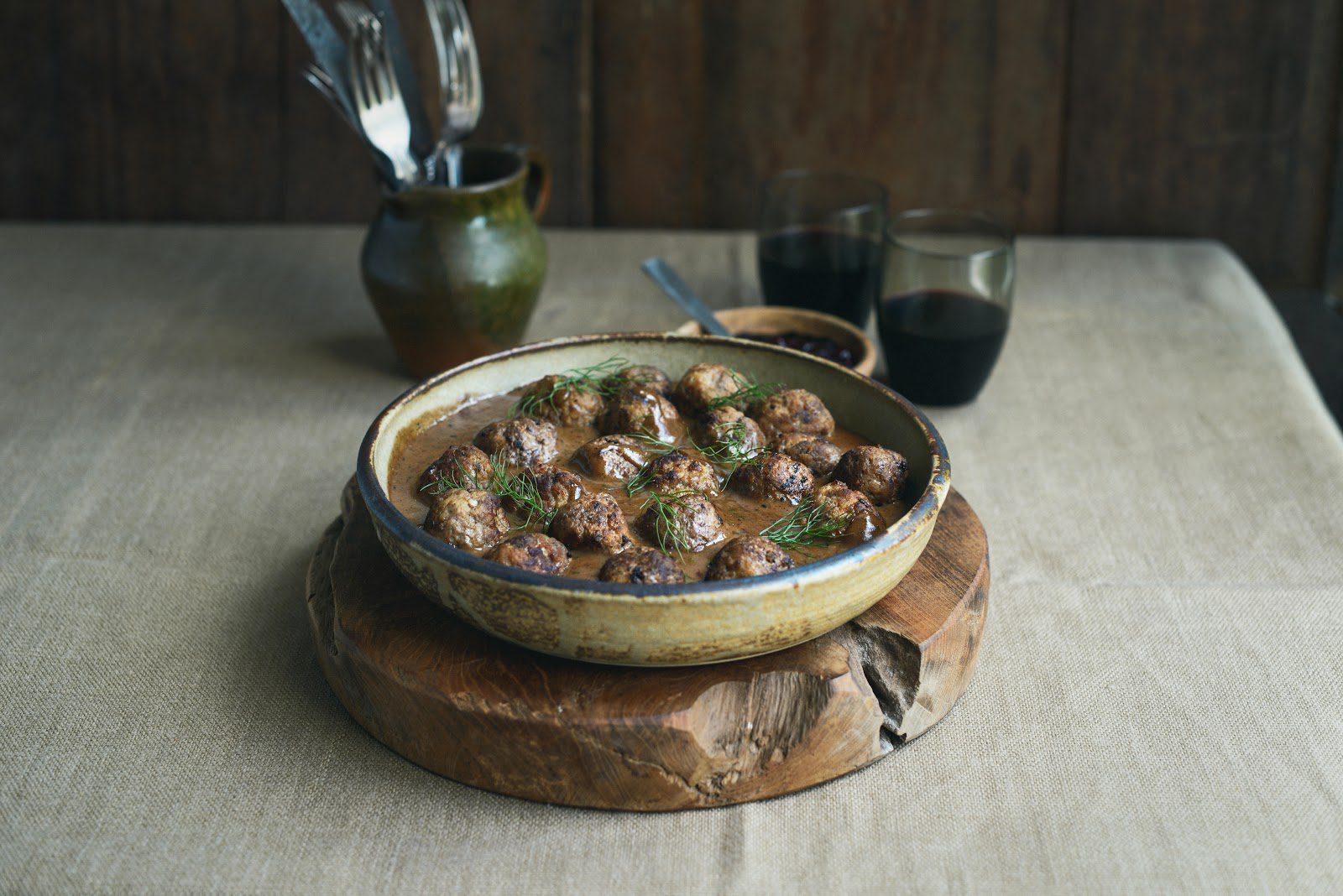 Make full quantity to serve 7-8, or half it for 4 people
(I make the full amount and freeze half for 2 dinners)
1 kilo pork mince
500g beef mince
2 eggs, lightly beaten
4 slices white toast bread, crusts removed
1/2 cup milk
4 cloves garlic, peeled and crushed
1/4 cup grated Parmesan
3/4 cup ricotta
1/4 tsp dried chilli flakes
1 tsp fennel seeds, dry toasted and ground in mortar and pestle
sea salt and freshly ground black pepper
finely grated zest of 1 lemon
olive oil spray
Break pork and beef mince up into a large bowl and stir through eggs. Put the milk and the roughly torn up bread into a food processor. Let it soak for a minute while you add the garlic, Parmesan, ricotta, chilli flakes, fennel seeds, salt, pepper and zest. Pulse it all until the mixture is just combined. Add to the mince then mix really well together. Roll into about 40-45 golf ball size meatballs and chill in the fridge until ready to use.
50g butter
4 tbsp plain flour
1 1/2 cups good quality beef stock
1/4 tsp allspice
1/4 tsp ground nutmeg
150g sour cream
1/3 cup grated Parmesan
2 tbsp finely copped fennel or dill stalks
3/4 cup cherry or lingonberry jam/jelly
sea salt and freshly ground black pepper
1/4 cup fennel or dill sprigs
(This recipe is for half of the meatball recipe so around 20 meatballs which serves 4, to serve 8 and use the whole meatball recipe, just double the sauce…see below for the doubled ingredients list and use as explained here 🙂 Preheat oven to 180˚ (350˚F). Heat half of the butter in a big casserole dish or frying pan. Cook 10 meatballs at a time over a medium heat for 10 minutes, turning frequently, until golden brown. Pop in an oven proof dish and bake a further 5 minutes while you fry the next 10 meatballs with the remaining butter – finish these in the oven the same way. Set all meatballs aside and lower heat to medium/low. Add flour to pan and use a wooden spoon to beat it into the butter, scraping the brown bits off the bottom as you go. Once it is a big dense blobby paste add stock and spices and whisk to combine. Increase heat to medium high and stir sauce for 5 minutes or so until it thickens. Add sour cream, Parmesan, fennel or dill and 3 tablespoons of the lingonberry jam. Whisk together and cook for 3-4 minutes until thick and smooth. Season well to taste with salt and pepper. If your pan is oven proof you can now just pop meatballs into the sauce and reheat together for 5-10 minutes, and if not transfer to an oven proof dish. Serve meatballs garnished with fennel or dill sprigs and either a good dollop of mashed potatoes or wide egg noodles. Spoon over gravy and enjoy with extra lingonberry jelly on the side! Serves 4
Sauce to serve 8:
100g butter
1/3 cup plain flour
3 cups good quality beef stock
300g sour cream
1/4 cup finely copped fennel or dill stalks
1/2 tsp nutmeg
1/2 tsp allspice
1 1/2 cups cherry or lingonberry jam/jelly
sea salt and freshly ground black pepper
1/2 cup fennel or dill sprigs