Feeling like a bit of a frantic old (grr) mad woman at the moment (nothing new) trying to get recipe testing done for Dish and Fairfax before Easter, as well as get a few over-due recipes on the blog…like this one! Number four in the meatball line-up uses the same base meatball recipe again, this time with a lovely spicy eggplant and tomato sauce and minty yoghurt. Get yourself some good Indian bread – paratha, naan or roti would all be excellent (or a classic ole wrap) and it's all done.  (I have been contacted by a reader who has a comprehensive range of Indian bread recipes on their blog here 🙂 )This is a great quick meal to prepare for friends as everything can be done in advance, and the meatballs can be made smaller and served with the sauces on skewers as drinks nibbles too. Any left-over sauce is also ideal for bringing other easy dinners to life: hamburgers, sausages or even eggs!
Can't wait to head to Waiheke on Easter Sunday morning for our one whole family night together (humph) – Henry and Josh don't arrive from Wellington until Saturday night as Pog has work during the day, so we'll stay in town that night and head out the next morning – and then Rich is shooting for Te Radar (New Zealand TV show) on Tuesday so has to come back in with Nick on Monday night so that he can get there bright and early the next morning. The next day Nick flies out to Shanghai, and two days later Rich will fly up to meet him for a few days. Sound complicated?!? Ah well, never mind – that Easter Sunday night dinner is going to be the biggest kick-ass feast I can make, an entire holiday's worth!!!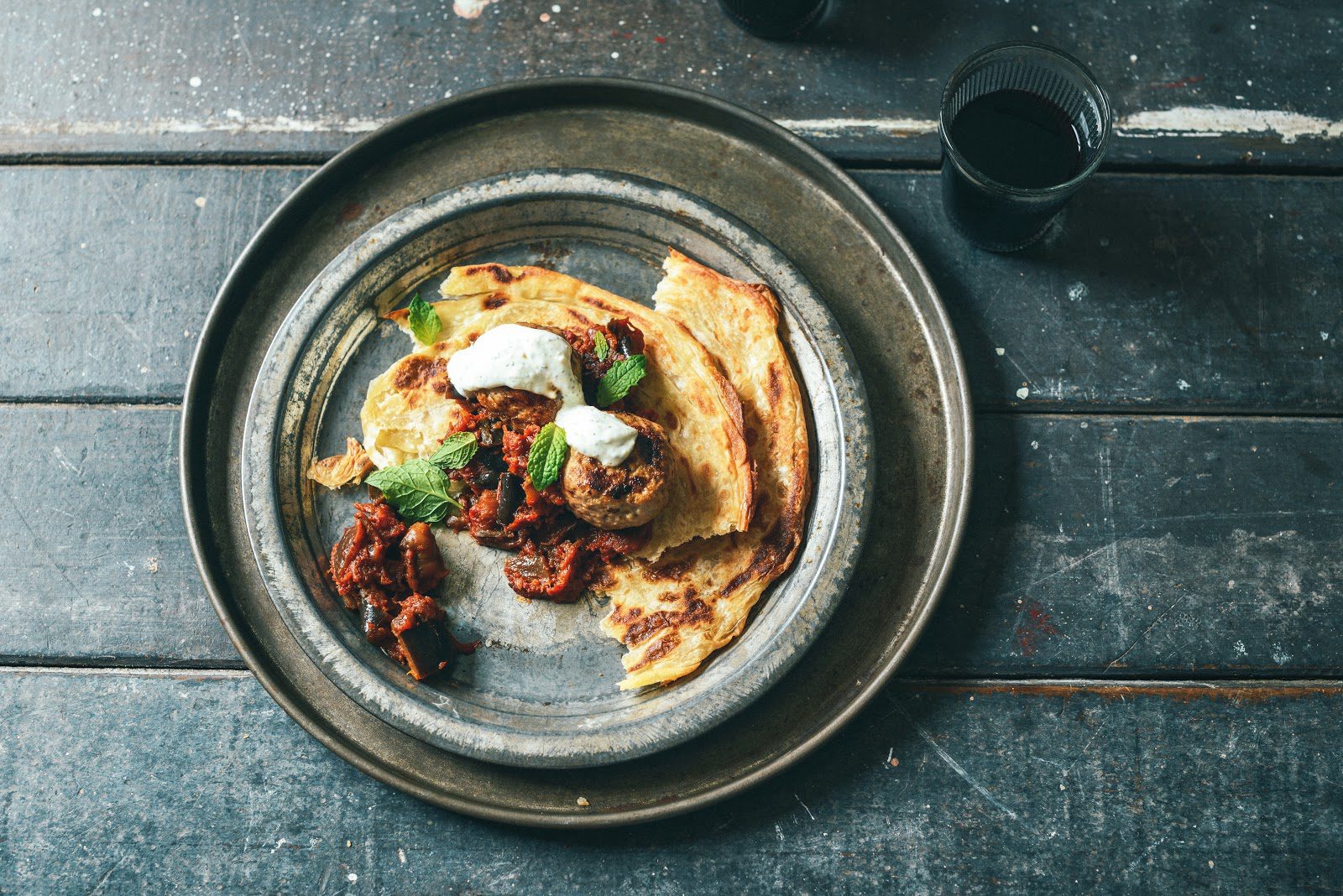 See the base meatball recipe here
Indian spiced Eggplant:
2 'thumbs' ginger, roughly chopped
6 cloves garlic, peeled
1 onion, roughly chopped
1 red chilli, roughly chopped
1 tsp lightly toasted fennel seeds
1 tsp lightly toasted cumin seeds
1 tsp sea salt and freshly ground black pepper
1 tsp ground coriander
2 tbsp olive oil
600g eggplant, chopped into 2.5 cm cubes
2 x400g tins chopped tomatoes in juice
1 tbsp tomato paste
1/4 cup brown sugar
 Alrighty then – put everything up to (and including) the ground coriander in a small food processor and whiz to a paste. Heat oil in a big heavy based pot and cook spice paste over a medium heat for 10 minutes. Add eggplant, tomatoes, tomato paste and brown sugar and bring to a boil, then reduce heat to a simmer and cook for 95 minutes, stirring occasionally until it is a big fragrant, intensely flavoured sauce.
1 1/2 cups natural yoghurt
1/4 cup fresh mint leaves
1 clove garlic
Whiz together and season to taste with a wee bit of salt and pepper if you fancy. Serve meatballs with sauce either hot or at room temperature, Indian breads and minty yoghurt on the side. This quantity of sauce will be enough for at least 25 meatballs 🙂