Just when you thought there was no other way to serve meatballs, here is my final recipe! (Actually, I could probably think of quite a few more ways, but I'm thinking we should probably leave it here…) This recipe combines the earthy meatballs with a zingy Asian slaw, spicy peanut sauce and some lovely nubbly brown rice. This is the kind of thing that Nick and I love to eat – sometimes I think perhaps I am a frustrated hippy at heart… and on that note I am very excited to see that Om yoga studio is going to be opening just near where we live, so instead of having to schlep my way down to Newmarket for a session, I'll just be able to toddle 500 metres or so down the road – now there is no excuse I am preparing to transform myself into a zen-like state of bliss with a lean sculpted body and beatific smile.
Hahahahaha…
See you tomorrow (hopefully) with a fab final Easter recipe for delicious little wholemeal carrot cake/loaves. The question is should they be left in their un-garnished natural state or drizzled in cream cheese icing. What say you?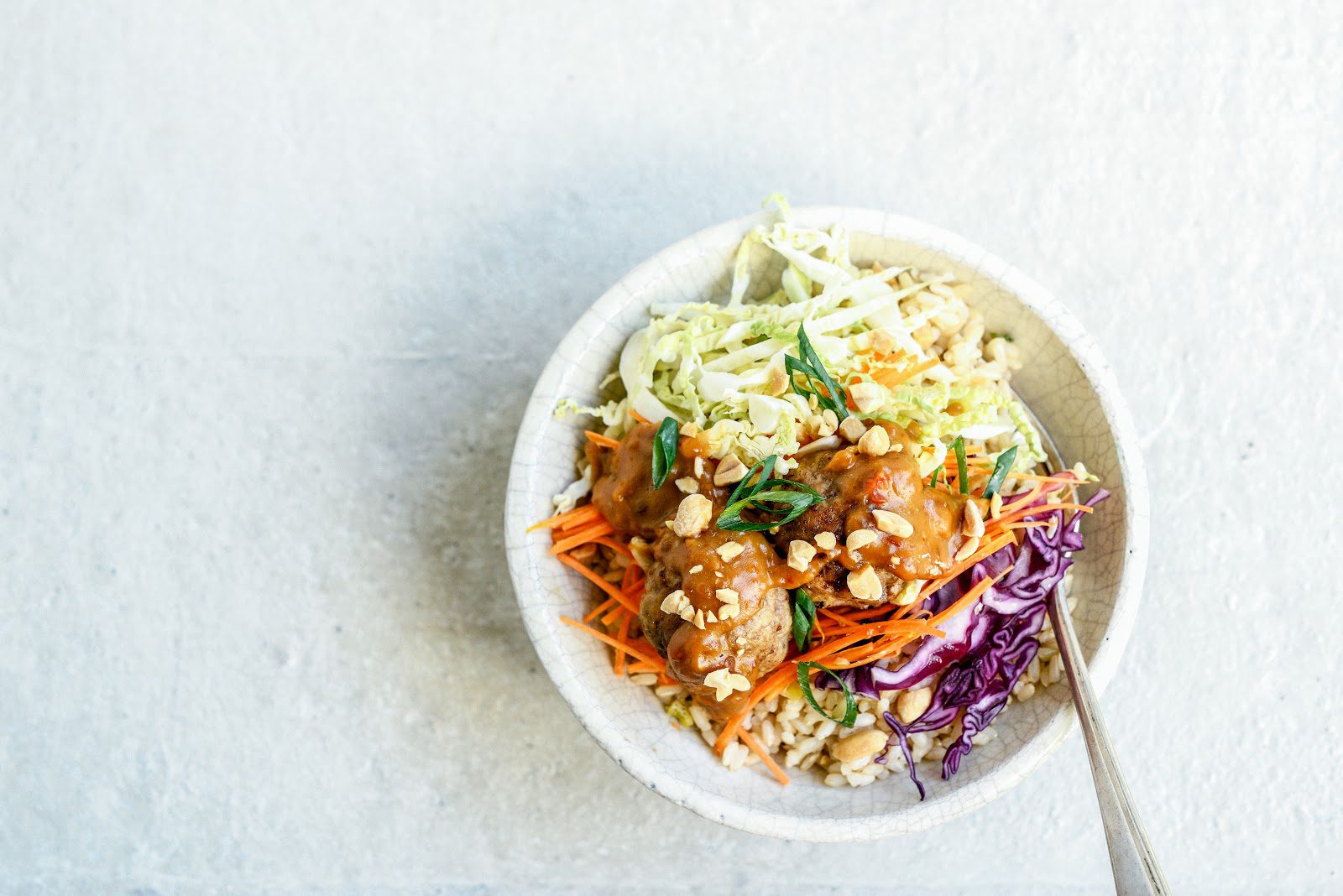 See the base meatball recipe here
Spicy Peanut Sauce
3/4 – 1 cup good quality natural peanut butter (I used Pics brand, but Fix and Fogg would also be awesome)
2 tbsp boiling water
2 tbsp sweet chilli sauce
1 tbsp soy sauce or tamari
1/2 tsp chilli flakes
1 tsp fish sauce
1/2 cup light coconut milk (unsweetened)
Loosen peanut butter with the boiling water then add remaining ingredients. Microwave in 30 second bursts. stirring in between until smooth-ish and delicious. This can also be made on the stove top, just stir well so that it doesn't catch on the bottom.
Asian Slaw
1 large carrot, grated
1/4 small savoy cabbage, finely sliced
1/4 small red cabbage, finely sliced
2 spring onions, angle sliced
1/3 cup chopped roasted peanuts
2 tsp neutral oil
1 tsp sesame oil
3 tbsp rice wine vinegar
1 tsp soy sauce
1 tsp brown sugar
1 tsp grated ginger
Mix slaw vegetables and peanuts together gently and put in a serving bowl, reserving a few peanuts and spring onions for garnish. Shake together dressing ingredients, pour over and toss gently. Serve meatballs with brown rice (prepared as per packet instructions), hot peanut sauce and slaw. The slaw and peanut sauce will be enough to serve with 20 meatballs. 🙂