Yes indeed a totally luscious, creamy, caramelly, cheesecakey mousse toppped with liquid gold caramel and caramel popcorn and a final sprinkling of sea salt (basically a pot of completely delicious calories). This recipe is for special occasions or for when emergency decadence is required and then Oh My God…phwaor!!!!! This is another recipe I developed for Fairfax and I must admit when I was testing, making and shooting them I would just have a morsel to check that I had the flavours right, and then perhaps a touch more to check they weren't too sweet…and how about the texture? Dammit – another one gone, and seriously I usually have pretty good self control! (Back to yoga asap).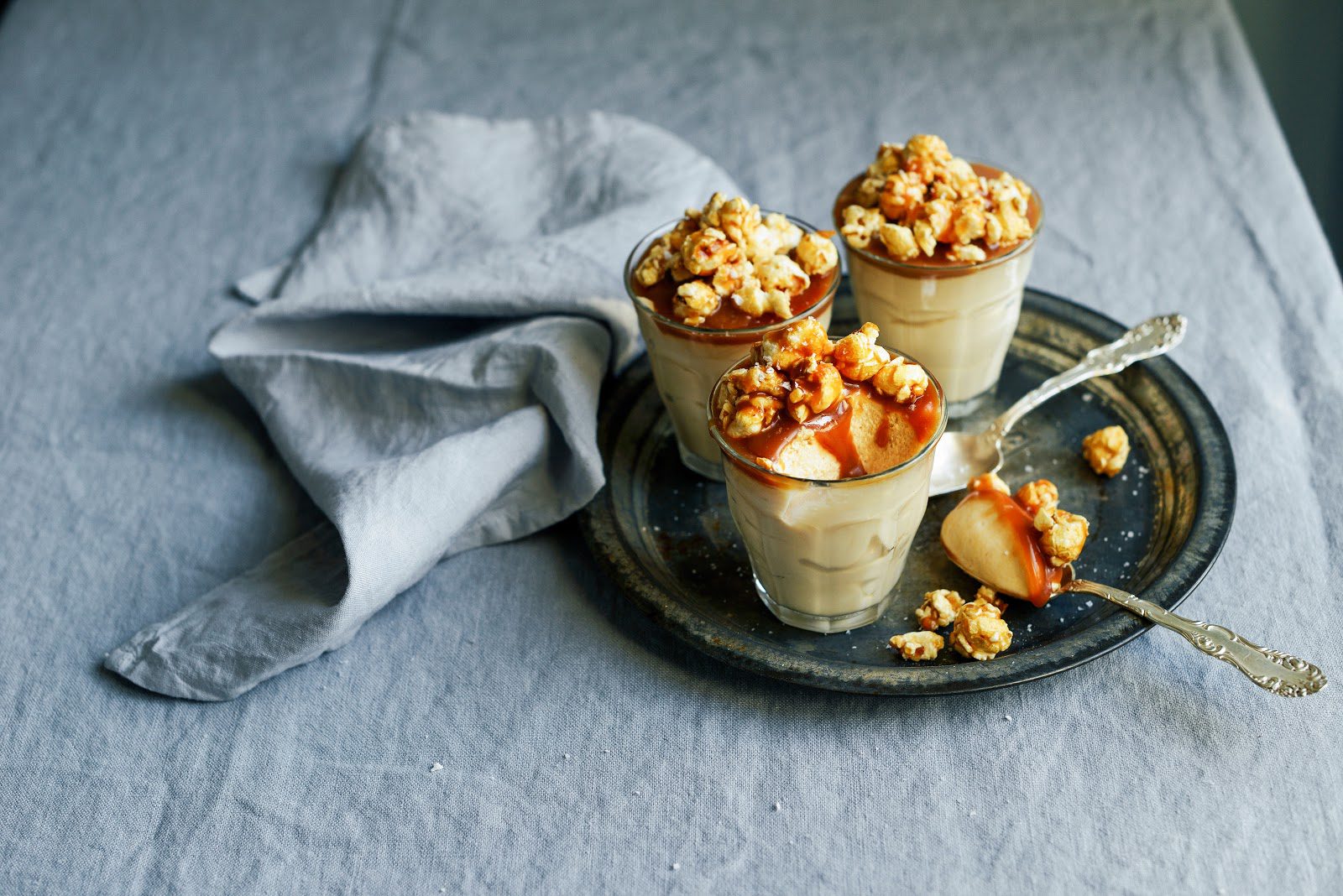 ¾ cup plus 1 tablespoon caster sugar
¼ cup water
450ml cream
1 tablespoon butter
2 teaspoons sea salt
250g cream cheese, at room temperature, chopped
1 ½ cups caramel corn
For the sauce, put ¾ cup sugar in a very clean pot with water. Bring to a simmer stirring to dissolve the sugar, then continue to cook without stirring for several minutes until it starts to turn golden. While the sugar is caramelizing heat 200ml cream until hot but not boiling. As soon as the sugar is golden remove from the heat and add the hot cream, a ¼ cup of a time, whisking vigorously. It will froth up madly but keep going until it is a smooth rich caramel. Stir in the butter until melted. Leave to cool 10 minutes and stir in 1 teaspoon sea salt.
Put the cream cheese in a food processor with 1 tablespoon sugar and ½ cup of the caramel. Whiz until smooth. In a separate bowl whip the remaining cream to soft peaks. Fold cream into caramel cream cheese mixture then spoon into 6 serving glasses. Refrigerate for at least 3 hours. To serve, top each mousse with a tablespoon of caramel, a sprinkling of caramel corn and sea salt. Left-over caramel sauce is great as a topping for ice cream or winter puds. Makes 6