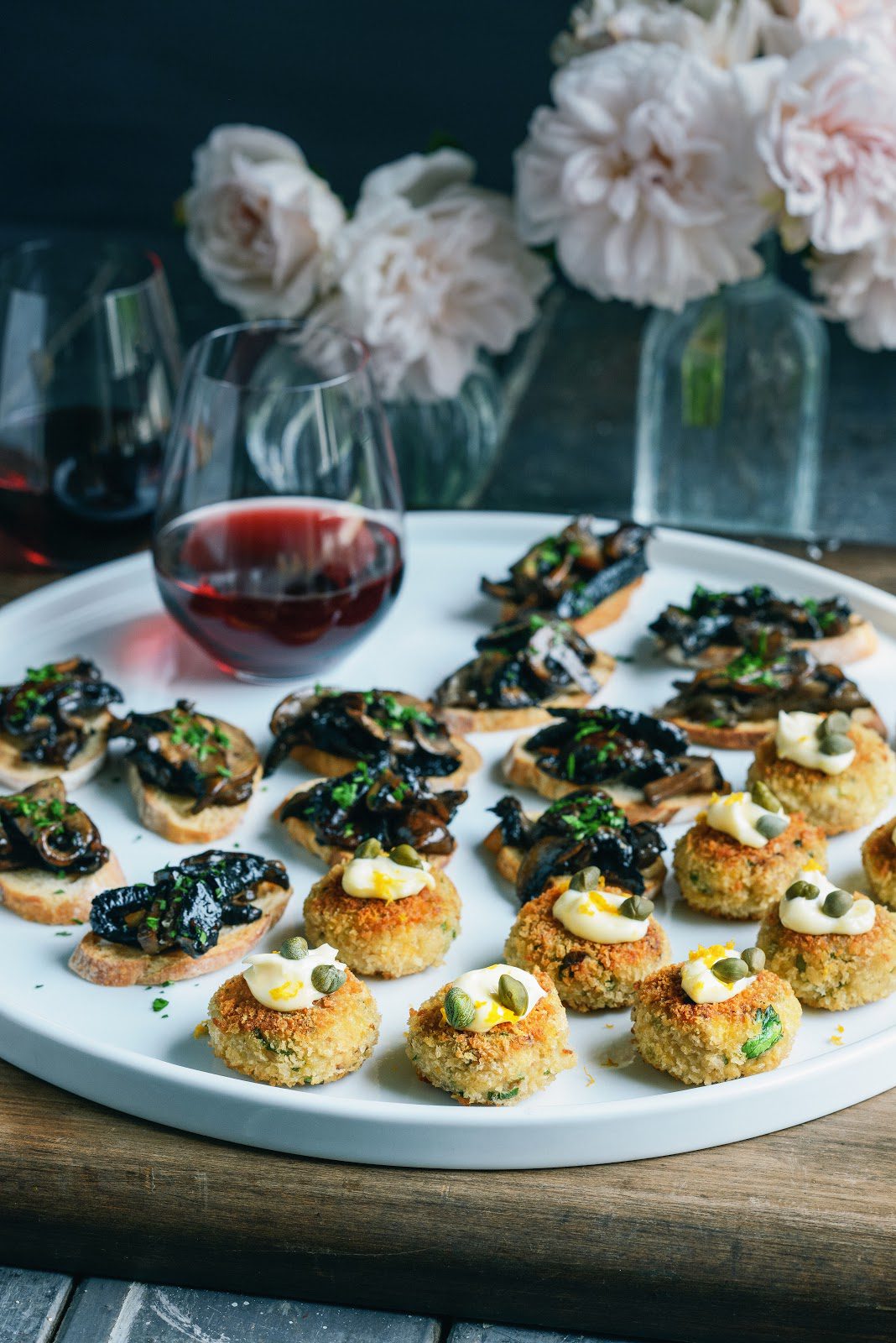 Hellooooooo from Waiheke Island, New Zealand. I am taking (literally) two minutes to quickly post this on my way to catch the ferry for a doctor's appointment in town. (Thank you Waiheke library for the kind use of your free wifi.) So, hurrah, stitches out today, and then I'm back out to the island to relax and get ready for New Year's Eve. I can't wait to welcome in 2016, this year has had it's share of ups and downs, and I'm more than ready for a new one to begin. Anyhoo – enough burbling on, I've got a ferry to catch! These recipes are two I put together for Fairfax, and both are perfect little morsels to enjoy with a drink as you kick back and celebrate – mini smoked fish cakes with lemon mayo and capers and mushroom crostini – which I nearly always serve with drinks because everybody seems to love them!
Wherever you are celebrating in the world, I hope you have a fantastic, fun-filled night – with great food, good music, maybe a bit of a boogie (always optimal), a few laughs, plenty of drinks and someone nice to snog as the clock hits midnight.
Happy New Yeeeeeeeeear!!!!!!!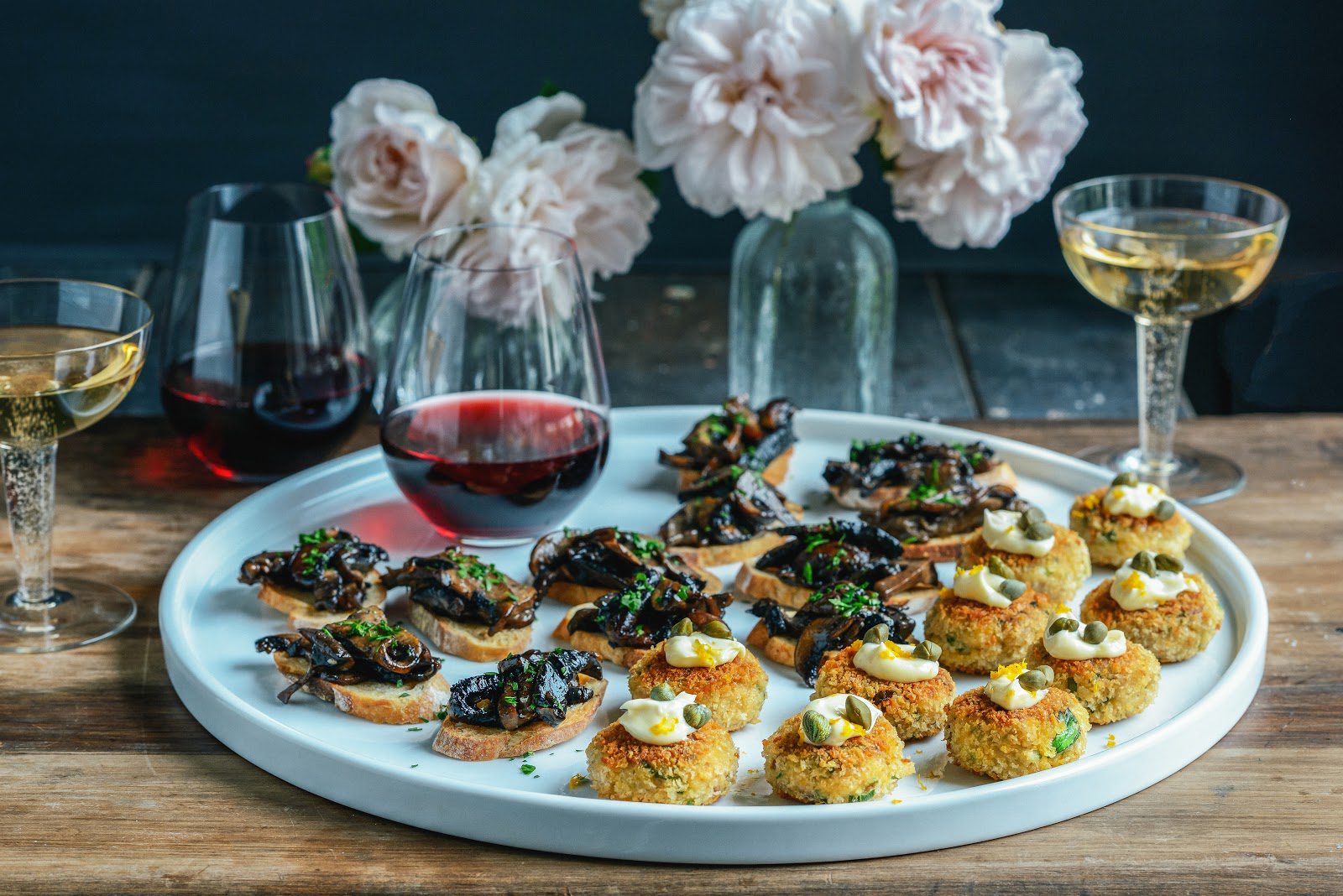 Mini smoked fishcakes with lemon garlic mayo:
Makes: 40
Prep time: 35 mins
Cooking time: 10 mins
400g agria (or other floury) potatoes boiled, drained well and mashed with 2 tablespoons of cream
400g smoked fish, roughly flaked and bones removed– I used Kahawai
1 cup good quality egg mayonnaise
2 cloves garlic, crushed
finely grated zest of 2 lemons
2 spring onions, finely sliced
1 stick celery, finely chopped
1/2 cup finely chopped parsley
1/3 cup finely grated tasty cheese
pinch cayenne pepper
1 egg, lightly whisked
2 cups panko crumbs (regular breadcrumbs would also be fine)
¼ cup rice bran, coconut or other high smoke point frying oil
¼ cup capers, drained
Put mashed potato, smoked fish, quarter of a cup of mayonnaise, zest from 1 lemon, 1 clove garlic, spring onions, celery, parsley, cheese and cayenne pepper in a bowl. Season with salt and pepper and gently mix together and shape into 40 small patties. Chill for half an hour then dip in egg and coat lightly in breadcrumbs. Pop back in the fridge for 10 minutes (or up to overnight, covered in plastic wrap). Whisk the remaining mayonnaise with remaining lemon zest and garlic. Season to taste with salt and pepper. Heat 2 tablespoons oil at a time in a large frying pan and fry fish cakes in batches for a minute each side or until golden. Serve with a teaspoon of mayo and a sprinkling of capers.
Mushrooms on crostini
Makes: 30 mushroom crostini
Prep time: 35 mins
Cooking time: 10 mins
1 French stick, cut into 1cm angled slices (You may have up to 50 slices, but the left-over crostini store well in an airtight container)
¼ cup olive oil
25g butter
500g mixed mushrooms – I used Portobello, button, oyster and Swiss Brown, sliced
2 teaspoons caramelised (or regular) balsamic vinegar
2 tablespoons Marsala
¼ cup cream
¼ cup finely chopped parsley
Heat oven to 200˚C (400˚F) and brush bread slices on one side with 2 tablespoons of oil. Bake 10 minutes until golden. While they are cooking, heat remaining olive oil in a large frying with butter pan and cook mushrooms with salt and pepper for a few minutes over a medium high heat until they are starting to release their liquid. (You may need to do this in batches as the mushrooms have more volume before cooking). Add vinegar, Marsala and cream and cook another 3 or 4 minutes until cream is reduced and mushrooms are cooked. Season again to taste with sea salt and freshly ground black pepper. Mushrooms can be prepared to this point, refrigerated for up to 8 hours, then briefly reheated before serving. Load onto crostini and sprinkle with parsley to serve.