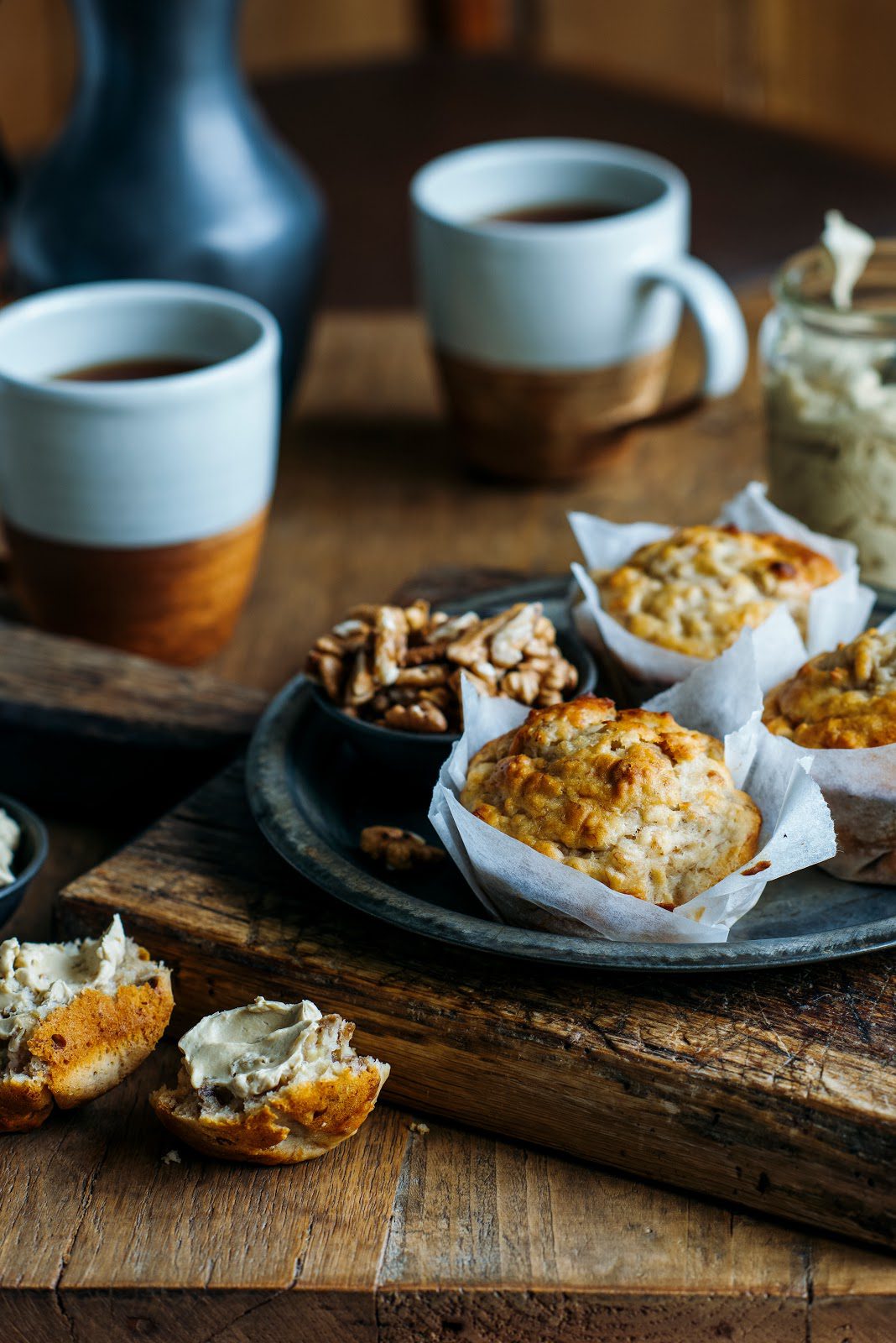 Goood morning from my regular blogging spot – tucked up in bed with a mug of tea. I have a real treat for you today – these banana, maple, oaty muffins are basically a loaf recipe that I have tweaked (and can still be cooked a s a loaf) for Fairfax newspapers, so will be appearing around New Zealand today. They have a slightly dense but not heavy texture – more slightly oaty-earthy if you know what I mean – with a soft maple background and pleasing little walnut nuggets. They are perfect for enjoying on a wet, cold winter afternoon (or as you can see from the pic – in my imagination, sitting by the fire in a log cabin surrounded by snowy woods…). Any way, the maple butter is the sneaky little extra surprise which can also transform waffles, banana pancakes, crumpets, anything like that, that you can imagine loading with bananas (and maybe bacon). I had never seen it made before so was intrigued with my experimenting to find the hot maple syrup being whipped and cooled with the butter into a maple cloud…obviously it is pretty sweet, but also bloody addictive! It also keeps well in the fridge for weeks.
In other news, the count down is on until Henry arrives for his 21st and I am freaking out as to how I will get both my work done and prep for his visit before he gets here – you know that anxious, sick feeling in your stomach..?! Last night I couldn't sleep and was making lists in the kitchen at about 1:30am. All my friends know that I am a compulsive organiser, but I do find that once I write stuff down and work backwards from a goal, it usually makes things seem much less over whelming, and way more achievable. So. fingers crossed! Pog is well under way with his interior design course, and hopefully about to secure flat number 3 in Melbourne. This time I am hoping it is less freaky suburban prison-cell (first one), or mouse-infested, kitchen-less fire-hazard (second one). Meanwhile Hoob is toiling away at uni – not much action on the work front, so lets hope something happens in that department soon. He is however revelling in political science and philosophy…which is awesome, I'm so thrilled he is enjoying his subjects, and hope that I haven't just done the unthinkable and put the hoodoo on it by saying that out loud…Right must get up, pulled a chest muscle (typical) so it's walks instead of yoga this week. Let me know if you give the recipe a whirl 🙂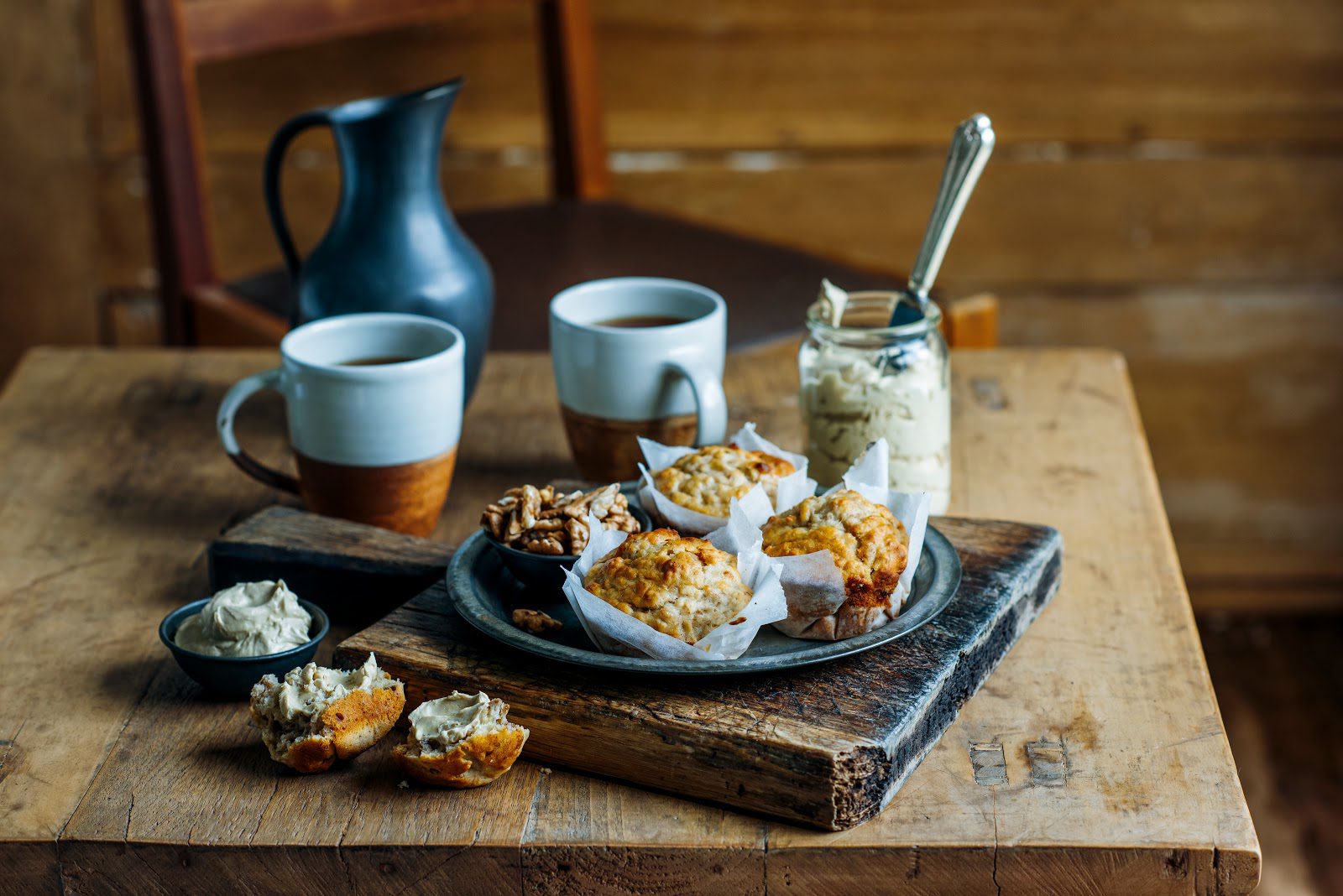 4 ripe, medium bananas
¼ cup flavourless oil
¼ cup plain greek yoghurt
¼ cup caster sugar
¼ cup maple syrup
1 large egg
1 teaspoon vanilla extract
1 ¾ cups self raising flour
¾ cup rolled oats
½ cup chopped walnuts
Preheat the oven to 180˚C. Line 11 of the holes in a 12 muffin tray with baking paper. To do this I cut large squares and poke them firmly into the holes, it doesn't matter if the result is not particularly neat! Mash the bananas in a large bowl. Add the oil, yoghurt, sugar, maple syrup, egg and vanilla extract and mix well to combine. Sift in the flour, add the oats and fold together with the walnuts. Divide evenly into prepared muffin trays. The easiest way to keep things neat is to use an ice cream scoop to drop in the muffin mix. Bake for 25 minutes or until the muffins are golden, and bounce back when the tops are gently pressed. Leave to cool in the trays for 5 minutes before removing. Serve warm with maple butter.
Maple butter:
¾ cup maple syrup
150g butter, roughly chopped
Put the maple syrup into a small saucepan and bring to a gentle boil. Cook for 8 minutes, then remove from the heat and add the butter, stirring to melt, until smooth. Pour the mixture into the bowl of an electric mixer and beat for 8-10 minutes. During that time the mixture will cool and the consistency will become firmer and paler. Spoon into a sealable jar, and once cool, store covered in the fridge. The butter sets hard, so remove from the fridge half an hour before serving. Makes about a cup