Holy moly did it rain in Auckland last night or what? This year we seem to have slid straight from a dismal spring to a momentary summer and have already hit autumn…but I suppose at least we have comfort food to look forward to 🙂 These recipes are two that I created for Fairfax so appearing in newspapers around the country today. The first is for an old-school oaty caramel slice, which literally takes no longer than 10 minutes to make, and the other is a banoffee banana cake, a moist dessert cake layered with caramel, bananas and whipped cream, then topped with brown sugar icing and caramel sauce – phwoar. Both are great little weekend projects – the slice is perfect for transporting (school/uni/work/picnic), while I wouldn't advise trying to zoom around too much with the cake – I delivered half of it to some dear friends, (a big thumbs up from them) only just managing to stop it collapsing on the floor of my car before I got there…
And in other news – same 'ole same 'ole really! Rich sent me some hilarious pictures of himself in full soldier kit during his day of filming recently. As the hours passed he seemed to morph from a bright-eyed young soldier to an ornery and heavily injured, moustached one – vaguely reminiscent of Freddy Mercury. Meanwhile Henry is flat out as usual, with work, design school and penning his latest column for House & Garden – down-time is scarce indeed. Oh, haha, and in yoga news – so far so good – 7 days straight and counting…there'll be a new recipe up again next week, so I guess we'll see if I'm still hanging in there then 🙂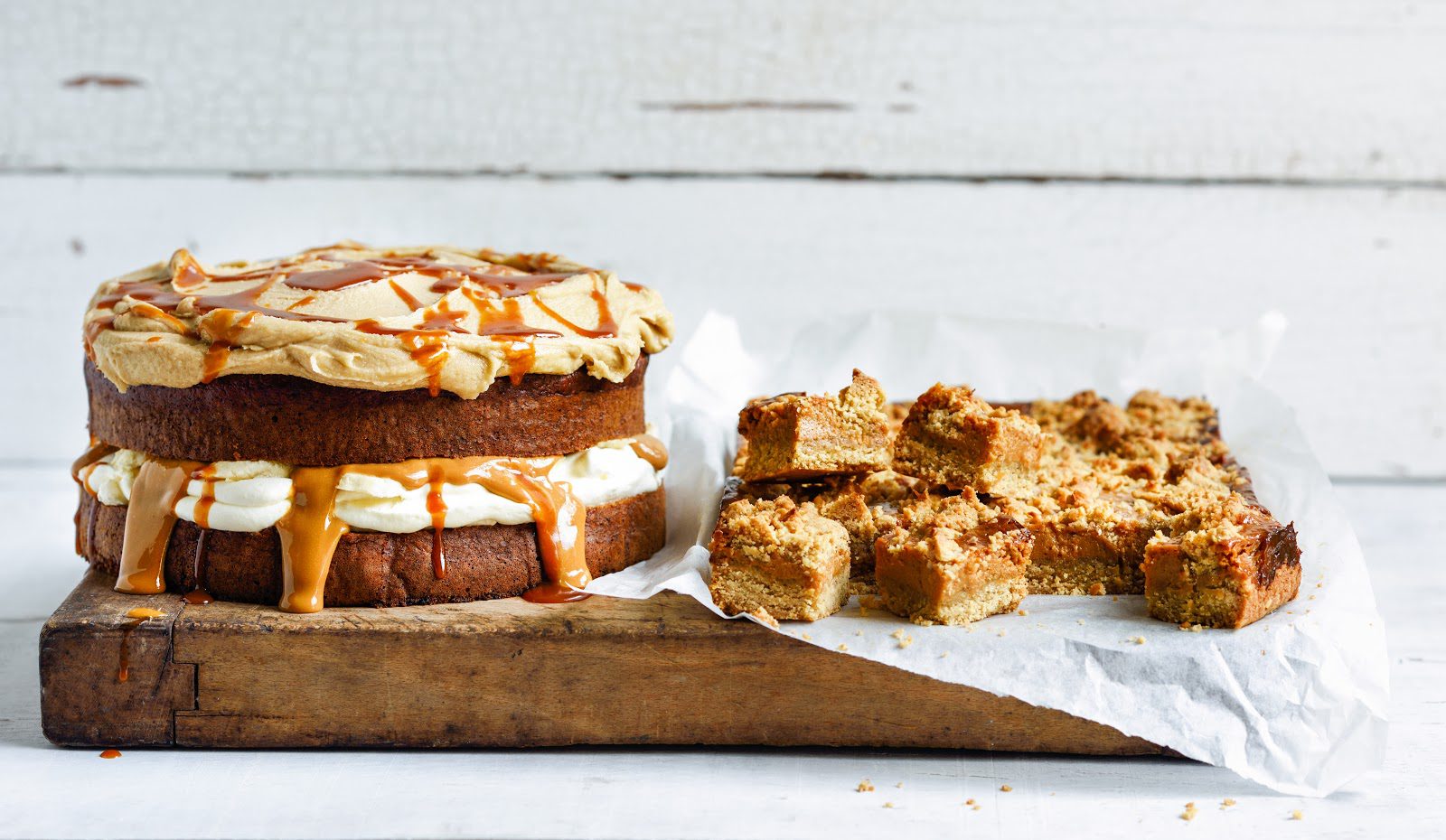 Oaty Caramel Slice:
300g butter, softened
1 cup brown sugar
2 teaspoons vanilla extract
2 cups plain flour
1 teaspoon baking powder
1 ½  cups rolled oats
1/3 cup shredded coconut* (add to topping only)
395g tin sweetened condensed milk
395g tin condensed milk caramel
1 tablespoon golden syrup
Preheat oven to 180˚C (375˚F). Line the base and sides of a 28 x 21cm slice tin with baking paper. In a food processor whiz 250g of the butter, sugar and vanilla extract until pale and soft. Add flour, baking powder and oats, and pulse to combine. Press 3/4 of the mix into the tin and smooth firmly with the back of a tablespoon. Pop in the fridge while you prepare the rest. Mix condensed milk, condensed caramel milk, remaining butter and golden syrup in a microwave proof bowl. Microwave on high for 1 minute and whisk until smooth. If necessary microwave for a further 30 seconds so that it can be whisked until smooth and combined. Add the coconut to the remaining base mixture and pulse to combine. Pour caramel mix over base and sprinkle over remaining base mixture, squashing it into clumps as you go. Bake for 30-35 minutes until cooked through. Cool in the tin then slice and store in an airtight container. Makes 35 pieces
Banana Cake:
4 eggs
4 ripe bananas, mashed
3/4 cup vegetable oil
1/2 cup plain yoghurt
1 teaspoon vanilla
1 cup caster sugar
2 3/4 cups flour
1 teaspoon baking soda
2 teaspoons baking powder
Brown Sugar Icing:
100g butter, softened
2/3 cup brown sugar, sifted
2 cups icing sugar
3 tablespoons cream
Caramel Sauce:
1/2 cup caster sugar
150ml cream
1 tablespoon butter
(makes about 1 cup)
250ml cream, whipped and chilled
1/2 x 395g tin caramel sweetened condensed milk
1 large banana, sliced
Preheat oven to 170˚C and line a 22cm cake tin with baking paper. Whiz eggs, bananas, oil, yoghurt, vanilla and sugar together in a food processor. Sift flour, baking soda and baking powder into a large bowl. Make a well in the dry ingredients and pour in the banana mixture. Stir to coombine then pour into prepared cake tin and bake for 30 minutes, reduce oven temperature to 160˚C and bake a further 50 minutes. Cool in the tin for 30 minutes. For icing put butter in an electric mixer with brown sugar and icing sugar, add cream and beat until soft and smooth.
For caramel sauce, heat caster sugar with 2 tablespoons of water together in a pan over a medium heat until the mixture has crystallized, then turned a light golden color. Remove from the heat and slowly whisk cream into hot caramel sugar – it will froth up madly, but just whisk hard and keep adding until it is all incorporated. Add butter and whisk again.
Once cake has cooled, use a large serrated knife to halve it. Spread cream over the base then top with sliced bananas and drop on spoonfuls of caramel sweetened condensed  milk. Ice the top half of the cake before putting onto the base, then serve drizzled in two tablespoons of hot caramel (it can be reheated in short bursts in the microwave if hardened). Serves 10
A little extra note here, I find it easiest to put the cream on the bottom of the cake and refrigerate it for 20 minutes before putting the rest of the toppings and top layer on, otherwise it can be tricky to slice neatly. If it is a super hot day, to make life easy, feel free to serve the iced cake un-layered with the fillings on the side 🙂