L'il re-post from last year for Bastille day celebrations (la Fete Nationale), I know in the northern hemisphere it is the middle of summer – but for my southern mates I thought a warm pud might be appropriate! I'm aiming to shoot an easy, cheesy pasta recipe in the next few days – so check back in at the weekend for that, and in the meantime – have a good one! 🙂 (Obviously I have always been a sucker for rhubarb and custard…!)(original post)
I'm writing this a bit later in the day for a change, coffee in hand, weak sunlight streaming in the window and, as hoped, Dougie is snoring gently and intermittently farting in his bed at my feet. (Dougie is Henry's border terrier in case you weren't sure!). He seems to be rocketing along with his recovery, eating well (free range chicken and rice…), taking his meds (kind of), sleeping lots but generally in a pretty perky state. The next step is to have his stitches removed next Wednesday and further blood tests to see if there is an underlying disease which caused his gallbladder issues. Meanwhile – it is all go in Melbourne with Pog finally starting his interior design course on Monday, and I am (fingers crossed) assuming not-much-news is good news from Rich. I started my day with a bloody lovely yoga session, so have no excuse not to now get my act together and have a good day, testing my next lot of recipes for
Dish magazine
.
This clafoutis recipe is one I put together for my fortnightly Dish web contribution, and I have to say it is damned delicious. I love tart rhubarb, and when combined with the sweet raspberries then topped with soft vanilla custard it really is a great dessert. The clafoutis is super easy to make, and quick too, if you roast your rhubarb in advance. The trick is not to serve it straight away as the custard needs time to set up a little – but then don't serve it cold either, because by then the custard will have set into a slab! Just give it 5 minutes or so, then serve with a lovely big scoop of vanilla bean ice cream.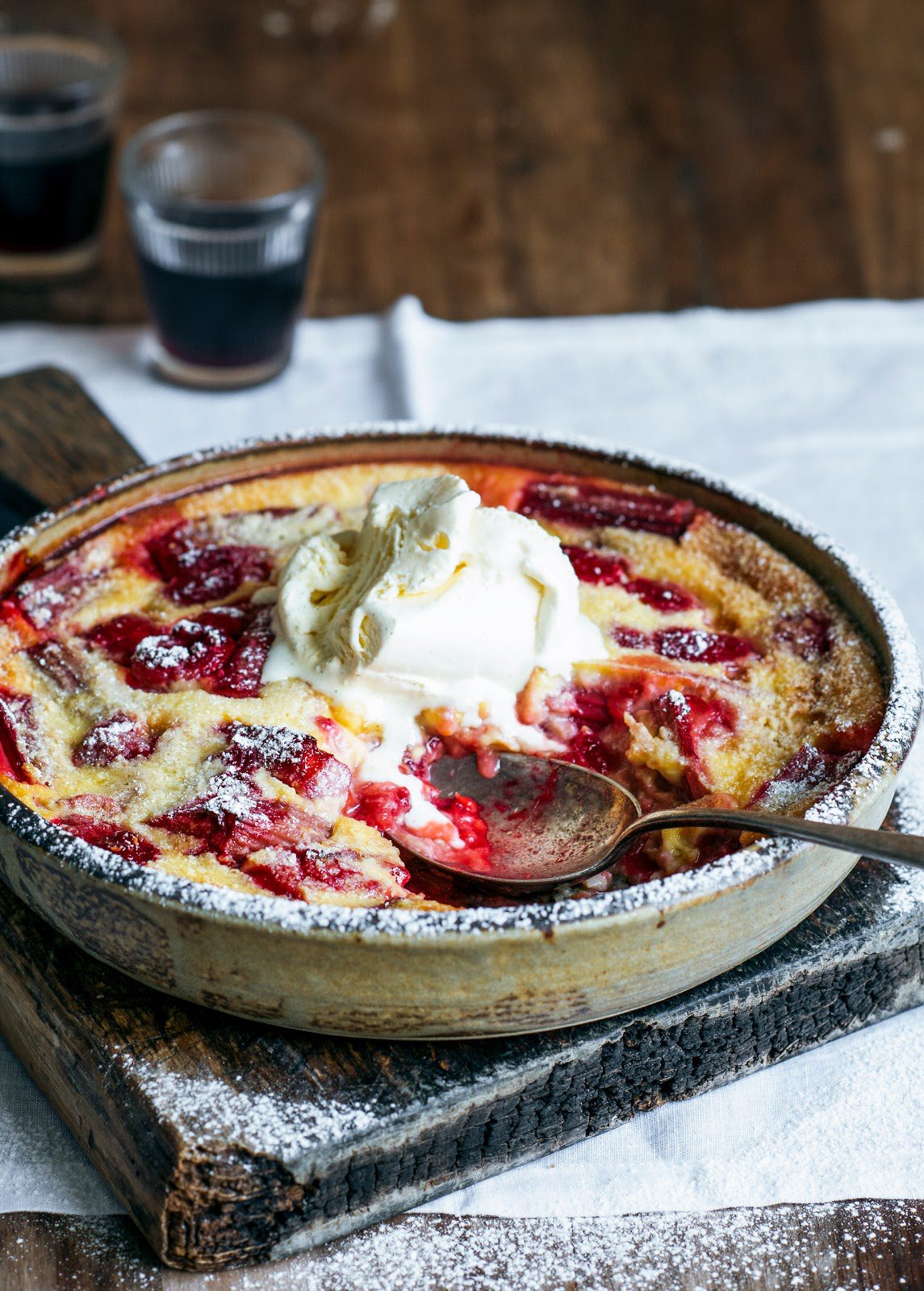 400g rhubarb, washed and trimmed into 4cm pieces
1/3 cup caster sugar
2 tsp vanilla extract
finely grated zest of 1 orange
2 tbsp freshly squeezed orange juice
200g fresh raspberries
1 tbsp butter
2 eggs
1 egg yolk
1/3 cup flour
200ml whole milk
100ml cream
2 tbsp icing sugar
Preheat oven to 180˚C. Lay rhubarb in a single layer in the base of a large baking dish. Mix 2 tbsp sugar, 1 tsp of vanilla, zest and juice and pour over rhubarb, tossing gently to coat. Cover with tinfoil and bake for 12 minutes, or until just soft. Remove from the oven, add raspberries, toss gently and leave to combine and cool.
Butter a 23cm round ovenproof dish (a deep oven-proof frying pan can be used). Whisk flour, remaining sugar, eggs, yolk, milk, cream and remaining vanilla until smooth. Blob rhubarb and raspberries into the prepared dish (reserve any rhubarb juices to drizzle over ice cream if you wish when serving) and pour over custard mix.  Bake for 40-45 minutes until just set in the middle. Remove from the oven, leave for 5-10 minutes to rest and set up, then dust with icing sugar and serve with vanilla bean ice cream. Serves 6
Mr Dougal Tuck – aka Dougie 🙂