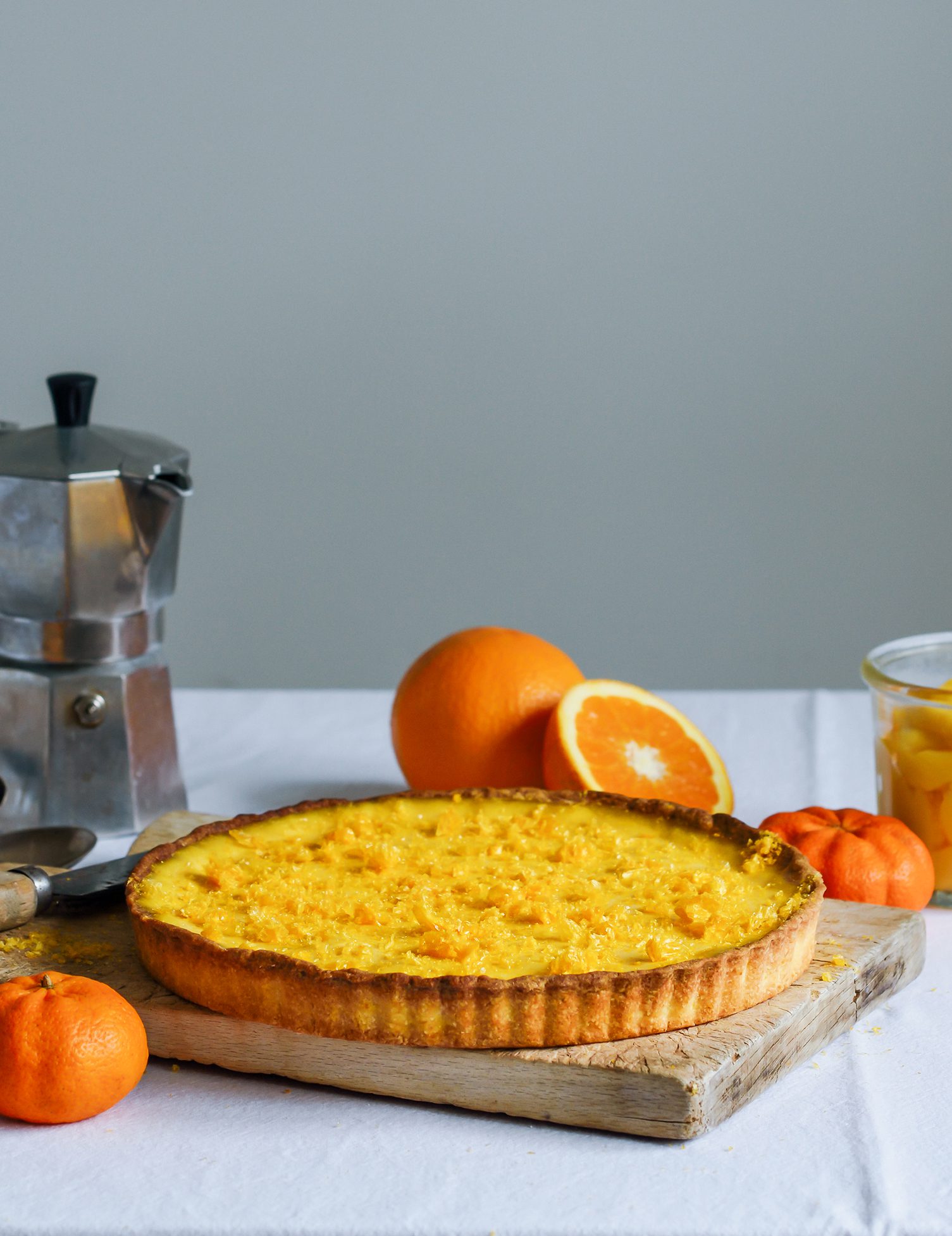 Serves 10
Hellooo – I'm back to my normal writing spot this morning, sitting in bed with my second mug of tea. Today's recipe is one I put together for Fairfax so appearing in newspapers around the country today and online at Stuff – orange tart, luscious and creamy with a gentle orange flavour and crispy short base. Actually the flavour is so subtle my sister even wondered if there was pineapple involved. You could also make this with lemons, or give other citrus a whirl – lemon and lime are great together, and I would love to try it with mandarins too…but probs not grapefruit.
I'm so excited to be heading down to Welly tomorrow for Hoobie's birthday – hurrah my baby is turning 20! I am so proud of him, he is such a kind, intelligent and questioning man, it will be a real treat to see him again. These days a trip anywhere is such a major organisational effort; I have two people coming on separate nights to dog-sit, so two lots of fresh sheets and cleaning, making sure the fridge is stocked, dog food is plentiful etc. Yesterday afternoon I also managed to quickly mow the lawn and give the garden a tidy, so almost sorted – the running around beforehand makes it all the more rewarding to finally jump on a plane and go. While in Wellington I am also doing one tiny bit of work – but the fun kind – I will be signing books at Moore Wilson's from 12-1pm this Friday, and you can read all about that here. (Any Wellingtonians reading this, I would love to see you there!). Meanwhile in Melbourne Pog is delving into the world of self sufficiency heading along to the most fabulous workshops on tiny house building, bread making and community gardening. I love that both the boys/men have such a strong connection to the land and outdoors from all of those fabulous times on Waiheke…I miss those days so much, I just have to work out how to make something similar possible again.
Anyhoo, must get up – dermatologist appointment and Dish shoot on the agenda today. I really hope you have the chance to give the tart a try…see you again soon!
110g cold butter, chopped
1 1/3 cups plain flour (plus 1 tbsp to dust bench)
1/3 cup icing sugar
finely grated zest of 1 orange
1 egg yolk plus 2 egg yolks (reserve 1 egg white and lightly whisk)
1 tsp iced water
baking spray
4 eggs
3/4 cup caster sugar (1 cup for extra- sweet-tooths)
200ml cream
250ml freshly squeezed and strained orange juice
¼ cup freeze dried mandarins, crumbled or toasted flaked almonds to garnish
vanilla bean ice cream or softly whipped cream to serve
Put the butter in a food processor and add flour, icing sugar and orange zest. Pulse to combine then add 1 egg yolk and the iced water. Pulse until the mixture forms big clumpy breadcrumbs and starts coming together. Tip out onto a clean bench and press and squash together into a round disc. Wrap in plastic wrap and put in the fridge for half an hour. Preheat the oven to 180˚C and remove the pastry from the fridge. Let it sit for 5 minutes then roll out on a lightly floured surface until it is 5cm bigger than a 25cm loose-bottomed tart tin. Spray the tin very lightly with baking spray and use a paper towel to wipe off any excess. Use a fish slice (or thin metal pizza paddle if you have one) to slip it off the bench and into the tin. Press firmly into the base and sides, patching up tears as you go. Prick the base lightly with the tines of a fork and pop in the freezer for 10 minutes. Gently whisk eggs with remaining yolks, sugar and cream. Don't whisk it too hard or you will make it foamy and bubbly – gently does it. Stir in the orange juice.  Cut a circle of baking paper 5cm bigger than the tart tin, place in the tin and fill with either baking beans or raw rice. Bake for 12 minutes, then remove the baking paper and beans/rice and brush the base with a little reserved egg white. Bake a further 10 minutes. Put the tart base on a baking tray and place back in the oven. Pour the filling through a sieve into a jug then carefully pour straight into the base in the oven. Reduce oven temperature to 160˚C and bake 35 minutes until the filling is just set, but still with a bit of a wobble in the middle. Cool in the tin before removing to serve with lightly toasted flaked almonds or a crumbling of freeze dried mandarins, whipped cream and/or vanilla bean ice cream.