makes 24
Goooood morning, good morning – how is it possibly Saturday again already? I can't believe I have already been back from Welly for a week…what the hell? It was so fantastic to see Hoob for his birthday, we managed to squeeze in two dinners (one Vietnamese and one Mexican with obligatory margaritas), talk non-stop and have a great laugh – God it is an incredible treat to have two grown up sons who are such brilliant company, I know I am bloody lucky! I also had my book signing at Moore Wilson's which was huge fun – especially getting to meet bloggie/book followers and discuss their favourite recipes. I finished the weekend with some ghastly virus (headaches, nausea and sweats…brilliant), but fortunately it was gone in 24 hours and by the time I managed to nip over to Waiheke for two nights it was gone completely. My darling friends offered me their bach for two nights and it was too good to turn down!
I do miss the island so much – it was amazing to get back on the walking tracks and to wander along the beach, and I ended up doing a mammoth three hour walk making the most of it. Apart from that I just took the opportunity to relax for the first time in a looooong time, and almost finished the last few episodes of The Good Wife which I have been binge-watching for some time now (I do realise I am the last person in the universe to have seen it…).
Anyhoo, it's now back to business with these super easy prawn and asparagus dumplings. I promise – they are not remotely difficult, and you don't even have to do any fancy pleating, you can just squeeze the dumpling wrappers together if you fancy and they will still look and taste fabulous. The sweet prawn and new season's asparagus are gently seasoned with a hint of toasted sesame oil and fresh chives – the result is delicate and delicious, a perfect little spring starter.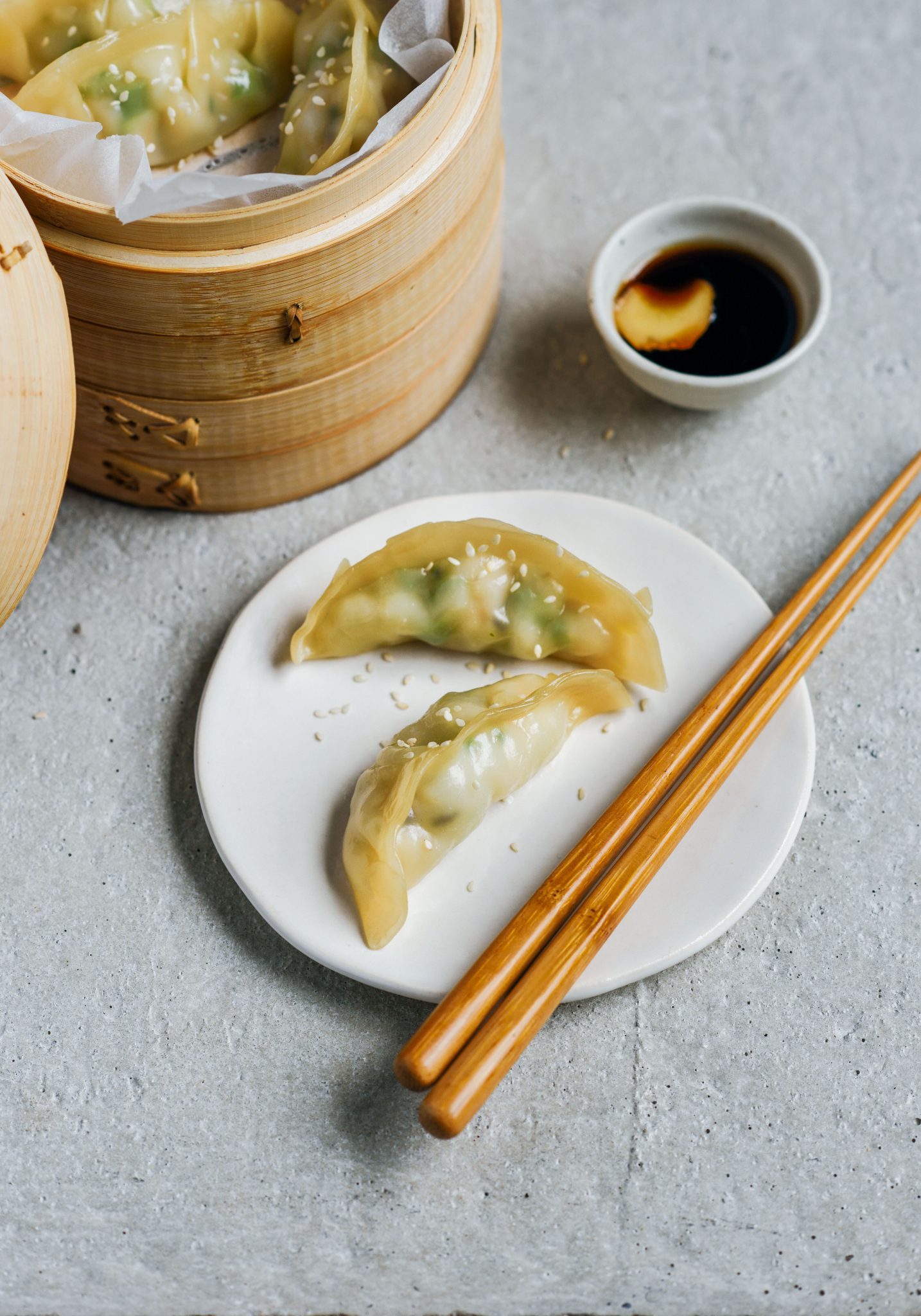 250 grams raw prawn meat
100 grams firm white fish (I used terakihi)
3 thick or 6 fine asparagus spears
1 1/2 tsp toasted sesame oil
2 tbsp finely chopped chives
24 dumpling wrappers
1/3 cup light soy sauce
3 pieces finely sliced fresh ginger
2 tsp sesame seeds
Finely chop the prawns and fish and put in a bowl. Trim the asparagus, then if it is thick, slice it lengthways, then quarter and finely chop it, if it is thin just finely slice it. Add the asparagus to the prawn and fish meat, add 1/2 teaspoon sesame oil and chives and stir to combine. Keep your dumpling wrappers covered unless using them to stop them from drying out, and have a small bowl of cold water ready. Place a wrapper in the palm of one hand, dip a finger in the water and run it around the edge of the wrapper. Place a heaped teaspoonful of filling in the centre of the wrapper then fold it gently as you would a taco, into a half moon shape. Starting at the centre pinch the top together. You can simply squeeze the edges together to seal them in a simple half moon and that will work just fine, or if you are up for a challenge, pleat the dumpling on one side, creating a curved shape. Refrigerate the dumplings on baking paper lined trays for at least half an hour (and up to four hours), then steam in batches for 15 minutes until cooked through. Bamboo steamers are cheap and come in all different sizes – and are also perfect to serve the dumplings from. I line the bases of the steamers with baking paper, then use the tip of  a small sharp knife to make loads of little slits in the paper – this allows the steam to come through but stops the dumplings from sticking. Put the soy sauce and remaining sesame oil in a small dish with the ginger, sprinkle the dumplings with sesame seeds and serve as soon as possible. (L'il bit of steamy action on my new Fisher & Paykel cook top below…)