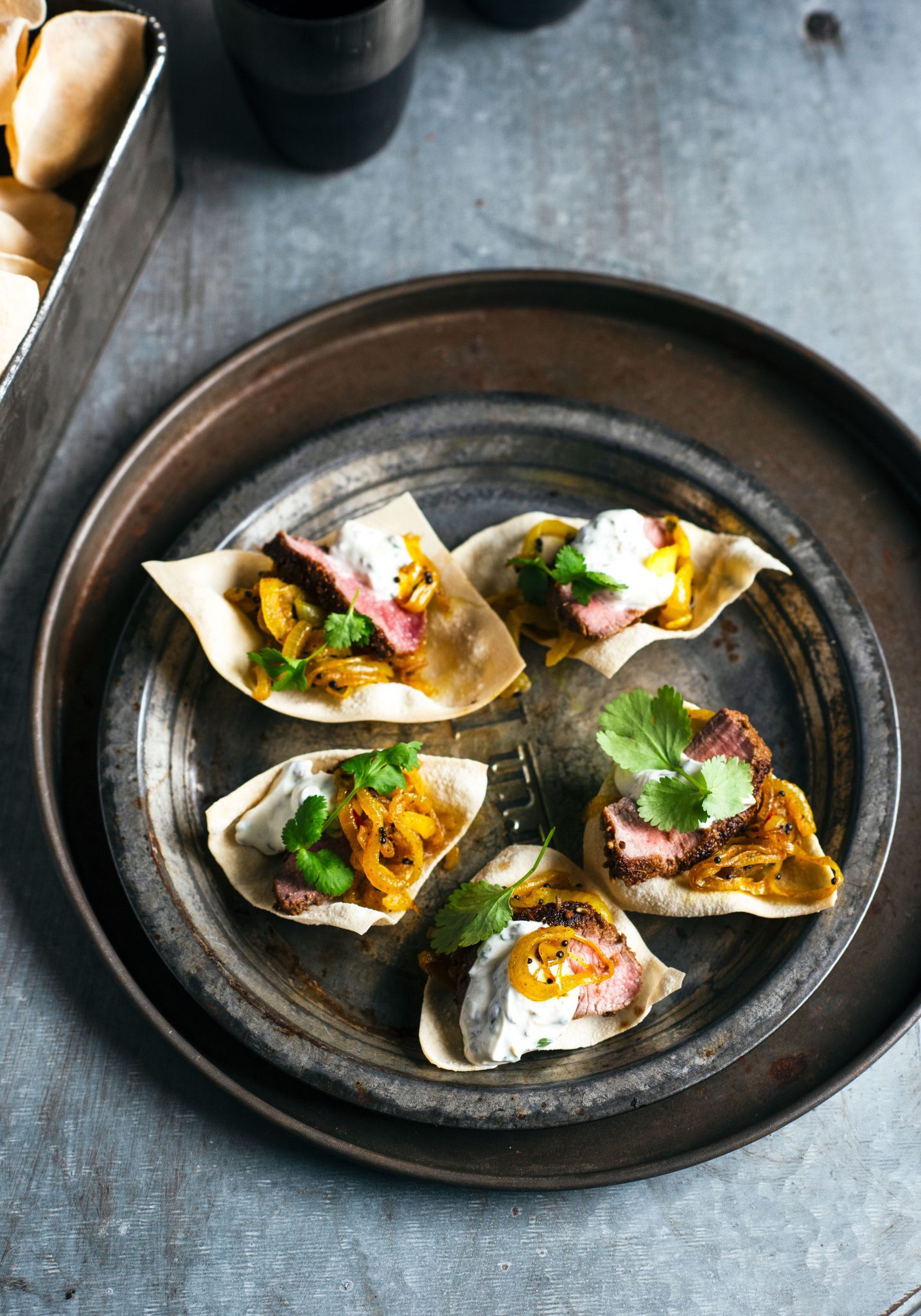 serves 6
Helloooo and happy Saturday! Another cold winter's night rugby test and another curry night at home – which is just bloody perfect in my book. This time I am working in collaboration with the good people at Silver Fern Farms to create some Indian-inspired dishes to take you on a taste adventure, and which are perfect for entertaining friends, where all of the hard work (not that there is much) is done in advance. As you know I am very choosey when it comes to who I work with, so I am feeling very lucky to have been able to team up to create today's recipes. First up we have Indian spiced pan-seared lamb fillets with mustard seed and chilli-spiked onions and cool herby yoghurt served on crunchy poppadum wedges to enjoy with a beer or pre-dinner cocktail, then it's onto the main event of grunty venison meatballs served in a rich curry sauce with loads of fresh herbs, paratha and rice. The beauty of the cuts used is that both are lean and luscious, requiring minimum intervention (there is no need for slow-cooking here), with the lamb loins ready in under 10 minutes. (The way I have cooked them they're designed to be served as nibbles, but they would also be great angle sliced on a winter salad of rocket, grilled eggplant and quinoa topped with the mustard onions and the yoghurt as a dressing). The venison is an ideal match for the rich curry, so easy to prepare and a little bit different (and special) for serving guests. They could also be offered as a cocktail nibble with the sauce for dipping and can be prepared the day before and stored, covered until ready to cook. If you make the kofte balls bigger (and squash them) they would also be fabulous in a burger with the onions and yoghurt (pinched from the lamb loins) and some bitter greens. Yum.
Aaand what else is there to report? It is now less than three weeks until my grand adventure with the men/boys and I am fairly well beside myself with excitement. As is typical I have a flurry of grooming preparation planned (hello fake-tan, thanks for the body-rescue), as well as a slightly scary amount of work to get done before take-off – deadlines don't go on holiday when I do sadly. Basically I can't wait to spend time with Pog and Hoob – there are so few opportunities for us to hang out as a family, (I am exploding with happy anticipation), and that it happens to be while exploring the beaches and towns in Hvar and Dubrovnik makes it all the  more special. Bring on crystal clear waters and a cocktail! (and some culture too obvs). So, the count down is on, but I will be back here again before I go, so keep an eye out, and in the meantime let me know if you give the recipes a go, and join me on my mid-winter taste adventure…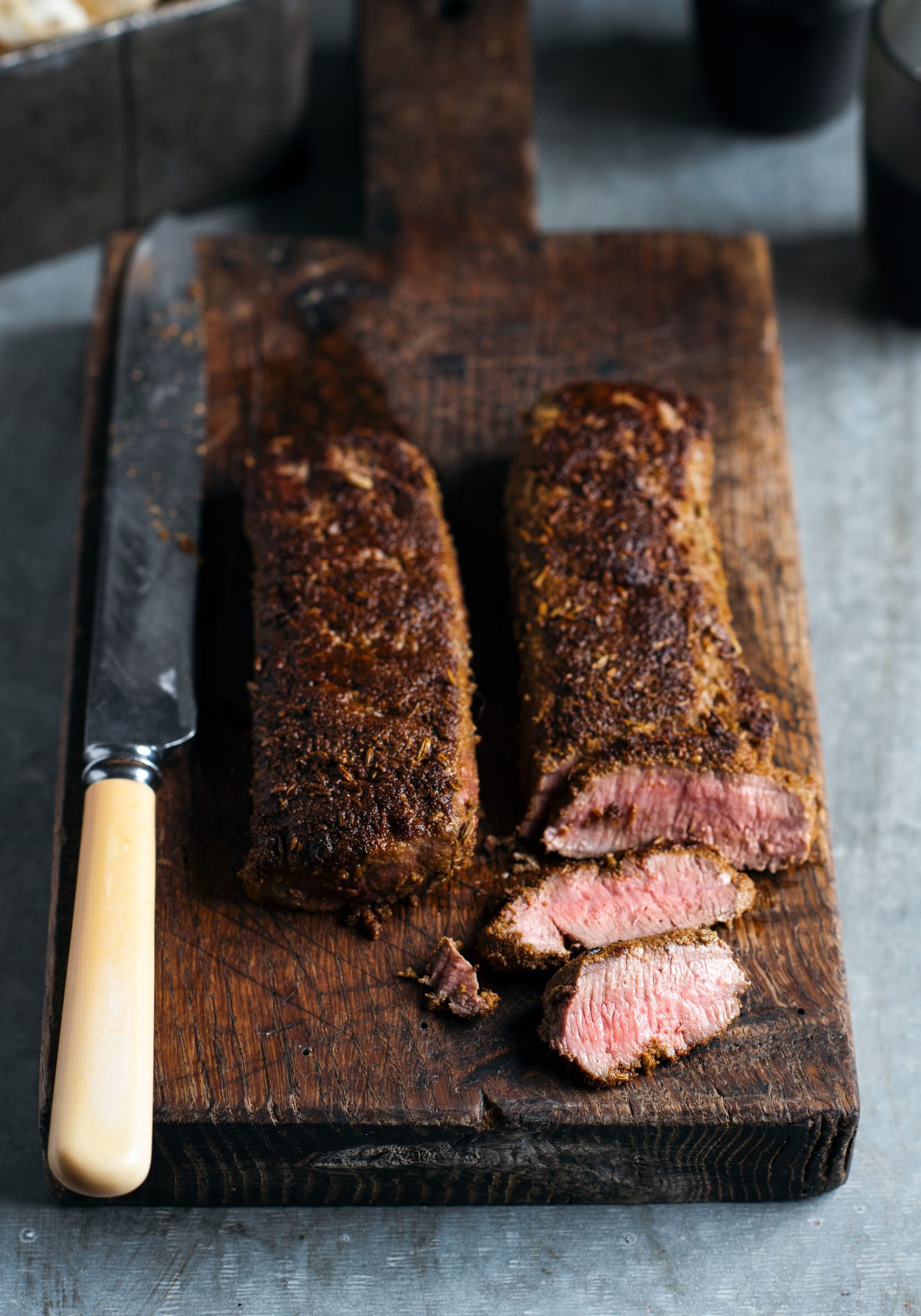 Indian-spiced lamb loins on crunchy poppadums:
to serve:
6 large uncooked poppadums
2 tablespoons light olive oil
2 teaspoons black mustard seeds
2 onions, peeled, halved and thinly sliced
1 red chilli, finely sliced
sea salt and freshly ground black pepper
1 teaspoon Garam Masala
1/2 teaspoon turmeric
1/4 teaspoon chilli powder (optional)
1 cup thick Greek-style yoghurt
1/4 cup finely chopped mint
1/4 cup finely chopped coriander
finely grated zest of 1 lemon
1/3 cup extra coriander leaves or microgreens to garnish
2 teaspoons black sesame seeds (optional)
spicy seared lamb:
1 pack Silver Fern Farms Lamb Loin Fillets
1 tablespoon olive oil
2 teaspoons ground cumin
2 teaspoons ground coriander
2 teaspoons ground fennel seeds
sea salt & freshly ground black pepper
Break poppadums in half, then each half into 3-4 pieces roughly triangular in shape. Microwave the poppadum pieces in batched of about 6 for 25 seconds or until lightly golden and crunchy. Set aside to cool then store in an airtight container until ready to use. Heat the oil in a  large heavy bottomed pot, add the mustard seeds and  cook over a medium heat 1-2 minutes until they are starting to pop. Add the onions, chilli, salt and pepper, and cook over a medium high heat for 10 minutes until turning golden. Add the garam masala, turmeric and chilli powders and cook a further 5-8 minutes until golden and fragrant. Set aside to cool.
Put the yoghurt, mint, coriander and lemon zest in a bowl and whisk to combine, then season well to taste with salt and pepper. Store in a sealed container in the fridge until ready to serve.
Remove the lamb from the fridge. Drizzle the lamb with the oil and rub to coat well. Mix the spices, salt and pepper together and dust over the lamb, coating well. Leave to sit for half an hour at room temperature then bring a frying pan to a medium high heat. Sear the lamb on all sides for 3-4 minutes then leave to rest for 5 minutes. To serve, angle slice the lamb into slices and serve on the poppadum 'crackers' with spiced onions and a dollop of yoghurt. Garnish with reserved coriander leaves or microgreens and sprinkle with black sesame seeds to serve.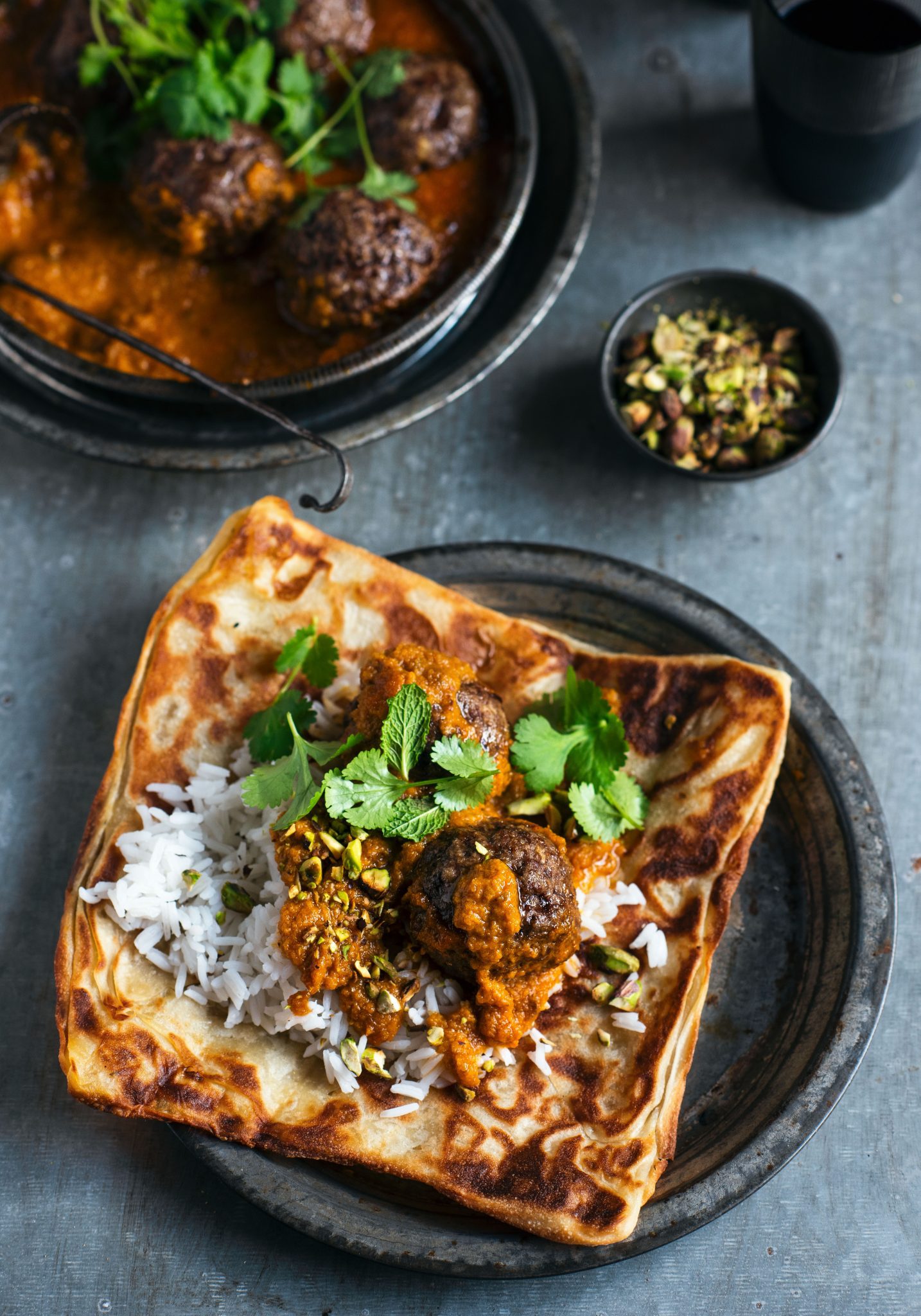 venison kofta curry:
kofta:
2 packs Silver Fern Farms Venison Mince
1 thumb ginger, grated
1 tablespoon ground cumin
1 teaspoon ground coriander
4 cloves garlic, peeled and crushed
1 egg, lightly whisked
2 slices white toast bread, crusts removed, roughly torn
2 tablespoons milk
olive oil spray.
Line a large oven tray with baking paper. Put the venison mince in a large bowl and break up with a fork. Add the ginger spices and garlic, season with salt and black pepper and stir to combine. Soak the bread in the milk in a small bowl for 2 minutes, then add to the venison with the egg, and mix all together. Roll mixture into 16-17 balls,  and place on prepared tray. Chill, covered, in the fridge while preparing the curry sauce.
2 onions, roughly chopped
3 green chillies, roughly chopped
4 cloves garlic
1 thumb ginger, peeled and roughly chopped
1 tablespoon ground coriander
1 tablespoon ground cumin
1 teaspoon ground turmeric
1 1/2 tablespoons light olive oil
3 tablespoons tomato paste
2 tablespoons brown sugar
400mls coconut milk (light if preferred)
1/2 cup thick Greek style yoghurt
cooked basmati or jasmine rice
paratha or naan bread
1 cup fresh coriander leaves to serve
1/3 cup toasted, chopped pistachios to garnish
Preheat the oven to 200˚C. Put the onion, chillies, garlic, ginger and spices in a small food processor and blitz to a paste. Heat oil in a large, deep, heavy based oven proof frying pan and cook onion spice paste for 8 minutes. Add tomato paste, brown sugar and coconut milk and simmer for 25 minutes then stir in yoghurt. Put kofta on an oven tray lined with baking paper, spray lightly with olive oil spray and bake for 10 minutes then add to the simmering sauce. (At this point you can transfer the sauce and kofta to oven-proof dishes like I did). Put the combined sauce and kofta in the oven and cook a further 10-15 minutes until the kofta are cooked through, then serve with warm roti, paratha or naan and freshly cooked rice.