serves 8
Bloody hell – it is 3˚C as I write this (that's 32˚F), which quite frankly is making the inclination to jump out of bed to go for my walk harder to muster…but I shall! Meanwhile today's recipe is a self-saucing chocolate, coffee pudding, pretty much perfect for this freezing weather. I have also included a recipe for a dark chocolate coffee sauce – which you don't strictly need as the pud makes it's own sauce, it's really just to be extra-decadent if you're serving it up to guests, (and the sauce keeps well in the fridge for heating up to pour over ice cream). I've used ground almonds for the pudding, but hazelnut or walnut meal would also work well with the coffee/choc/liqueur combination.
Aaaand – crikey – this time next week I will be packed and ready to head away. I. Can't. Wait. I feel like I have been hanging out for this holiday for at least six months – bring on the sunshine and the company of my men/boys. Henry has made a pit stop back home so I have had him here since the weekend which is such a bloody treat – he flies back to London on Friday, then Hoob and I follow next week together. He will have finished his exams and I will (she says) be up to date with my work, so we'll both be primed to let loose! Other than that I have been enjoying my normal round of quiz nights and catching up with dear friends for drinks out and about, rugby, good food and whisky – fantastic! Oh, and I saw Ocean's 8 the other day, and while the movie may not exactly be arthouse/rule-breaking, looking at the fashion is worth the ticket alone – particularly Cate Blanchett's kick-arse style, can I please be her when I grow up? (Hahahahaha – might have missed that boat slightly…)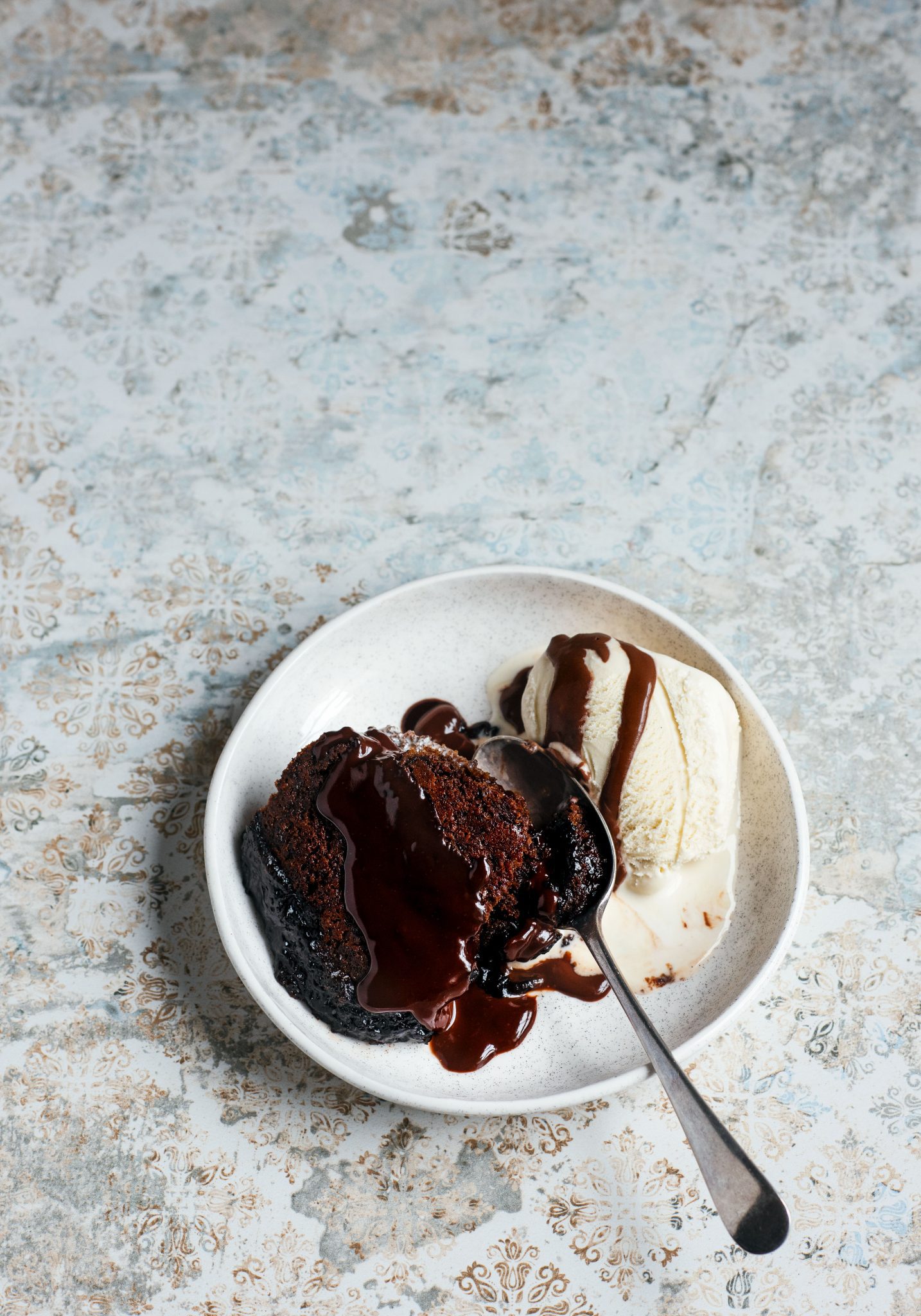 50 grams melted butter + 10 grams butter extra
1 cup whole milk
3 tablespoons ground instant coffee
2 eggs
1 cup self raising flour
2 tablespoons dark cocoa powder
1 teaspoon baking powder
1 cup ground almonds
½ cup brown sugar
vanilla bean ice cream tor softly whipped cream to serve
topping:
2/3 cup brown sugar
2 tablespoons dark cocoa powder
2 tablespoons ground instant coffee
1 ¾ cups boiling water
2 tablespoons liqueur such as Frangelico or Amaretto
Preheat the oven to 180˚C and lightly grease a 2 litre capacity baking dish with the extra butter. Put the melted putter, milk, coffee and eggs into a jug and whisk to combine. Sieve the flour, cocoa and baking powder into a large bowl and add the almonds and brown sugar. Mix well to combine. Make a well in the centre of the dry ingredients and pour in the egg and butter mixture. Fold together until well combined and pour into the prepared baking dish.
For the toppping, put the extra brown sugar, cocoa powder and coffee I a jug. Add the boiling water and liqueur and whisk to combine. Gently pour this over the pudding mixture, over the back of a large tablespoon. Bake for 35-40 minutes until the pudding has risen and is cooked through. Leave to rest for 5 minutes before serving with vanilla bean ice cream or softly whipped cream. For ultra decadence you can serve extra coffee chocolate sauce on the side.
chocolate & cofffee sauce:
200mls cream
150 grams 70% dark chocolate, roughly chopped
1 tablespoons instant coffee powder
2 tablespoons liqueur such as Frangelico or Amaretto
Put the cream in a microwave proof jug and heat in bursts until simmering. Drop in the chopped chocolate and leave to sit for one minute. Add the coffee powder and liqueur and whisk until smooth. If necessary, give a few further brief bursts in the microwave to ensure the chocolate is fully melted. Serve over the ice cream flavour of your choice – vanilla bean, berry, chocolate and coffee all work particularly well.