serves 8
Well hello there from the other side of the world! Before I tell you what I've been up to, let me just quickly introduce you to the most meltingly tender, slow-cooked beef cheeks, shredded in their luscious winey tomato sauce, spooned over just-cooked pappardelle (or soft polenta if you fancy), and sprinkled with lashings of Parmesan. This is not what I feel like eating right in this minute in the summer heat of Florence, but if I were here in winter (or at home in New Zealand) it would be just perfect! As in the old cooking TV shows – "this is one (a post) I prepared earlier" and it is my latest collab with the fabulous Smith & Caughey's, featuring one of my all-time favourite brands, Le Creuset. I really am so lucky to be able to work with such great products, especially given they are ones I have used and loved for many years myself. I was gifted my first Le Creuset frying pan as a wedding present many moons ago, and over the years have managed to add a few more gems, like this gorgeous 26cm signature round casserole in the original 'volcano' colour, to my collection. (To check out one for yourself just pop to the website here ). For over 90 years Le Creuset have been creating stunning enameled cast iron cookware and stoneware, and more recently, stainless, silicone and more. As I was rummaging around the second floor at Smith & Caughey's Queen St before I left, I seriously could have picked just about anything from the range – they are investment pieces that last beautifully for a lifetime.
Aaaaand what else can I tell you….as it happens I am finishing this post off sitting in the most magical spot in the world – in a roof-top cafe, over-looking the Ponte Vecchio spanning the Arno River in the heart of Florence. I have been so incredibly lucky to spend the last 10 days with Pog and Hoob, swimming in the crystal, deep azure sea in Hvar, eating outrgaeously delicious seafood and roaming the Old City walls in Dubrovnik, and now just with Hoob having an unscheduled, yet still somehow fun night in Munich (delayed flight=missed flight), followed by a day of shopping and sightseeing in beautiful Florence. It is impossible to believe that the time has gone so quickly that tomorrow we take the train to Rome for two more days before flying home. I have loads to share about our adventures, but will save that for a post where I have more time (and my office at home!), but in the meantime, I can say it has been one of the best experiences of my life to hang out with my men/boys, travel and meet so many wonderfully kind people along the way. Definitely have a bit of a glow on…see you when I get home!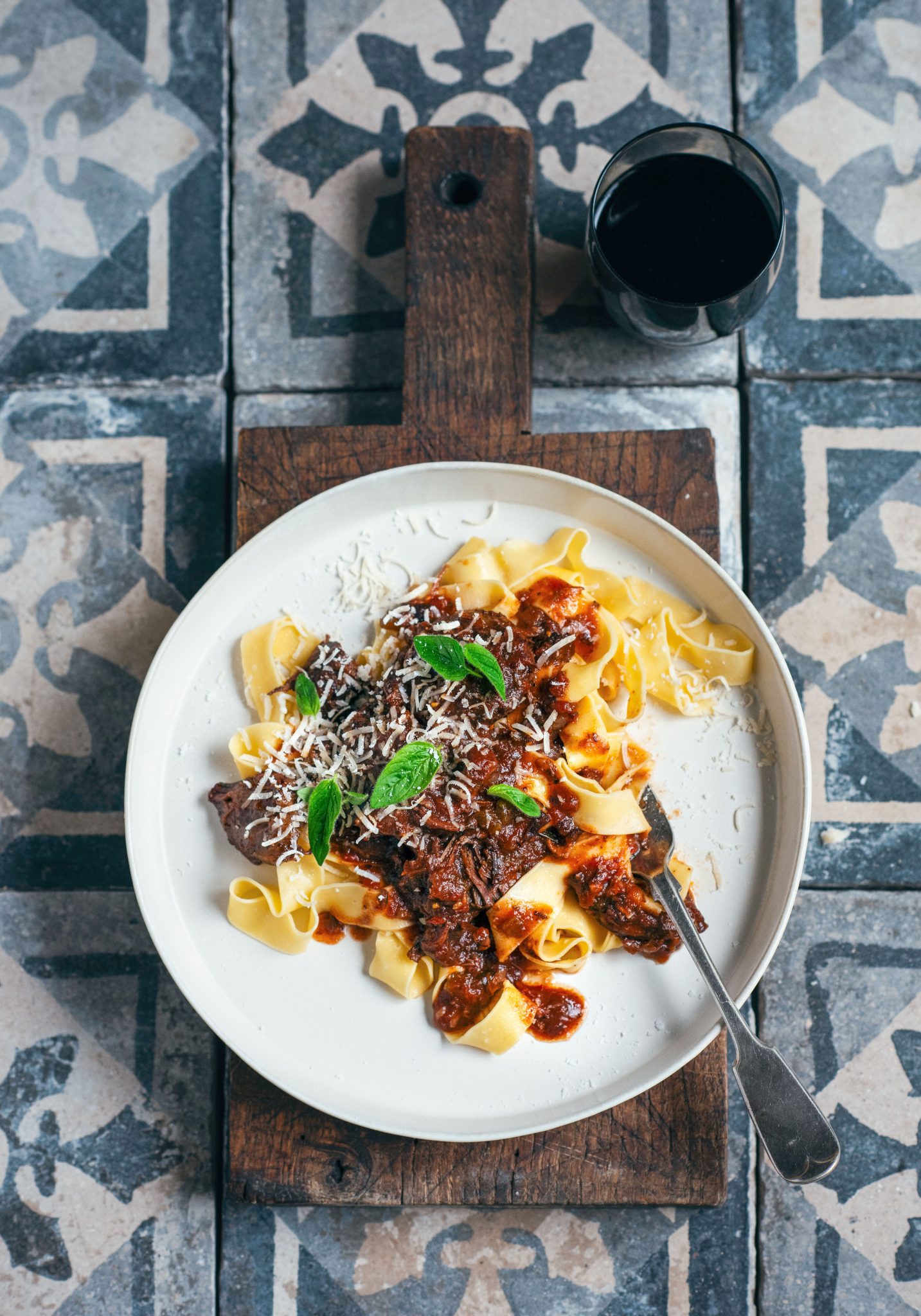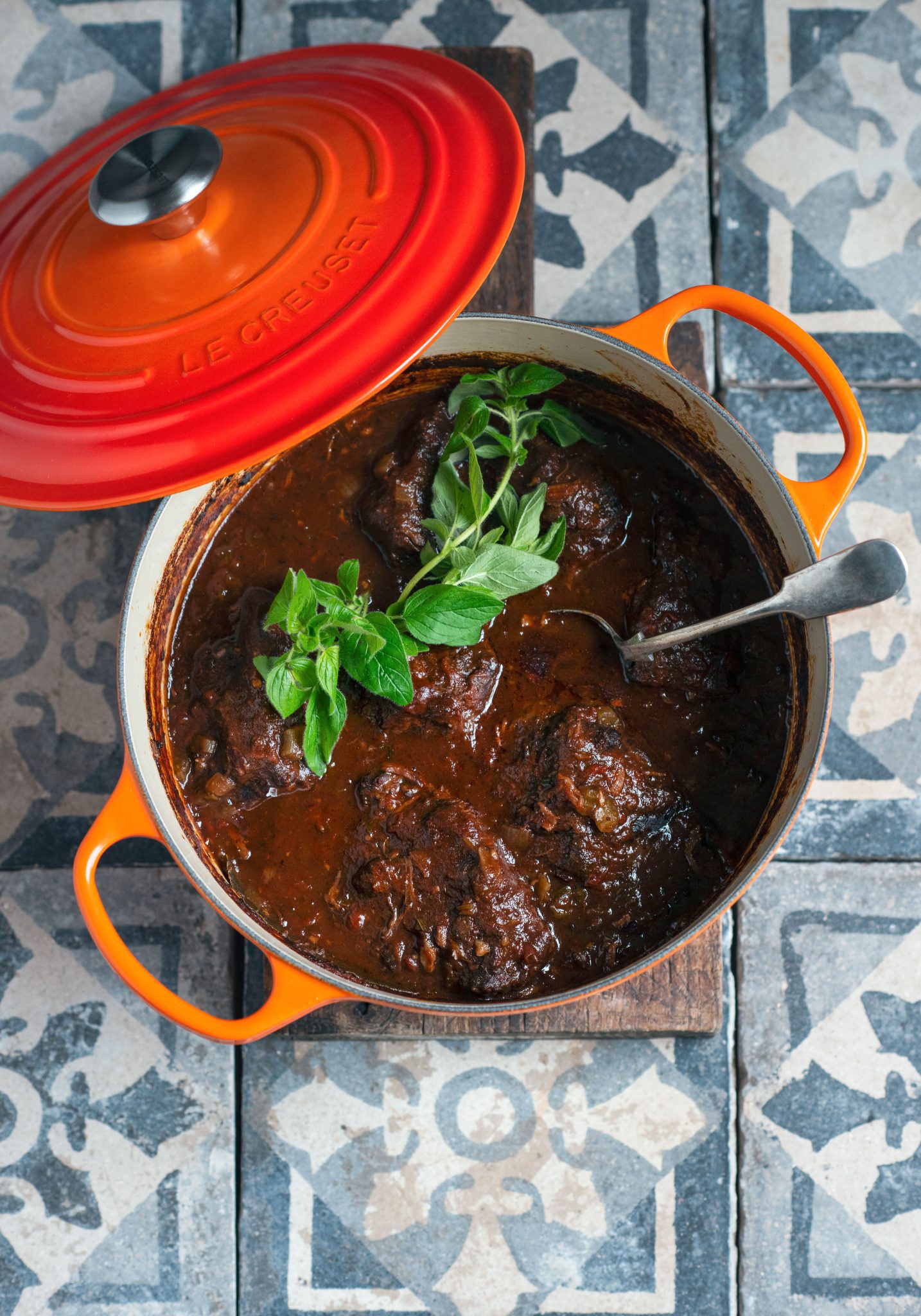 4x 550gram beef cheeks (best bought from a butcher who will trim them for you if you ask nicely!)
2 tablespoons olive oil
80grams pancetta, chopped
1 onion, finely chopped
2 sticks celery, reasonably finely chopped
6 cloves garlic, crushed
1 tablespoon finely chopped fresh rosemary
2 tablespoons finely chopped fresh oregano
2 tablespoons tomato paste
2 cups red wine
400grams passata (crushed, sieved tomatoes)
2 teaspoons caster sugar
sea salt & freshly ground black pepper
oregano leaves, to garnish
1 cup freshly grated Parmesan, to serve
Trim any remaining sinew from the beef cheeks (as best you can), and cut them in half. Heat the oil in your lovely deep, heavy based pot and sear the beef cheeks for a few minutes, on all sides, in batches. Remove from the pot and set aside. Add the pancetta to the pot and cook over a medium high heat for 3-4 minutes, then reduce the heat and add the onions, celery, garlic, rosemary and oregano. Cook for 10 minutes until the onion is softened but not coloured. Add the tomato paste, wine, passata and sugar and stir to combine. Season to taste with sea salt and freshly ground black pepper, add the beef cheeks and bring to a boil. Reduce to a gentle simmer and cook with the lid 1/3 off for 4 1/2 hours. (Alternatively at this point you can transfer the dish to the oven and cook at 160˚C for 4 1/2 hours.) Remove the lid and cook a further 40-60 minutes until super-tender. The beef can now be shredded and served immediately over polenta or pasta, but I prefer to remove the beef from the sauce and chill, covered in wrap separately. Once the sauce is chilled I skim the fat from the surface, then proceed on the day of serving by adding the beef back and reheating the sauce for another 45 minutes.