Lordy, lordy, lordy it's been a busy few weeks…but first the brownie. They are made with sultanas that have been soaked over-night in port, loads of intense dark chocolate and beautifully rich Dutch cocoa powder – the result is the most fabulously indulgent brownie ever. And moist? (Yup I said it). They are indeed. To truly guild the lily you can slather them in warm, dark chocolate sauce. I decided I would freeze my batch of brownies for when I move house…then the other night couldn't resist defrosting, then heating one, using the aforementioned chokkie sauce and a big scoop of vanilla bean ice cream…phwoar it was good! (L'il PS at this point – feel free to use whisky, sherry or whatever else takes your fancy if port isn't your thing).
Right then, in other news, in case you missed it I am beside myself to have taken on the role of Editor for Dish magazine – and much has happened with lightning speed. I have already had eight days on the job before I have to take a break for house moving and graduation purposes. In that time I had the first of my regular monthly TV gigs on Breakfast (oh my God John Campbell is the nicest person ever), attended a shoot, had many meetings and (hopefully) developed a tentative grasp of the fundamentals. I can not wait to get in there full time from the end of the month.
Meanwhile…I have just ordered my umpteenth budget bin as the epic cull continues. Moving date is 20th May, but before then I will head down to Welly for Rich's graduation (on the 16th) so there is a wee bit of organising to be done. So what the hell am I doing in bed???!!! Must get up and do the things! Enjoy the rest of the weekend, and I'll see you again soon…..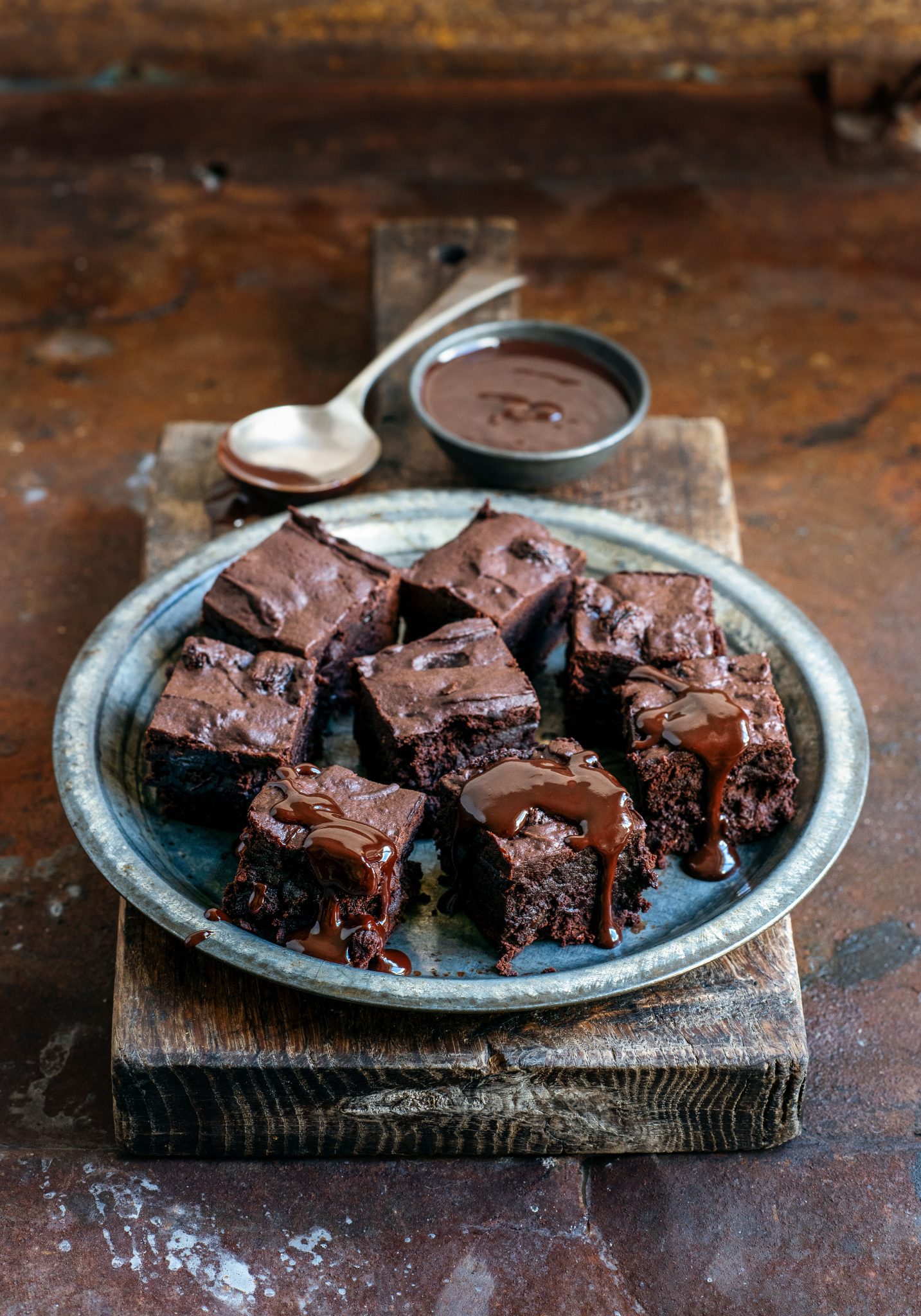 2 cups sultanas
1 cup port
180grams butter
250grams dark chocolate, chopped
1 ½ cups caster sugar
4 eggs
2 cups plain flour
¾ cup Dutch cocoa
Easy chocolate sauce:
200mls cream
200grams dark chocolate, chopped
For the brownie, put the sultanas in a container, add the port, cover and leave to soak over night. Preheat the oven to 170˚C and line a 28cm x 20cm baking tin with baking paper. Chop the butter and put it in a microwave safe bowl with the chocolate. Heat it in 30 second bursts on high, in the microwave, until both the butter and chocolate are melted, then whisk until smooth. Beat the sugar and eggs for 3-4 minutes until pale and thick. Add the melted butter and chocolate mixture and beat to combine. Sift in the flour and cocoa, add the sultanas and the soaking liquid and fold together until smooth. It will be very thick – don't worry, it should be! Use a large serving spoon to put it into the prepared baking tin and smooth the top with the back of a spoon. Bake for 35-40 minutes until cooked through. Leave to cool in the tin before cutting. This brownie is super moist, rich and dense, and keeps well for 3-4 days. It also freezes well, in an airtight container.
For the chocolate sauce, pour the cream into a microwave safe jug, add the chopped chocolate and heat in 30 second bursts until the cream is simmering but not boiling. Leave to sit for one minute, then whisk until smooth. The sauce can be used immediately, or stored in the fridge and gently reheated before serving.